New Brazil ambassador says honorary consulate may open in Seychelles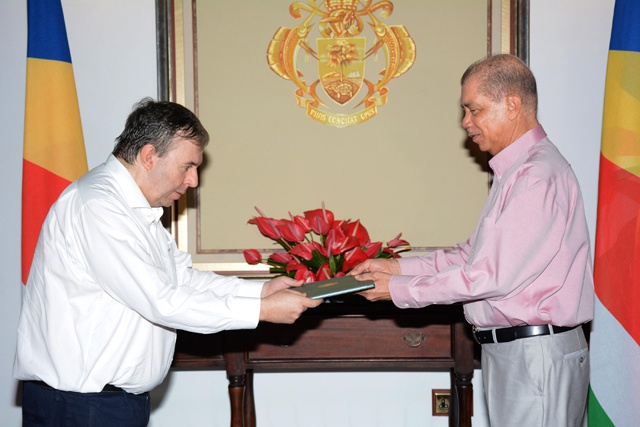 Ambassador Carlos Alfonso Iglesias Puente presenting his letter of accreditation to President James Michel as the new Brazilian Ambassador the the island nation. (Joena Bonnelame, Seychelles News Agency)
Send to Kindle
(Seychelles News Agency) - Brazil is planning to open a permanent diplomatic presence in Seychelles soon, the new ambassador to the Indian Ocean archipelago said Tuesday.
Ambassador Carlos Alfonso Iglesias Puente says the South American nation intends to open an honorary consulate in Seychelles to cater for the increase in Brazilian tourists coming to the 115-island archipelago in the western Indian Ocean.
He made the statement at State House after presenting his letter of accreditation to Seychelles President James Michel, adding that the honorary consulate is also aimed at boosting relations between the two countries.
"It will be in the coming months, and the government of Seychelles has to agree with the proposition," he added.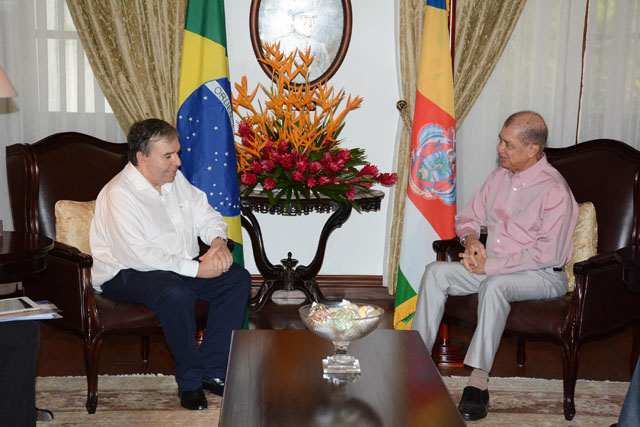 Ambassador Carlos Alfonso Iglesias Puente holding discussions with President James Michel at State House. (Joena Bonnelame, Seychelles News Agency) Photo License: CC-BY
Tourism, transport, trade and the environment were among areas of cooperation discussed during the State House meeting.
Ambassador Puente said that Seychelles and Brazil enjoy good relations that have existed for over 15 years.
"Coincidentally, we share a commonality of views on a wide range of issues in the United Nations and on other matters that affect developing countries, mainly the subject of sustainable development. Brazil and Seychelles share the same views in dealing with those important issues."
Ambassador Carlos Alfonso Iglesias Puente is based in Dar es Salaam, Tanzania.
Diplomacy
» Be a reporter: Write and send your article
» Subscribe for news alert