Seychelles and Ghana united against all forms of terrorism in Africa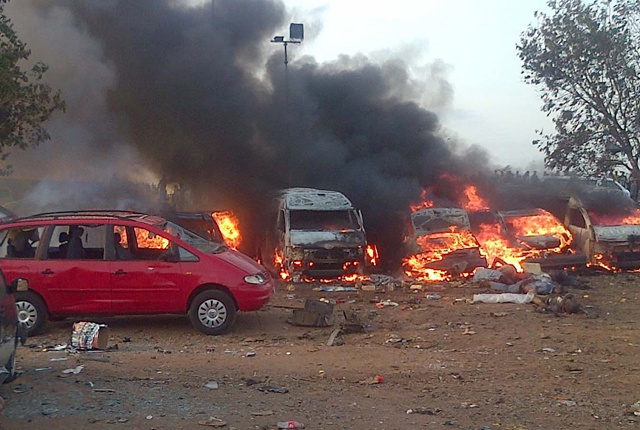 File Photo -Vehicles burning after an attack in Abuja on April 14, 2014 AFP PHOTO / STRINGER
Send to Kindle
(Seychelles News Agency) - A day after 118 people died in a double bombing in the central Nigerian city of Jos another 17 people have been killed early this morning in another attack this time on a village in the north east of the country.
Islamist group Boko Haram, which is fighting to overthrow the government and create an Islamic state is being blamed for both attacks.
It is claimed that attacked linked to the group have led to the killing of more than 1,000 people since the beginning of this year alone.
According to the BBC, in the recent attack that has claimed 17 lives, Boko Haram fighters reportedly spent hours killing and looting in the village of Alagarno.
Alagarno is near Chibok, from where the schoolgirls were abducted last month.
The abductions of the more than 200 girls has caused international outrage and prompted foreign powers to send military advisers to assist Nigeria's army.
Speaking at a press conference in Victoria, capital of the Seychelles islands, the visiting Ghanaian Foreign Affairs and Regional Integration Minister of the Republic of Ghana Hanna Serwaa Tetteh and the Seychelles Minister for Foreing Affairs Jean Paul Adam reiterated their countries' condemnation of the kidnapping of over 200 Nigerian school girls by terrorist group Boko Haram.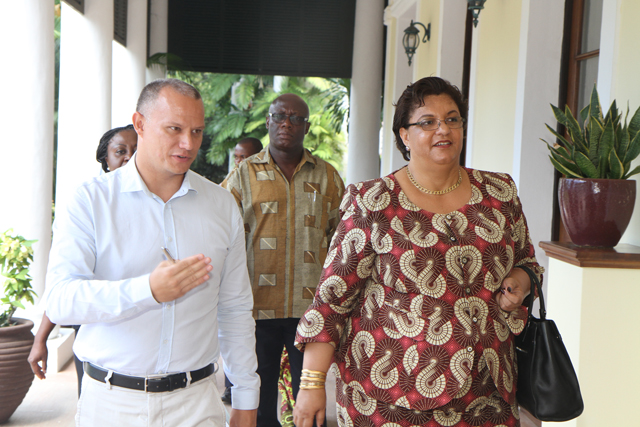 Jean-Paul Adam and Hanna Serwaa Tetteh (Mervyn Marie, Seychelles News Agency) Photo license: Attribution 
Tetteh said Ghana believes that the issue has to be resolved by Nigeria itself, but that it has offered to help in whichever way it can. Both Nigeria and Ghana are West African countries and members of the Economic Community of Western African States ECOWAS.
The Ghanaian minister informed the press that only last week the police chiefs of the ECOWAS met to address the problem of terrorism in the region.
"We believe that the best way we can assist Nigeria in this affair is through sharing of intelligence," Tetteh stated. She added that through the African Union and ECOWAS, Ghana is working with countries such as Niger and Cameroon which both share borders with Nigeria in intelligence gathering efforts to help identify where the girls are being held captive and towards their eventual rescue.
She explained that while Boko Haram is certainly not the only terrorist group operating within western Africa, all such activities present a threat to the continued development and stability of the region.
For his part Adam deplored the kidnapping and said that terrorist activities deprive nations of their hard earned freedom and progress. He echoed the Ghanaian minister's view that African states can help one another through intelligence sharing and that this is an area where Seychelles can contribute actively, especially in regards to maritime security.
Adam noted that maritime piracy is not related only to the south west Indian Ocean, but that Ghana, being a coastal state, albeit on the other side of Africa, is also threatened by such activity.
Diplomacy
» Be a reporter: Write and send your article
» Subscribe for news alert