Bangladesh commandos end hostage siege, kill six gunmen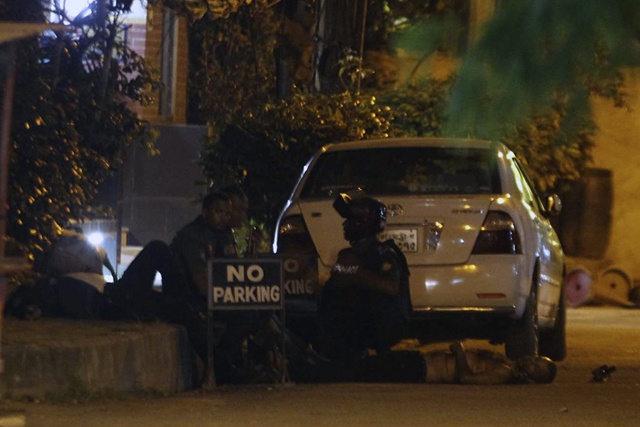 Bangladeshi police officers take cover as a man lies on the ground near the Holey Artisan Bakery restaurant during an attack by unidentified gunmen in Dhaka's high-security diplomatic district on July 2, 2016. (AFP)
Send to Kindle
(AFP) - Bangladesh commandos ended a hostage siege Saturday by storming a cafe where dozens of diners had been held captive by Islamist extremists and shot dead six of the heavily armed gunmen.
Officials said 13 hostages had been rescued after members of an elite force took control of the cafe in the capital Dhaka's upmarket Gulshan quarter but there was also an unknown number of civilian casualties.
Two police officers were killed at the start of the siege, which began on Friday night as they battled the hostage-takers who were heavily armed with automatic weapons and explosives.
As the Islamic State (IS) group claimed responsibility for the attack at the start of the Eid holiday, Prime Minister Sheikh Hasina said she was determined to eradicate militancy in the mainly Muslim nation.
Hasina's government has previously blamed a string of deadly attacks on religious minorities and foreigners on her domestic opponents but the attack will heighten fears that IS's reach is spreading.
"I thank Allah that we're able to kill the terrorists," she said in a televised address. "It was an extremely heinous act. What kind of Muslims are these people?"
Tuhin Mohammad Masud, a commander of the elite Rapid Action Battalion which led the storming operation, said that six gunmen had been killed and the situation was now under control.
There was no official word on the number of hostages who had been killed or wounded, but Masud said that "obviously there have been casualties".
Some foreigners and Bangladeshis could be seen waiting outside the cafe after the siege, still awaiting news on their loved ones inside. Commandos could also be seen roaming nearby rooftops.
Witnesses said he could hear a massive gunfight as more than 100 commandos launched the rescue operation some 10 hours after the militants seized the hostages on Friday night.
Eight hostages including a foreigner were rescued in the first few minutes of the operation. TV footage showed ambulances rushing some of those who had been freed to a military hospital.
Sri Lanka's government said two of its nationals were among the hostages rescued and were safe and unharmed.
A Japanese government official said its Prime Minister Shinzo Abe had told Hasina in a phone call that several Japanese nationals may have been inside.
The Islamic State group claimed responsibility for the attack on the Holey Artisan Bakery cafe in Gulshan, which is home to many embassies.
Police said the gunmen burst into the restaurant shouting "Allahu Akbar" (God is Greater) as people were having dinner at around 9:20 pm and set off explosives.
- Dodging bullets -
"It was a horrendous night," said Diego Rossini, an Argentine chef who managed to escape through a terrace during the siege.
"They (the hostage-takers) had automatic weapons and bombs," he said on Argentinian TV as he described how he eventually managed to escape into the next-door building despite coming under fire.
"I felt bullets pass so close to me, I felt fear like I've never felt in my life."
Bangladesh has been reeling from a wave of murders of religious minorities and secular activists by suspected Islamist militants.
But those murders generally only involved a handful of assailants while the latest attack appears to have been on a much bigger scale and the first time that people were held hostage.
The IS-linked Amaq news agency said the group was behind the attack and later issued a number of photographs of what it said were scenes from inside the cafe.
The pictures, which were not immediately possible to verify, showed what appeared to be a number of bodies lying in pools of blood.
- Fierce firefight -
Heavily armed police and paramilitary guards cordoned off the area around the restaurant after the militants launched their attack and then became involved in a fierce firefight with police.
Police said that two officers, including the head of the local police station were killed. Hasina said that 30 officers were injured.
The attack, which comes as Bangladesh observes the Muslim holy month of Ramadan, follows a series of killings targeting religious minorities and foreigners.
Earlier Friday, a Hindu temple worker was hacked to death in western Bangladesh and a Hindu priest was stabbed and critically wounded early Saturday in the southwest of the country.
The government and police blame homegrown militants for the killings, which they say are part of a plot to destabilise the country.
Bangladesh's main Islamist party has been banned from contesting polls and most of its leaders have been arrested or else executed after recent trials over their role in the 1971 war of independence from Pakistan.
Hasina called on all Bangladeshis to "resist these terrorists".
"My government is determined to root out terrorism and militancy from Bangladesh," she added.
Last month authorities launched a nationwide crackdown on local jihadist groups, arresting more than 11,000 people, under pressure to act on the spate of killings.
But many rights groups allege the arrests were arbitrary or were a way to silence political opponents of the government.

© 1994-2016 Agence France-Presse
General
» Be a reporter: Write and send your article
» Subscribe for news alert