A customised Porsche in the Seychelles? Orders now open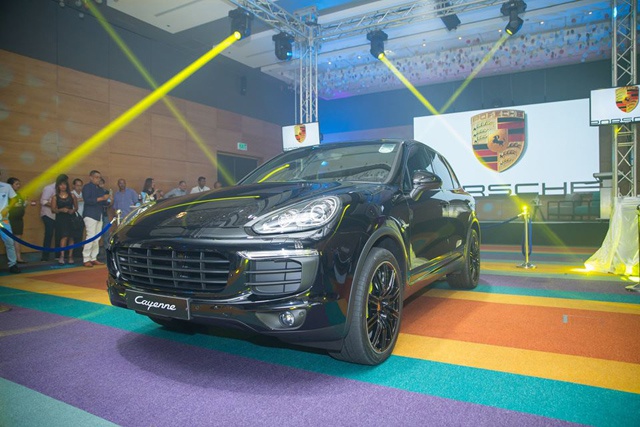 The Porsche Cayenne SE Hybrid launched in Seychelles in May. (ecarseychelles)
Send to Kindle
(Seychelles News Agency) - Are you living in Seychelles and dreaming of having your own customised Porsche?  There is good news for you!
A locally based company -- Ecarseychelles -- is opening a first of its kind Porsche showroom in Seychelles after the launching of the Porsche hybrid in May, now that changes in Seychelles' import taxes on hybrid cars makes them more affordable.
Residents in the island nation will not only be able to order the conventional Porsche but create their version from scratch.
"We will offer a very personalised service, where customers will come in and create their own cars," says Peter Pomeroy, who co-owns the company together with business partner Paul Rouillon.
Pomeroy adds that customers "will be able to choose from various options including the colour on the outside of the car, the colour of their seats, to their names written in the seats or the doors."
Pomeroy told SNA that delivery is guaranteed within six months.
The new showroom will open its doors in August at Eden Plaza, on the outskirts of Victoria, and Pomeroy says customers will be able to order their luxurious cars and receive an after sale service.
Pomeroy says they are proud to be able to bring this brand to Seychelles.
"Having a Porsche dealer in Seychelles is great for our country, and I'm very proud as a Seychellois to be able to bring such a brand to the island." 
Photo 1: The Panamera S E-hybrid, which is a four-door saloon. Photo 2: The Cayenne S E-hybrid, a (4x4) Porsche. The two brands being sold by ecarseychelles. (eCar Seychelles) Photo License: All Rights Reserved
Porsche is a German automobile manufacturer with its headquarters in Stuttgart, specialising in high-performance sports cars, SUVs (sports utility waggons) and sedans.
Ecarseychelles sells the Panamera S E-hybrid, which is a four-door saloon and the Cayenne S E-hybrid, a (4x4) Porsche, with the price ranging from $115,000  to $307,000 depending on the specifications.
The introduction of a 5 percent levy on imported hybrid cars in July last year made the cars much more affordable in Seychelles, a group of 115 islands in the western Indian Ocean.
However, Pomeroy added that customers can still order conventional Porsches, but they will have to pay the 100 percent tax levied on the cars.
Customers can choose from a wide-range of pre-built cars, including the Boxster, Cayman and 911 models.
As an owner of three Porsches, Pomeroy receives special preferential treatment in England where he lives and wants to emulate this in Seychelles.
"You are not only investing in a car, but you're also investing in a whole package, and we want to ensure that we go that extra ten miles to make our customers feel special," he said.
Porsches are high-performance cars, renowned for their speed and Pomeroy has reassured customers that Seychelles' winding roads, would not reduce the exhilarating feeling of driving a Porsche.
"You have to remember that these cars were built for race tracks, which are definitely not straight. So in Seychelles, we have the perfect winding roads where these cars can be tested for their real performance."
Ecarseychelles has already sold eight Porsches, he said. 
Customers can visit the company's Facebook page for more information on the Porsches available for sale. 
Lifestyle
» Be a reporter: Write and send your article
» Subscribe for news alert