US launches first anti-IS air raids in Libya's Sirte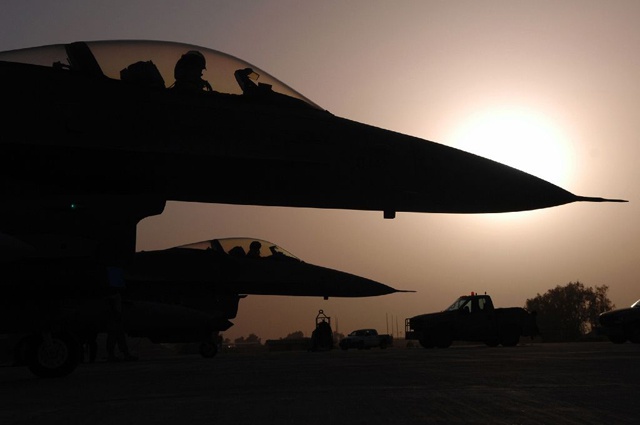 US warplanes. The first American air strikes on precise positions of the IS group in Libya were carried out on Monday. (AFP Photo/Senior Airman Julianne Showalter)
Send to Kindle
(AFP) - US warplanes Monday carried out air strikes on positions of the Islamic State jihadist group in its Libyan stronghold of Sirte for the first time, the country's unity government announced.
"The first American air strikes on precise positions of the Daesh (IS) organisation were carried out today, causing heavy losses... in Sirte," prime minister Fayez al-Sarraj said in a televised speech.
In Washington, the Pentagon said the raids were launched in response to a request from Sarraj's Government of National Accord.
"At the request of the Libyan Government of National Accord, the United States military conducted precision air strikes against ISIL targets in Sirte, Libya, to support GNA-affiliated forces seeking to defeat ISIL in its primary stronghold in Libya," Pentagon press secretary Peter Cook said, using another name for IS.
Monday's action came after a US raid targeted an IS training camp in a rural area near Sabratha, outside Tripoli, in February and a targeted strike last November.
One strike on Monday destroyed an IS tank that been targeting civilians, and a second hit two IS vehicles that "posed a threat" to local forces, Cook said, adding that US strikes in Sirte "will continue", without elaborating.
President Barack Obama authorised the bombings following recommendations from top Pentagon officials, and the strikes are "consistent with our approach to combating ISIL by working with capable and motivated local forces", Cook added.
"The US stands with the international community in supporting the GNA as it strives to restore stability and security to Libya," he said.
- 'No foreign presence' -
The Tripoli-based GNA launched an operation in May to retake the IS bastion of Sirte, the hometown of slain dictator Moamer Kadhafi which the jihadists have controlled since June 2015.
Sarraj stressed that the US strikes took place in coordination with the military command centre of pro-GNA forces, and that no foreign troops would be deployed in Libya.
"This has allowed our forces on the ground to take control of strategic positions," he said, adding that the American involvement would be "limited in time and will not go beyond Sirte and its suburbs".
"We asked for this support from the international community, notably the United States, but we want to point out that there will be no foreign presence on Libyan soil."
Italy, which has supported the anti-IS offensive in Sirte by providing medical care for seriously wounded GNA forces, said it welcomed the US strikes.
"This took place on the request of the Government of National Accord, in support of forces loyal to the government, with the shared objective of contributing to the reestablishment of peace and security in Libya," the foreign ministry said.
Italy has offered to lead an international peacekeeping force in Libya if the fledgling unity government requests such an intervention.
A US senior administration official said Monday that US action would be limited to strikes and information sharing.
- Precision strikes -
Precision strikes would target key IS military infrastructure such as tanks, high-calibre weapons and command and control nodes.
A Libyan military source told AFP that Monday's raids followed negotiations that led to a signed agreement.
The accord covers "specific" technical issues, such as informing the Libyan side in advance of the time and location of US strikes.
The fall of Sirte, 450 kilometres (280 miles) east of Tripoli, would be a major blow to IS, which has also faced a series of setbacks in Syria and Iraq.
The battle for Sirte has killed around 280 pro-government fighters and wounded more than 1,500, according to medical sources at the unity forces' command centre.
The GNA advance slowed after an unexpectedly rapid initial breakthrough into the Mediterranean city on June 9.
There are between 2,000 and 5,000 IS fighters from Libya, Tunisia, Algeria, Egypt, Mali, Morocco and Mauritania deployed in Sirte, Tripoli and Derna, according to a report which UN chief Ban Ki-moon submitted to the Security Council last month.
The pro-GNA forces are mostly made up of militias from western Libya established during the 2011 revolt that overthrew Kadhafi.
A militia set up to guard the country's main oil facilities has also been advancing on IS.
The GNA was the result of a UN-brokered power-sharing agreement struck in December, but it has yet to be endorsed by Libya's elected parliament based in the country's far east.

© 1994-2016 Agence France-Presse
Africa
» Be a reporter: Write and send your article
» Subscribe for news alert