Gabon opposition chief claims election victory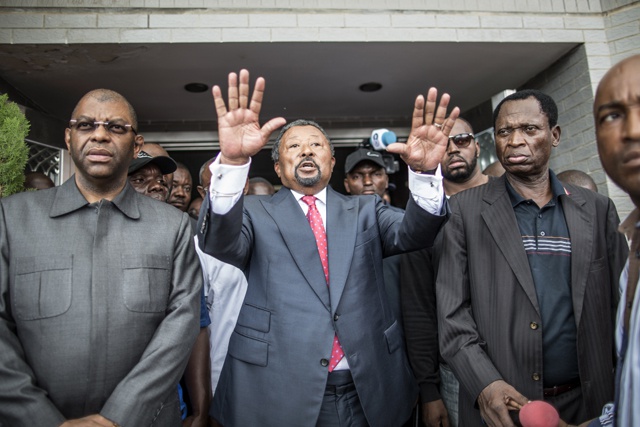 Gabonese opposition leader Jean Ping (C) gestures to calm down his supporters outside his party headquarters in Libreville on August 28, 2016 after a press conference. (MARCO LONGARI / AFP)
Send to Kindle
(AFP) - Gabon's main opposition candidate Jean Ping has claimed victory in weekend presidential polls, but incumbent Ali Bongo's camp said the call was "dangerous and illegal" before official results.
The official tally of votes will not be published until Tuesday and some voters voiced fears of a repeat of the violence seen after a disputed 2009 election.
"I have been elected. I am waiting for the outgoing president to call to congratulate me," Ping, 73, said on Sunday in the capital Libreville, prompting jubilation from hundreds of his supporters.
Bongo's spokesman however said the announcement was "dangerous", while his Interior Minister Pacome Moubelet Boubeya warned it was "illegal to declare results before the relevant authorities".
"We respect the law... so we are waiting calmly for Cenap (the national election commission) to announce the results of the election," Bongo told supporters in his first public remarks since Saturday's poll.
Bongo, 57, has been in power since the 2009 election held after the death of his father, Omar, who ruled Gabon for 41 years.
A career diplomat, Ping, like the current president, worked for many years in Omar Bongo's administration. He has also served as head of the African Union and president of the UN General Assembly.
"You have foiled the congenital fraud of this regime, which we are finally going to see off," Ping told his supporters on Sunday.
Ping met France's ambassador shortly afterwards, his team said.
They also said that he had beaten Bongo 60-to-40 in the 60 percent of ballots that had been counted. It was impossible to immediately verify the claim.
Both frontrunners had already predicted victory and accused the other of cheating.
Shortly after polling ended on Saturday, the president's spokesman said: "Bongo will win... we are already on our way to a second mandate."
The head of the Pan-African Democracy Observatory, an NGO based in Togo, played down the significance of Ping's declaration.
"We should not be surprised if one or the other declares victory. It's all part of the game," Djovi Gally told reporters.
- Coup d'etat? -
Fearing a repeat of the violence that followed Bongo's victory in 2009, many residents stocked up on food and stayed indoors.
The streets of Libreville were deserted with shops and stalls that are usually open on Sundays shuttered.
The embassy of former colonial power France warned its citizens not to travel within the country unless absolutely necessary and to keep themselves informed.
France's ruling Socialist Party meanwhile issued a statement saying a change of government after decades of Bongo rule "would be a sign of good democratic health".
In Libreville, a man who gave his name as Honore said: "We want to get the results soon.
"We'll see how the candidates react. I hope it won't be like last time."
Back then, several people were killed in the clashes, buildings were looted and the French consulate in Port Gentil, which saw the worst of the violence, was torched.
Ping's campaign coordinator, Jean Gaspard Ntoutoume Ayi, claimed that Bongo would attempt to retain power by force.
"Ali Bongo has decided to ignore the election and to stay in power," said Ayi.
"This is the situation which we are entering: the election is over, the coup d'etat has started."
Bongo's camp has dismissed such claims as "totally crazy".
- Powder keg -
Emmanuel Edzang, a voter in Libreville, said the capital had the feeling of a "powder keg".
Until shortly before polling day, Bongo was the clear favourite, with the opposition split by several prominent politicians vying for the top job.
But earlier this month, the main challengers pulled out and said they would all back Ping.
Both candidates have promised to break with the past.
Faced with repeated charges of nepotism, Bongo has long insisted he owes his presidency to merit and years of government service.
His extravagant campaign made much of the slogan "Let's change together", and of roads and hospitals built during his first term.
One third of Gabon's population lives in poverty, despite the country boasting one of Africa's highest per capita incomes at $8,300 (7,400 euros) thanks to pumping 200,000 barrels of oil a day.

© 1994-2016 Agence France-Presse
Africa
» Be a reporter: Write and send your article
» Subscribe for news alert