Seychelles' first business hotel to open on Eden Island at the end of 2014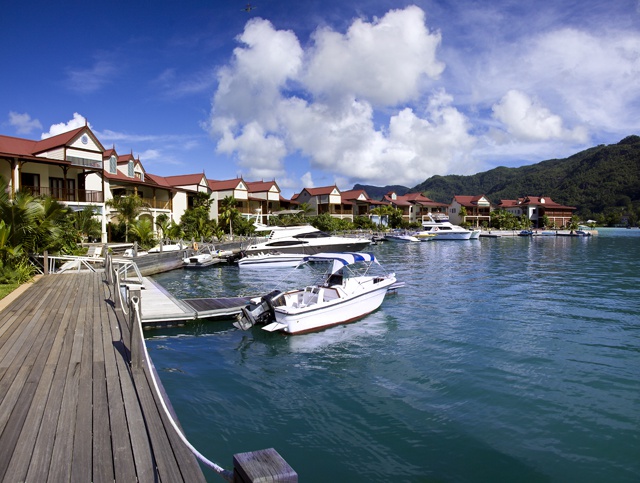 Eden Island residential properties (Eden Island Development Company)
Send to Kindle
(Seychelles News Agency) - Seychelles is set to get its first business hotel, which is nearing completion on Eden Island, an integrated resort development on land reclaimed from the sea, about two km south of the island's capital of Victoria.
The new establishment will be named "Eden Bleu," after the surrounding ocean and the" Blue Economy" concept which Seychelles is seeking to develop, where the nation aims to harness its oceanic resources in a sustainable manner.
Eden Bleu will consist of 87 rooms, including a presidential suite and also boasts a 300 seat conference centre and six business meeting rooms.
Eden Island's Sales and Marketing Manager Peter Smith told SNA the hotel, which should open towards the end of 2014, will be targeting mainly the MICE (meetings, incentives, conferences and exhibitions) market, which includes business conferencing, educational, professional or entertainment groups.
"Though the hotel will be attracting primarily corporate business, we expect around a third of clients to be those vacationing in Seychelles," said Smith.
He added that the new hotel on Eden Island, which boasts the country's largest yacht marina, will also attract those tourists stopping in Mahé for island-hopping.
"These are the visitors who enjoy boating and will come to the hotel both on their way to,as well as on their return from the smaller islands of the Seychelles", he said.
According to Smith, this will also mean a big boost for the existing restaurants, supermarket, casino and other facilities on Eden Island.
Residential development on Eden Island
Eden Island made up of 40 hectares (100 acres) of reclaimed land have since 2005 been developed into one of the most scenic residential marina developments in the world.
Also boasting 16 hectares (40 acres) of private waterways means all owners of all apartments, maisons or villas enjoy a private mooring, either in front of the home, close by or in the Eden Island Marina.
Motor vehicles are not permitted in the residential portion of Eden Island. So another feature of the island is that buggies are used by residents from the main car park near the entrance of Eden Island, to their homes.
The last of the units are now being built, which will bring the total to 583 by the end of 2016.
Eden Island will then have a total of 380 apartments (1-3 bedrooms); 131 maisons (or duplex of 3 to 4 bedrooms and 72 villas.
Smith told SNA that 475 units have been sold so far, the buyers, being of 32 different nationalities.
He said however that South Africans constitute 35% of the buyers, followed by the French, Italians, Czechs and Russians.
Prices vary from $ 450,000 for a one bedroom apartment to $ 3.5 million for villas- all of which have swimming pools and are situated on plots ranging from 600 sq metre to as much as 3000 sq metre, ensuring absolute privacy.
A major contributor to the Seychelles economy
According to Smith, the Eden Island Development project represents a total investment worth over $ 500 million since it started in 2005, arising from construction and furnishing, operations and maintenance amongst others.
He says in 2014, Eden Island is expected to contribute over $ 50 million as Foreign Direct Investment (FDI) to the Seychelles economy which represents 42% of the archipelago's total FDI.
Some 700 people, Seychellois nationals and foreign residents are employed on Eden Island, mainly in the restaurants, housekeeping, landscaping, the marina and retail centre.
It is believed that this figure will double in the future when the construction of all the residential units and hotel is completed.
Eden Island Development Company is owned by group of shareholders, held through offshore structures representing the interests of South African and Austrian investors.
Tourism
» Be a reporter: Write and send your article
» Subscribe for news alert