"It's a miracle we found each other." Seychellois mother reunites with daughter after 38 years
A first mother-daughter photo for Veronica Esparon and Corine Guillon in nearly 40 years. (Patrick Joubert, Seychelles News Agency)
Send to Kindle
(Seychelles News Agency) - The medical staff in Lebanon told Seychellois Veronica Esparon that her first-born daughter died at birth. But Esparon spent much of the last 38 years believing her daughter was alive.
Astonishingly, the two were re-united in Seychelles this week for the first time in the nearly four decades since their separation in the hospital.
Tight and lengthy hugs, kisses, and tears of joy were witnessed as the mother and daughter -- Corine Guillon -- embraced each other for the first time at Seychelles' international airport.
Esparon who resides at Foret Noire on the outskirts of the Seychelles capital, Victoria, described being reunited with her first born child as extraordinary.
"I am filled with joy and I feel emotional," Esparon told reporters at the airport on Tuesday, adding that she had to really prepare herself mentally for the reunion.
Guillon said she had dreamt of the moment for years as she knew that she was adopted, adding that in spite of her quest for information she was always told that none was available in her file.
"We both prayed. It's a miracle that we have found each other," said Guillon.
"I'm filled with emotions to have met my mother and ancestors. It is important to know where you come from," she told reporters. 
A mother and daughter re-uniting after nearly four decades. (Patrick Joubert, Seychelles News Agency) Photo License: CC-BY
Tight and lengthy hugs, kisses, and tears of joy were witnessed as the mother and daughter -- Corine Guillon -- embraced each other for the first time at Seychelles' international airport.(Salifa Magnan, Seychelles News Agency) Photo License: CC-BY
Esparon's story of how she came to lose her child
Esparon, 58, left her job as a teacher in Seychelles at 16, accepting an opportunity to work abroad.
It was while working for a lady in Syria that she was approached by her employer's sister to move to another job in Beirut, Lebanon. She was seen to have the potential to make a great receptionist, as she spoke both English and French.
Jean-Claude Uzice, one of Esparon's brothers who knows the story quite well, told SNA that "a common [scenario] for a young girl her age, living in a foreign country. She then fell in love. It is after this that she gave birth to her first daughter." 
Esparon recalls that a nun would pick her up and bring her for pre-natal appointments, an arrangement made by her rich employer. During her pregnancy days, a civil war had broken out in Lebanon and Esparon recalled that on the day she gave birth to her daughter, the hospital she was in was being bombarded.
"They didn't allow me to see my newborn. I cried when the doctor took her away. I asked to see her but all was in vain," she said.
Esparon, then 17, said the doctor had told her that her child had passed. "The doctor told me that I was still young and I could give birth again," she said adding that she believed that they had already made their arrangements to take her daughter. 
Corine Guillon pictured with her husband Nicolas, her two sons Louis and Noham together with her mother Veronica. (Salifa Magnan, Seychelles News Agency) Photo License: CC-BY
A mother's gut feeling that her baby was still alive
Esparon said that while recuperating in hospital from heavy bleeding after having given birth, persisting war forced the hospital to move her and the babies that were at the facility to a retreat house for priests and old nuns located in a mountainous region.
"I lived with the nuns there whereas the babies were in another building in that village," Esparon told SNA.
She recalled how she would be affected by the cries of one of the babies and not the others, and that she was allowed to see that baby only by a Syrian girl who was taking care of the little ones.
"The Syrian girl suggested that we take a photo together as I would usually bathe and feed that baby. She told me: 'You love this child, I will take a picture of you with her.'"
"When she cried I felt that she was my child," she added.
According to Esparon one day she was asked to go out and do some shopping and recalls never hearing the baby's cry upon her return.
"The [Syrian] girl paid me a visit two week after my baby's birth and gave me the photograph, telling me that the baby was in fact mine. That was the moment I learnt the truth."
Esparon said she was traumatized and heartbroken over the years that followed and even hid the events from her family.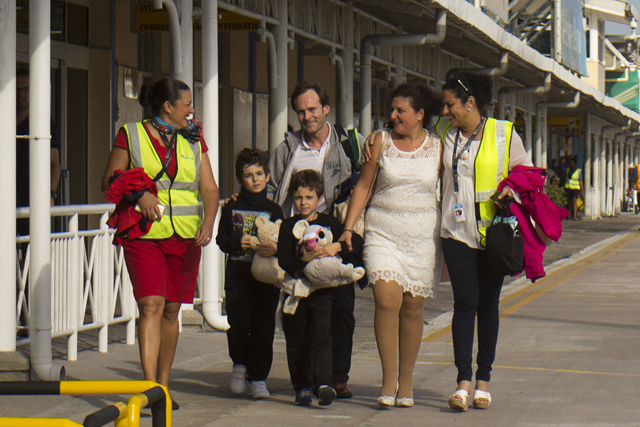 Air Seychelles staff accompanying the family as they disembarked in Seychelles. The national airline paid for their trip from Paris to the island nation for the family reunion. (Salifa Magnan, Seychelles News Agency) Photo License: CC-BY
Hope kept the mother going
Esparon said that in spite of being told her child had died back in 1978, in her heart she always felt that her child was still alive and never lost hope of finding the daughter she said she would have named Nathalie.
"From what I came to understand they had made agreements to take my baby since I was pregnant with her. I didn't have support, my family was not with me and I wasn't in a position to make any demands," she said.
Esparon eventually left Beirut in 1980 to tend to her sick mother in Seychelles. She eventually got married and had other children and kept herself busy with the teaching job she had resumed.
She told SNA that it was in 1996, the year her daughter would have been 18, that the memory resurfaced and her urge to look for the girl was re-ignited.
"I started looking for her through the Minister [of Foreign Affairs, Danielle] de St Jorre. She played a major role in all of this," said Esparon.
A concerted effort to reunite a mother and daughter
Esparon, who has another daughter and a son, has had her family's support in her quest. In 1999 she even went to Lebanon to look for her but it was in vain.
Esparon's daughter Michelle, who lives in Australia, was the one who found her older sister earlier this year.
Contacts were also made with the convent where the nun who accompanied Esparon on her pre-natal appointments lived, and it was there that she learnt that her sister was indeed alive, had been adopted and lived in France.
"Michelle had my files and she started looking for her sister. She did some research at the convent and got in touch with two boys who were looking for their mothers from that convent. She wanted to know if they could help her. They were willing to help her as her investigators. They got into contact with two other person in France who had gone through the same situation," said Esparon.
Stan, Esparon's son, said that his sister in Australia would send him new information all the time.
"My sister would ask me not to show anything to my mother until everything was confirmed. I usually ran and showed mum anyway, as I wanted to make her happy," said Stan.
Both mother and daugther said they prayed a lot for this moment. (Patrick Joubert, Seychelles News Agency) Photo License: CC-BY
Air Seychelles assists family reunion
The national airline paid for the travelling costs for Guillon, who was accompanied by her husband Nicolas, and her two sons Louis and Noham, to come to Seychelles to meet with her family.
An Air Seychelles representative said the company learnt about the story which was shared in a programme 'dyalog an direk' aired on national television some months back.
"Our mission in the community is to make the dreams of our brothers and sisters come true to the best of our abilities. We had to intervene to reunite this mother with her daughter," Josie Michaud-Payet, the Corporate Social Responsibility Manager at Air Seychelles told the local press.
Corine Guillon, her husband and sons will be spending 15 days in Seychelles.
Guillon as well as her Seychelles' side of the family have promised to keep in touch and organize more family visits in future.
"We will make the most of the time she will be spending here, even though we won't be able to make up for lost time," Stan Esparon, Guillon's little brother told reporters on Tuesday.
Several family members turned up at the airport for the reunion. In the second photo Veronica Esparon is pictured with her long lost daughter Corine and son Stan. Missing in the photo is her other daughter Michelle who lives in Australia. (Salifa Magnan, Seychelles News Agency) Photo License: CC-BY
People
» Be a reporter: Write and send your article
» Subscribe for news alert