Seychelles joins over 90 other states that have signed the global treaty on mercury
Beau Vallon fish market, redsnapper and other species on sale at afternoon fish market on Beau Vallon beach, December 02, 2013 -Fish is one of the main source of nutrition in Seychelles (David Stanley/Flickr) Photo License:(CC BY 2.0)
Fish may contain mercury
Send to Kindle
(Seychelles News Agency) - Seychelles has signed the Minamata Convention on Mercury, which is designed to protect both human health and the environment from the emission and release of mercury and its compounds.
The island nation's permanent representative to the United Nations, Ambassador Marie-Louise Potter signed the convention on behalf of the Seychelles on Tuesday May 27 at the UN Headquarters in New York.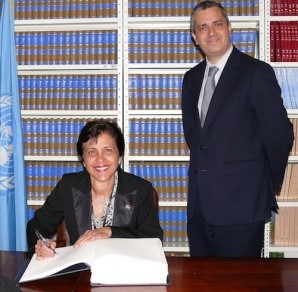 Seychelles Ambassador Marie Louise Potter signing the Minamata Convention on Mercury on Tuesday May 27 (Ministry of Foreign Affairs) Photo License: Attribution
The Minamata Convention on Mercury, is named after a Japanese city whose people suffered severe health complications from mercury pollution.
Minamata is also the place where the convention was opened for signature in October last year.
Mercury which exists in various forms, depending on the degree of toxicity can have adverse effects on human health.
Exposure to mercury, even small amounts, may cause serious health problems, and is a threat to the development of the child in utero and early in life.
Some key facts according to the World Health Organization
Mercury may have toxic effects on the nervous, digestive and immune systems, and on lungs, kidneys, skin and eyes.
Mercury is considered by WHO as one of the top ten chemicals or groups of chemicals of major public health concern.
People are mainly exposed to methylmercury, an organic compound, when they eat fish and shellfish that contain the compound.
In Seychelles, a Child Development Study began in the mid 1980's to evaluate the effects of fish consumption and low level mercury exposure on the development of children even before they are born.
Fish is one of the main source of nutrition for the Seychelles population of around 90, 000 people.
Over the years the study has also evaluated the relation between mercury exposure and disabilities such as Autism.
The research project is one which the Seychelles Ministries of Health and Education is doing in conjunction with the University of Ulster in Northern Ireland, and the University of Rochester in the United States.
So far the researchers have found no evidence of abnormal or delayed development in children as a result of their mother's consumption of fish during pregnancy.
Seychelles joins 97 other states to sign Minamata Convention on Mercury
Tuesday's signing means Seychelles is now the 98th state to become a signatory to the Minamata Convention.
Amongst those countries, the US is the first and so far the only country that has ratified the Convention.
The Minamata Convention on Mercury will only come into force 90 days after it has been ratified by 50 countries.
Diplomacy
» Be a reporter: Write and send your article
» Subscribe for news alert