Two gold and two bronze medals for Seychelles at Botswana's African youth games
Felicity Passon in action at the 12th CANA Zone 3 and 4 short course swimming Championships in Kampala, Uganda, April 2014 (Daniel Okwee) Swimming is amongst the 8 sports disciplines Seychelles is participating in at the African youth games in Botswana
Send to Kindle
(Seychelles News Agency) - Seychelles has won 4 medals so far, two gold and two bronze, at the second African youth games which came to an end tomorrow in Botswana.
After he managed to reach the final in the 91kg category, Seychellois boxer Kevin Kilindo defeated his Nigerian opponent on Wednesday, to win the gold medal.
That was the island's second gold after Judoka Natenaina Finesse took the highest stand on the podium to claim the gold medal as his opponent from Mali did not turn up for the final.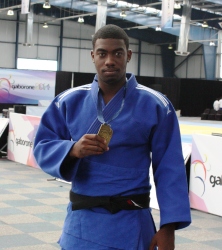 Judoka Natenaina Finesse won Seychelles' first gold medal at the African youth games in Botswana (Seychelles Nation) Photo License: Attribution-NonCommercial
The archipelago's two bronze medals have been won by young swimmer Felicity Passon.
Passon clocked 29.14 seconds in the 50m butterfly and 27.37 seconds in the 50m freestyle to come out third in both events.
On top of winning herself two bronze medals, Passon's performance has also earned her the qualifying time needed for Olympic Youth Games which will take place in Nanjing, China in August this year.
Some 2500 athletes from 54 countries have been taking part in the second African youth games, since Friday May 23.
Seychelles is participating with 25 athletes and they have been competing in 8 out of the 21 different sports disciplines at the competition.
Sport
» Be a reporter: Write and send your article
» Subscribe for news alert