Seychelles students amongst top 10 in the world for Cambridge International Examinations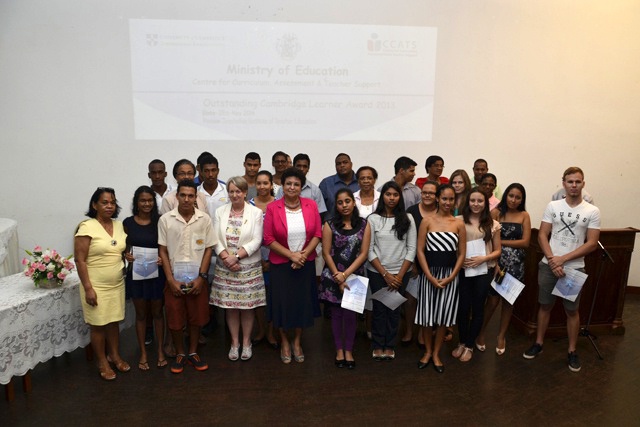 Twenty students were rewarded for being outstanding locally and four were recognized for their exceptional performance in a group of subjects (Seychelles Ministry of Education)
Send to Kindle
(Seychelles News Agency) - Three Seychellois students emerged amongst the ten best worldwide in their respective Cambridge International Examinations which they sat for in 2013.
Sadsitha Lokuge who studied at the Mont Fleuri Secondary School on the outskirts of the Seychelles capital of Victoria was the island nation's student with the highest positioning as he came out fifth in the world for IGCSE Physics (International General Certificate of Education).
Sadsitha Lokuge fifth best worldwide for IGCSE Physics  (Seychelles Ministry of Education) Photo License: Attribution
Laurent Valentin from Independent School one of the archipelago's 3 private schools offering primary and secondary education came out ninth in  IGCSE English as a Second Language while Upeshka Hettiarachi from International School, another private school was tenth best worldwide in AS Level English Language  (General Certificate of Education Advanced Subsidiary Level).
Laurent Valentin ninth best worldwide in IGCSE English as a Second Language receiving his award from Education Minister Macsuzy Mondon (Seychelles Ministry of Education) Photo License: Attribution
The three received were rewarded together with other local high performers yesterday during a ceremony organised by the Seychelles Ministry of Education in collaboration with the Outstanding Cambridge Learner Award programme.
This was in the presence of the Minister for Education Macsuzy Mondon and visiting Cambridge International Examinations representative Jane Henry.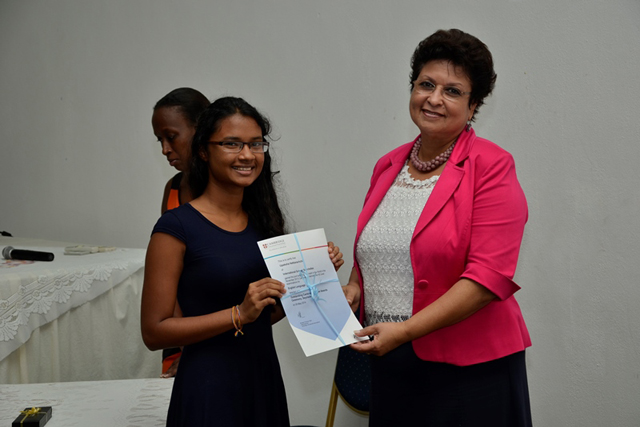 Upeshka Hettiarachi tenth best worldwide in AS Level English Language receives her award from Education Minister Macsuzy Mondon (Seychelles Ministry of Education) Photo License: Attribution
In all twenty students were outstanding locally and four were recognized for their exceptional performance in a group of subjects.
The Outstanding Cambridge Learner Awards (OCLA) annually rewards students from the different examinations centres across the world who have outshined others in Cambridge A Levels, IGCSE and AS level examinations.
Cambridge International Examinations, part of the University of Cambridge, is the world's largest provider of international education programmes and qualifications for 5 to 19 year olds.
A system of free education has been in effect since 1981 in Seychelles, which is compulsory up to the age of 16 and free through secondary school until the age of 18. Students must pay for uniforms, but not for books or tuition.
There are 33 public schools in the archipelago. There are however 3 private schools that offers primary and secondary schooling for those who have a higher income.
Since September 2009 the Indian Ocean island nation also started to offer tertiary education following the setting up the University of Seychelles.
Earlier this month, a new report published by UNESCO's Regional Office in Dakar said Seychelles is the only country in Africa that has already fully achieved education for all, in line with the six Education For All (EFA) goals set out by the United Nations Educational, Scientific and Cultural Organization, UNESCO, for attainment in 2015.
According to the most recent statistics in 2012, the level of literacy in Seychelles has reached 94 percent.
General
» Be a reporter: Write and send your article
» Subscribe for news alert