Interview with Seychelles' beauty queen: Christine Barbier readies for Miss World
Miss Seychelles 2016 Christine Barbier is heading to the Miss World pageant in Washington D.C. later this week, and says she is looking forward to making Seychelles proud. (Joey Niclès Modeste)
Send to Kindle
(Seychelles News Agency) - With less than a month to go before the crowning of Miss World 2016, the Seychelles' beauty queen is putting the final touches to her preparation and says she is ready to embark on the new journey. Miss Seychelles… Another World 2016 Christine Barbier describes 2016 as her lucky year and says she is both ready and excited to take part in the pageant.
Barbier will leave the country this week for Washington D.C., where she will join over 100 contestants from across the globe vying for the crown. Their journey will end with the Grand Finale -- pageant night -- on December 18. The aspiring Miss World contestants will also take part in five challenge events -- Beauty with a Purpose, Multimedia, Sports, Talent, and Top Model.
SNA caught up with Barbier ahead of her departure for Washington. The 24-year-old accounts assistant talks about her preparation for the Miss World pageant, as well as her journey as the Seychelles beauty queen.
Christine Barbier was crowned Miss Seychelles...Another World 2016 in May. (Joey Niclès Modeste) Photo License: All Rights Reserved
SNA: Thank you Miss Seychelles…Another World 2016 for taking the time to talk to SNA. You will soon join contestants from across the globe vying for the Miss World 2016 title. What are your expectations?
CB: I am ready for the big pageant and feeling excited. I look forward to meeting all the other contestants, getting to know them and making new friends. As I have never been to America, I am also looking forward to be in Washington D.C. I know that it's going to be a new journey filled with new experiences. I am going to work very hard in the sporting event and the Top Model challenge. All in all, I look forward to making Seychelles proud. It will surely be an enjoyable trip.
SNA: How have you prepared for the big international pageant?
CB: I have been practicing my catwalk, as well as boosting my confidence for interviews. As for the talent segment, I have gone through intense training to get my national dance routine spot-on. Recently, I also met with Linne Freminot, Miss Seychelles...Another World 2015, who shared some advice and tips, for example on what to bring along and to always wear my make-up and ensure that it's 'on fleek' like we say nowadays. With all this training, I can say that I'm not so worried, but really looking forward to enjoying the new journey and gain new experiences.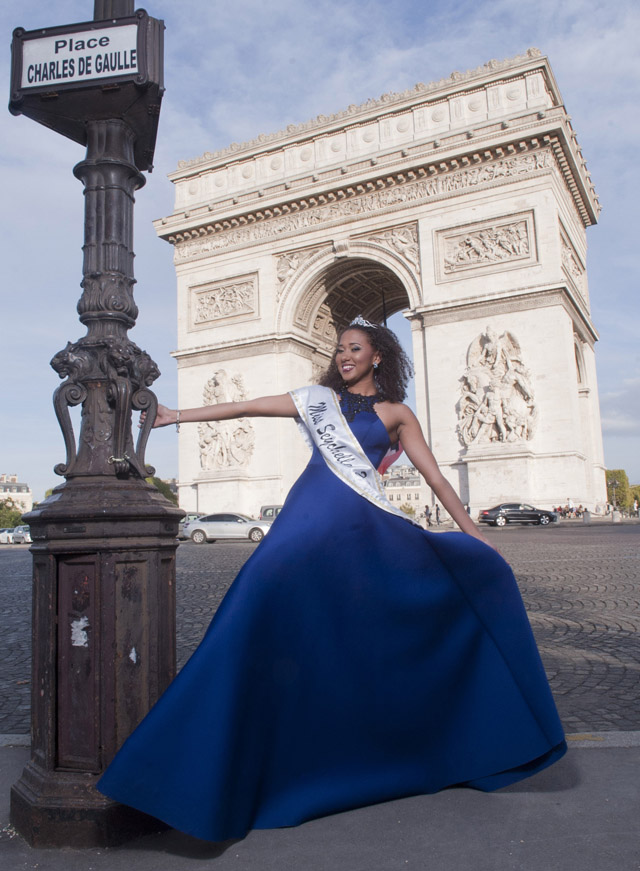 As part of her preparation for the Miss World pageant Barbier has done many photo shoots including in Paris. Above she is pictured wearing dresses designed by a young french stylist Christophe Guillarmé. (Joey Niclès Modeste) Photo License: All Rights Reserved
SNA: Beauty with a purpose is a major component of the Miss World pageant and yours is titled 'Children's Home - Comfort, Care, Continuity.' Tell us more about the project.
CB: I wanted to work with young adults reaching the age of 18, who were brought up in a children's home. The project aims to build a hostel home for them. It's something that can also accommodate families who have lost their homes to disasters or fires, as well as people suffering from domestic violence and abuse. The project is about providing a temporary place to live, like a transitional accommodation. 
The emphasis however is on the young adults who grew up in a Children's home. The project goes further in the sense that it would be a place where we can work with them, giving advice and preparing them for the world of work. The plan is also to have rooms to rent to foreign students who are on attachments in Seychelles. The money collected will be used to maintain the building.
I know that a piece of land has been allocated for the project and the support of sponsors have already been confirmed. I will need to shoot a video about the project before I head to the pageant
SNA: How would you describe the journey since you were crowned the Seychelles beauty queen in May?
CB: So far the journey has been good, although it can be hectic at times. I am constantly meeting people, so there is a lot of going back and forth. The past three months have been packed with trainings. I have a schedule which includes practicing my catwalk, dance routines for the talent show and the national dance for the Miss World pageant. I have also been attending French classes and enjoying some spa and hair treatments. So I would say that everything is going well so far.
Barbier says being a Miss Seychelles contestant is a great opportunity to gain new experiences and boost one's confidence. (Joey Niclès Modeste) Photo License: All Rights Reserved
SNA: Is the journey turning out to be what you were expecting?
CB:Not really [laughs]. I thought it would be very easy. However, although it's hectic, I am really enjoying the journey. I get to meet new people, make new friends and obtain new contacts, as well as new opportunities. I have had the chance to participate in a lot of photo shoots and have been involved in many events.
SNA: What does it feel like to be a beauty queen and wear the crown?
CB: It feels great, although people tend to look at you differently. Children get excited when they see me passing by and they usually greet me. At times, it feels surreal. I usually keep things simple. I'm making the most of this opportunity and enjoying myself. After all, it's only for a year.
I would say that this is my lucky year. Apart from winning Miss Seychelles... Another World 2016, I will be turning 25 in December. This was therefore my last chance to participate in the Miss World pageant as I think that they do not accept participants above the age of 25.
SNA: How has becoming the Seychelles beauty queen changed your life?
CB: My life has not really changed. I would say that I'm still the same girl everybody knew before I was crowned. If you ask my friends they will tell you the same thing.
SNA: Is there anyone in particular who encouraged you to join the Miss Seychelles pageant and who you would say is behind your success thus far?
CB: My work colleagues at Mason's Exchange were the one who pushed me, as well as my family. Everyone at work support me, in the sense that I've been getting release for training on top of other help. I also have my big brother and my family who are also being supportive and helping me to cope with all the stress and with the preparations for the big day. 
Christine Barbier says 2016 is her lucky year. (Joey Niclès Modeste) Photo License: All Rights Reserved
SNA: Over the years it's been a constant challenge to attract young girls to join the Miss Seychelles beauty pageant -- what would you say to those who are hesitant to take part?
CB: The pageant is worth experiencing. You get to learn and experience different things and it also helps to build your confidence. I see it as an opportunity of a lifetime.
SNA: Any last words to the Seychellois public?
CB: I would love to have all of their support. They can do this by voting for me. Getting more likes and views on my social media pages will be of great help as we have the Multimedia challenge. Keep on writing the lovely comments, this will give me the necessary push to make Seychelles proud.  
Link to vote for Miss Seychelles – Christine Barbier: http://www.missworld.com/contestants/Seychelles2/
Facebook: https://www.facebook.com/MissSeychellesNationalPageant
Twitter: https://twitter.com/mwseychelles
The Interview
» Be a reporter: Write and send your article
» Subscribe for news alert