No more tennis tan! Olympic gold medalist Elena Vesnina holidays in Seychelles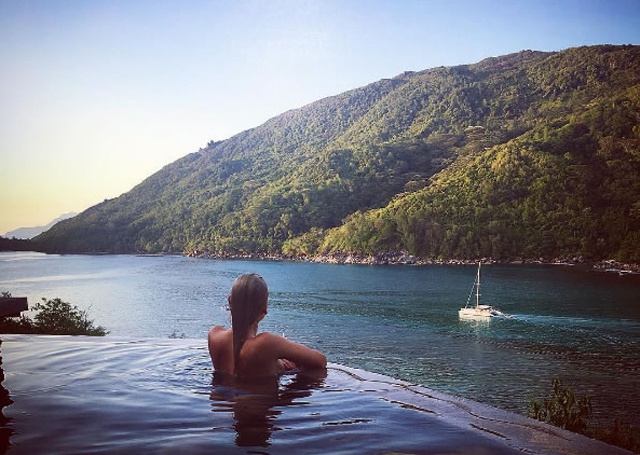 The tennis star enjoyed the picturesque views from the infinity pool overlooking the bay. (Instagram/Elena Vesnina)
Send to Kindle
(Seychelles News Agency) - Russian tennis star Elena Vesnina has returned home from a holiday in the Seychelles islands with her goal accomplished - to get rid of the 'tan lines' from spending hours in the sun playing tennis over the summer.
The 30-year-old blonde beauty, who is ranked world number 16 in ladies' singles and seventh in doubles, showed no desire to go anywhere near a tennis court while holidaying in the Indian Ocean islands, preferring instead to work on her all-over tan and enjoy the beach.
Vesnina, who married Russian businessman Pavel Tabuntsov in November 2015 and won gold for Russia in the 2016 Rio Olympics with doubles partner Ekaterina Makarova, was likely seeking complete rest and relaxation after a successful tennis season, as well as a romantic setting to celebrate her first year of marriage to Tabuntsov.
Judging by her photos posted on social media, one of the highlights of her trip seemed to be feeding a group of giant tortoises, a task she enjoyed immensely. She also went on a deep-sea fishing trip off the coast of La Digue - the Seychelles' third most populated island - proudly showing off a red snapper caught during the trip on her Instagram profile.
Catch of the day! Vesnina proudly shows off her beautiful red snapper caught off the coast of La Digue (Instagram/Elena Vesnina) Photo License: All Rights Reserved
Vesnina eagerly feeds an Aldabra giant tortoise with freshly-picked leaves. (Instagram/Elena Vesnina) Photo License: All Rights Reserved
The lovebirds are believed to have stayed for the most part of their holiday at the Constance Ephelia hotel, situated on the north-west coast of the main island of Mahe, where they enjoyed sumptuous island-style breakfasts, breathtaking views and an infinity pool looking out over the bay.
After the break was over, it seemed Vesnina was thrust back into the limelight once again, bagging the Best Team prize at the Russian Tennis Awards on Monday night for her illustrious doubles partnership with Makarova.
Winners of the Best Team prize at the Russian tennis awards, legendary tennis doubles duo Elena Vesnina and partner Ekaterina Makarova receive their trophies on stage. (Twitter/Elena Vesnina) Photo License: All Rights Reserved
People
» Be a reporter: Write and send your article
» Subscribe for news alert