Floating in a bubble – enjoy camping under the stars in your own bio-dome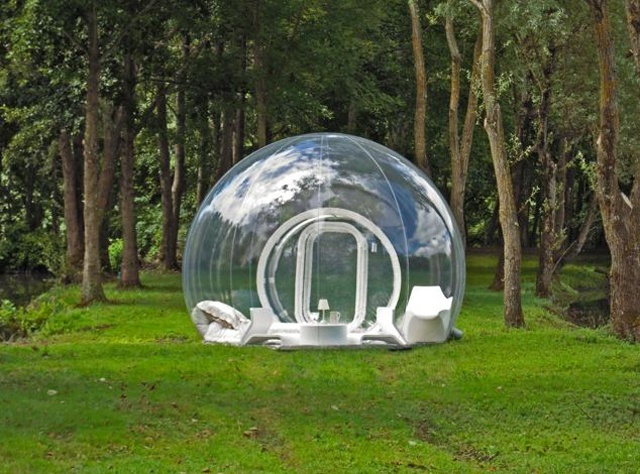 Bubble shaped inflatable tents by French designers targeting those who love the outdoors (Casabubble.com)
Send to Kindle
(Seychelles News Agency) - For so many people, the appeal of camping in the wilderness loses its shine with thoughts of insects, cold winds, uncomfortable sleeping bags and the danger of being attacked by wild animals while sleeping, but now you can opt to get away from the rat-race in your own air-conditioned bio-dome.
French designers Pierre-Stéphane Dumas and Frédéric Richard have come up with the latest high-tech concept in 'glamping' – a glamorous way to experience nature without forgoing luxury – with their inflatable CasaBubble.
The bubbles are kept inflated by an energy-efficient turbine fan and can be erected in under a minute, delivering filter-fresh air whatever the weather outside. The wooden plywood floor can be assembled quickly, leaving you free to do some interior decoration with whatever furnishings you wish.
Whether you keep the bubble in your back yard as a relaxing sun-room or take it with you on your next camping trip, you will be able to commune with nature without communing with pollen, mosquitoes or rain. An airlock tunnel ensures that the bubble does not lose pressure or temperature regulation when entering or exiting.
One of the bubble with a separate living room and bedroom, pictured at nightfall (Casabubble.com) Photo License: All Rights Reserved


"The original idea comes from my childhood dream to sleep under the Milky Way," Frédéric said in an interview with UK news site MailOnline. "So that's what Pierre and I decided to do – but in a much more comfortable way! We wanted to create a cozy hotel bedroom with the starry sky as the ceiling."
"Being laid in your queen size bed, under the duvet like in your bedroom and watching the stars, the planes and the satellites crossing the sky is an incredible experience," he said.
"When I stayed in one of these in a wood, so many animals come to see what was going on with this strange flying saucer – deers, coyotes and raccoons."
The individual 11- and 13-foot bubbles range from $7,000 up to $12,000 plus shipping from France, and rental options are also available.
When deflated and packed in its carry case, an individual 50-kg 13-foot bubble can easily fit in the back seat of your car.
There are three different models; the completely transparent Cristal Bubble, the half-opaque Bubble Room, and the Bubble Drop which is almost fully opaque save for a circular clear window in the roof, offering a picture-perfect view of the sky and stars.
The CasaBubbles can also be arranged in a series of bubble rooms, with opaque bubbles used as changing or bathing areas.  Some bubbles even unzip from their bases so you can put in large pieces of furniture or even a hot tub.
And yes ladies, the bubbles can be equipped with a 'dry' toilet and a shower that uses a portable heater to warm water from a garden hose, according to the architects.
The bubbles are also available in different materials depending on the weather conditions where you plan to use them. The standard bubbles are made from PVC and can withstand temperatures of 3°C to 50°C.
But for very cold holidays there's no need to build an igloo – TPU (Thermo-Polyurethane) bubbles are just the trick, as they can keep you warm and toasty even when the external temperature gets down to -40°C.
If you are thinking of spending a summer in the Arabian Peninsula, you can do so without melting into a puddle of wax with the fully opaque Bubble Drop made from a material which reflects up to 95% of the sun's rays.
However, customers thinking of using the bubbles in rainy conditions may feel a little cautious about making the investment as the designers are reluctant to claim that the bubbles are completely waterproof.
"I would say that the bubbles are water resistant than waterproof," said Frédéric. "In very bad conditions with prolonged heavy rain some drops may come in, although we haven't had any complaints so far."
"And in the heat we recommend finding a relatively shady area and propose using the Sunblock Bubble Drop version."
The bubbles are also suitable for the environmentally conscious too, as they are manufactured ethically from 100 percent recyclable material and create very little environmental impact. The turbine can be powered by solar panels, battery cells or a fuel cell system which can operate the turbine for three months on less than ten litres of methanol.
With CasaBubble's durable design and aesthetic appeal, it may not be entirely inconceivable to get rid of the home loan, sell the house and go off to explore the wonders of nature – all while living in a bubble!
The bubbles come in three different designs from the completely transparent Cristal Bubble, the half-opaque Bubble Room, and the Bubble Drop which is almost fully opaque save for a circular clear window in the roof, (Casabubble.com) Photo License: All Rights Reserved 
General
» Be a reporter: Write and send your article
» Subscribe for news alert