Film, photography enthusiast wins video competition showcasing Seychelles through the eyes of an islander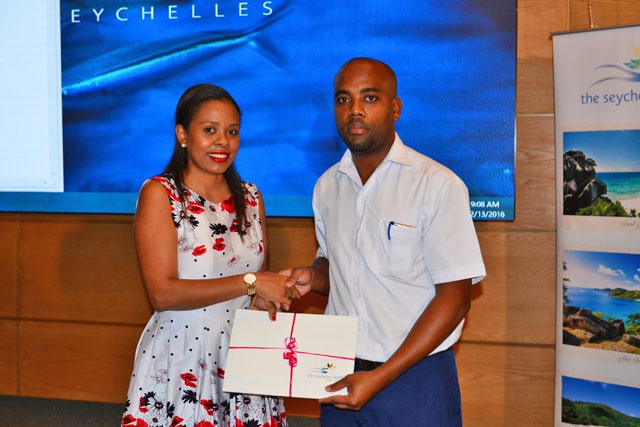 Alex Zelime receiving his prize as the winner of the video competition from the chief executive of the Seychelles Tourism Board, Sherin Naiken. (Vanessa Lucas, Seychelles Tourism Board)
Send to Kindle
(Seychelles News Agency) - The winner of a video competition seeking to get Seychellois islanders to showcase the archipelago to potential tourists said that his short movie portrays Seychelles' seas, landscape and lifestyle.
Alex Zelime this week won the first 'Sesel Sa' [This is Seychelles] competition.
The video contest organized by the Seychelles Tourism Board is the local version of an international video competition launched last year that encouraged non-residents to show their experience in Seychelles.
In an interview with SNA, Zelime said compiling his two-minute video -- The Blue, The Green and the Living -- "was easy as I already had some personal footage."
Zelime, 33, was among the competition's 26 finalists. He has won two business class tickets to Paris, two nights at the Seychelles' North Island Resort for two persons on a full board basis, and a three-month internship at a local telecommunications company, Intelvision, where he hopes to learn more about television production, among other prizes.
Zelime, who works for the Seychelles Ports Authority, enjoys filming and photography as a hobby. He told SNA that he is extremely happy that his work has been well appreciated by the jury.
"This prize will give me more exposure, so I am happy that I was chosen as the overall winner," he said. 
The second and third winners were Errol Agricole with his video titled Discover Seychelles and Colin Constance who labelled his video The Island Vibes of the Seychelles.
The 'Sesel Sa' competition launched in July was expected to end in September, but had to be extended to the end of November to receive more submissions from interested participants.
The Seychelles Tourism Board told SNA that the videos were judged on various criteria including creativity, originality, diversity of images and whether they really portrayed Seychelles.
The tourism board's chief executive, Sherin Naiken,  said her team was impressed with the quality of the videos. 
"I was amazed at the quality of work as most of the participants had put a lot of effort in their montage and it was hard to decide on a winner, but in the end Zelime's work was the most representative of what we were looking for," said Naiken.
She added that the tourism body will look into the possibility of using some of the videos in its promotional work to market the island.
The video competition was open to both professionals and amateurs. Naiken said that they are yet to decide on the next competition, but that the Seychelles Tourism Board's marketing team is was already discussing on targeting niche segments, such as cooking, to showcase Seychelles' cuisine.
The presentation of prizes to the winners of the local video competition was made during the Seychelles Tourism Board's annual end-of-year marketing meeting.
As of Tuesday this week, the 115-island archipelago in the western Indian Ocean had welcomed 288,615 visitors to its shores in 2016, breaking the 2015 record of 278,853.
Tourism
» Be a reporter: Write and send your article
» Subscribe for news alert