Seychelles' national carrier expands codeshare agreement with Alitalia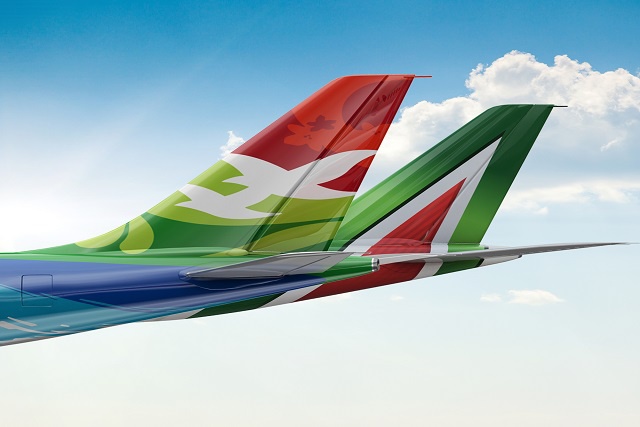 With the new codeshare agreement, Alitalia's 'AZ' code will be added to Air Seychelles' services to the Malagasy capital, Antananarivo, and to Johannesburg, South Africa. (Air Seychelles)
Send to Kindle
(Seychelles News Agency) - The Seychelles' national airline has strengthened its connections with Madagascar and South Africa through the expansion of its codeshare agreement with Alitalia, the flag carrier of Italy.
In a press statement on Monday, the chief executive of Air Seychelles, Roy Kinnear, said the new agreement has "strengthened our route network and added more depth to our regional services, further increasing choice and convenience for travelers."
A codeshare agreement is an arrangement where two or more airlines share the same flight. A seat can be purchased from an airline on a flight that is actually operated by another airline under a different flight number or code.
With the new agreement, Alitalia's 'AZ' code will be added to Air Seychelles' services to the Malagasy capital, Antananarivo, and to Johannesburg, South Africa's biggest city. 
The national airline of Seychelles, an archipelago in the western Indian Ocean, flies four times per week to Madagascar on Tuesday, Wednesday, Friday and Sunday at 10.05 a.m. It heads to Johannesburg on Wednesday, Thursday, Friday, Saturday and Sunday at 9.15a.m.
Kinnear says the agreement opens up an attractive travel option for holidaymakers in Italy. He added that the partnership will stimulate passenger and cargo traffic and strengthen the strong cultural, trade and diplomatic bonds between Seychelles, our neighboring island of Madagascar and South Africa.
The chief executive of Alitalia, Cramer Ball, said that the codeshare brings important benefits to their guests who will now have dozens of new travel options from Italy to Madagascar and South Africa.
"With its one-of-a-kind wildlife and nature Madagascar is an attractive holiday destination that offers a new and exciting experience for travelers in Italy," said Ball.
Once the government of Seychelles gives its approval, Alitalia will also codeshare on Air Seychelles' soon-to-be-available twice-weekly flights to Durban, which will start as of March 30 next year.
Tourism
» Be a reporter: Write and send your article
» Subscribe for news alert