US set to move against Russia over vote meddling: reports
Washington, United States
|
December 29, 2016, Thursday @ 08:46 in
World
»
GENERAL
|
By:
AFP
|
Views:
1741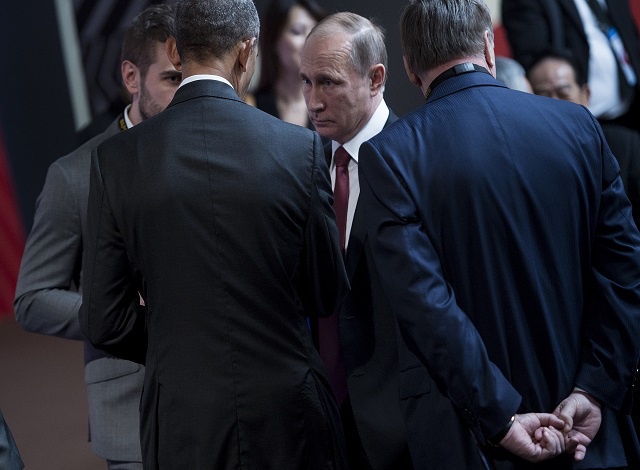 (FILES) This file photo taken on November 20, 2016 shows Russian diplomat Yuri Ushakov (R) listens while US President Barack Obama (2ndL) and Russia's President Vladimir Putin (2ndR) talk before an economic leaders meeting at the Asia-Pacific Economic Cooperation Summit at the Lima Convention Centre in Lima. Barack Obama vowed the United States would retaliate against Russian hacking after the White House accused Vladimir Putin of direct involvement in cyberattacks designed to influence the US election. The outgoing US president's remarks on December 15, 2016 dramatically upped the stakes in a dispute between the world's leading nuclear powers over interference that may have swayed last month's tight election in which Republican billionaire Donald Trump defeated Democrat Hillary Clinton. (Brendan Smialowski / AFP)
Send to Kindle
(AFP) - President Barack Obama's administration is poised to announce a series of retaliatory measures against Russia over its cyber-meddling in the US election, reports said Wednesday.
Obama has all but accused Russian President Vladimir Putin of personally ordering an audacious cyber hack that many Democrats believe damaged Hillary Clinton's chances in November's closely fought election with Republican foe Donald Trump.
The US intelligence community has concluded that a hack-and-release of Democratic Party and Clinton staff emails was designed to put Trump -- a political neophyte who has praised Putin -- into the Oval Office.
The Washington Post cited officials as saying the steps set to be announced as early as this week include economic sanctions, diplomatic censure and covert action -- likely including cyber operations.
People tied to a Russian disinformation campaign that US intelligence officials say targeted Clinton's campaign may also be named under the plans, according to CNN.
Republican Senators John McCain and Lindsey Graham called for an even tougher US response to Russian interference in the American election.
The US Congress should "increase the sanctions on Russia for this misbehavior," McCain told Fox News, pressing for a permanent American military presence in the Baltic states, as well as arming Ukraine with weapons.
"You need to hit Russia in a sustained fashion," Graham added, saying that for Obama to act now just before he leaves office on January 20 would "send the wrong signal."
While suggesting that the Russian action did not ultimately change the election results, McCain said: "Look, if you're able to change the results of an election, then you have undermined the very fundamentals of democracy."
US officials said a key goal of the future steps to be taken against Russia was not just to punish, but to deter.
"As much as I am concerned about what happened to us in the election, I am also concerned about what will happen to us in the future," an administration official told the Post.
"I am firmly convinced that the Russians and others will say, 'That worked pretty well in 2016, so let's keep going.' We have elections every two years in this country."
Prior to November's election, the Obama administration warned Russia via diplomatic channels, according to the Post. Obama also spoke with Putin at a G20 summit in China earlier this year.
And about a week before the election, Washington sent a message to Moscow using a special crisis communication channel for the first time, asking it to stop targeting state voter registration and election systems.
Russia apparently complied, according to US officials.
CNN cited Russian foreign ministry spokeswoman Maria Zakharova as saying that Moscow will respond to any "hostile steps" from Washington.
© 1994-2016 Agence France-Presse
General
» Be a reporter: Write and send your article
» Subscribe for news alert