New mayor of Seychelles' capital wants a more vibrant Victoria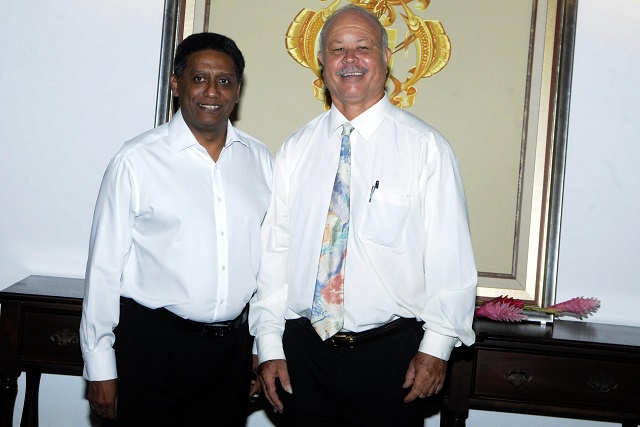 David Andre was presented with his official document today by President Danny Faure at State House. (Louis Toussaint, Seychelles News Agency)
Send to Kindle
(Seychelles News Agency) - The new Mayor of Victoria said on Wednesday he hopes to make the capital more welcoming and vibrant.
David Andre was presented with his official document by President Danny Faure at State House.
Andre, 58, is the first male to occupy this post and replaces Jacqueline Moustache-Belle, who held the position since 2012 until late last year when she was appointed chief of presidential protocol.
Andre told journalists he feels honoured to be appointed as Mayor.
"It is a privilege and honour to be nominated because I believe it is an interesting and challenging job," said Andre.
Andre is a popular musician and song-writer in Seychelles, a group of 115 islands in the western Indian Ocean and said he intends to use this background to liven up the capital. 
"With my artistic background I can bring in new elements and make our town more welcoming and vibrant and to make it reflect the true essence of its motto, which is 'Victoria, the capital of the Creole world,'" he said.
David Andre is the first male to occupy this post. (Louis Toussaint, Seychelles News Agency) Photo License: CC-BY
The new Mayor said his next focus will be to sit down with his predecessor, Moustache-Belle, to see what has been done so far and look at the remaining projects before he can outline his areas of priorities for Victoria.
"I have certain ideas for the town, but I will have to analyse everything first, and once this is done I will be in a better position to make suggestions," said Andre.
The Seychelles' designated minister, Macsuzy Mondon, who is responsible for local government, said the eight National Assembly members from central districts and those bordering Victoria were asked to propose names for the post.
The proposed name was approved by President Faure.
Mondon said Andre will occupy the post until elections for the post are held in 2018.
"Elections for Mayor's office will be held together with District Council elections in 2018 and in the meantime we cannot leave the post vacant, so we have decided to appoint somebody until elections are held," explained Mondon.
The eight members of the National Assembly from the central region and bordering Victoria - namely English River, Mont-Fleuri, Mt Buxton, St-Louis, Plaisance, Roche Caiman, Les Mamelles and Bel Air – were present at Wednesday's ceremony.
General
» Be a reporter: Write and send your article
» Subscribe for news alert