Corporate, tourism design evolving in Seychelles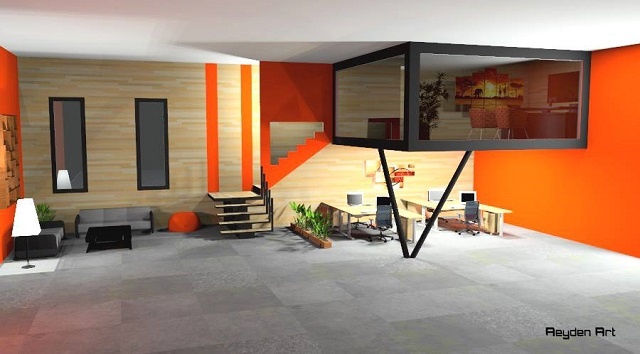 First impressions are the most lasting effects of any experience.(Aeyden Art)
Send to Kindle
(Seychelles News Agency) - Open floor plan or cubicles? Eco-friendly and sustainable material? Advanced art and design? Tourism establishments and corporate businesses in Seychelles are putting more thought into design.
The Principal Secretary for Tourism, Anne Lafortune, told SNA that the idea of corporate design in tourism establishments should include a mixture of the local context and futuristic representations.
"Art and design have taken prevalence in hotels. This is very important for us in tourism. When visitors fly to Seychelles, they look for the tropical visual design," said Lafortune, adding that: "Integrating the local culture and native artwork on the walls of every tourism establishments is what we are aiming for in 2017."
The public relations manager of H Resort Beau Vallon Beach hotel, Pari Sambasivan, told SNA there has been a drastic change in tourism establishment design.
The reception area of the H Resort at Beau Vallon. (Joe Laurence, Seychelles News Agency) Photo License: CC-BY
"Before hotels in Seychelles were designing just for the sake of it, but now attention is being laid on sophistication and local décor to please the most discerning guest."
Sambasivan said that the design of the reception area at the hotel is critical to getting the feel of the hotel correct.
"It is the first impression you get as you walk through the hotel. Therefore, it was important for us to sketch the place with a timeless and colloquial design, which will create a comfortable and hospitable atmosphere."
SNA spoke to a local interior art decorator, Caroline Horner, who designed the popular cafeteria Chatterbox on Eden Island located on the eastern coast of the main island, Mahe. Horner has also revamped the Bravo restaurant also at Eden Island.
Chatterbox on Eden Island was designed by local interior art decorator, Caroline Horner. (Joe Laurence, Seychelles News Agency) Photo License: CC-BY
The new design of Bravo restaurant adds to its attraction. (Bravo! Caffe, Restaurant and bar) Photo License: CC-BY
"Thinking in terms of sustainability is becoming the norm in business design. We're designing every project with a sustainable focus, from art to recycled, renewable and reused materials," said Horner. 
A regular client of Bravo restaurant, Beryl Low-lam said that the new design is very appealing in style and that the artistic mixture of the new colour scheme adds to its new attraction.
"As you step in the restaurant, imaginative art influences are immediately apparent. The main recycled features seen are the seating area at the reception fashioned from reclaimed corrugated iron and floor boards," said Low-lam.
And then there's the issue of workplace design.
The owner of Aeyden Art, Lenny Lablache, says, "The determining factor when designing workplaces rest upon the quantity and type of client your business will attract and of course, the level of comfort your employees will enjoy."
Aeyden Art specialises in house plan and commercial building designs in Seychelles, a group of 115 islands in the western Indian Ocean.
Lablache, who is a professional designer, said that first impressions are the most lasting effects of any experience.
Two designs of professional designer Lenny Lablache.(Aeyden Art) Photo License: CC-BY
"A customer service office will be themed in shades of blue, white or green to suggest calmness and comfort. Industrial complexes and commercial buildings will typically be themed in white to reflect open space," Lablache told SNA.
The professional designer added that open spaces and glazed partitions are slowly becoming the next innovative step because it is the easiest way to communicate ideas.
SNA spoke to a staff of Barclays Bank, Fantima Johnson, on the dismantling cubicles in the modern open space where she works. 
Johnson said, "I have worked in various office spaces, cubicles can encourage faster communication and better supervision, but can also be soul destroying." 
She added that "The reality is that, people respond naturally to people moving around and if somebody stands up or are making a loud phone call, it will disrupt my train of thought." 
Business
» Be a reporter: Write and send your article
» Subscribe for news alert