More than 40 detained in Chile for spreading forest fires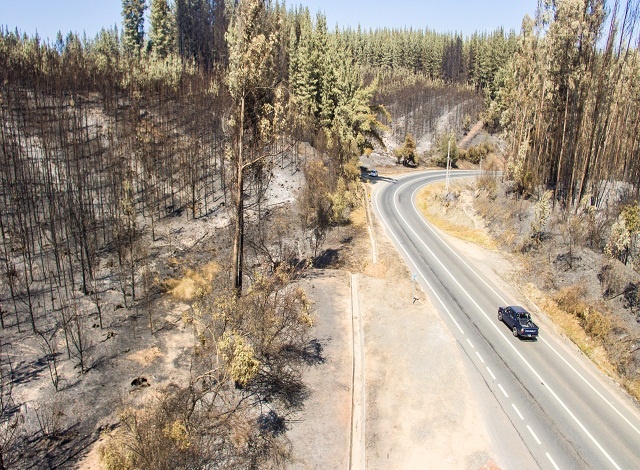 Aerial view taken with a drone of a forest devastated by fire near La Florida, Bio Bio region , some 420 km south of Santiago, on January 29, 2017. Forest fires ravaging southern Chile have now killed 11 people, President Michelle Bachelet said Saturday, as firefighters waged an all-out battle to extinguish the raging infernos.
(Christian Miranda / AFP)
Send to Kindle
(AFP) - Authorities have detained 43 people suspected of stoking some of the deadly Chilean forest fires that have killed 11 people and destroyed large swaths of land, President Michelle Bachelet said Sunday.
For nearly two weeks, fires have raged across seven regions in south and central Chile, devastating more than 400,000 hectares (988,000 acres), Bachelet said in her latest update on the tragedy.
She added that 43 people had been detained "for their possible responsibility in the forest fires."
Most of the suspects were apprehended in the hardest-hit regions of O'Higgins, Maule and Biobio. They could face a penalty of up to 20 years in prison.
Of the 130 active forest fires, 50 are under control while 66 others are still being battled, officials said.
The Chilean government is distributing aid to those affected by the blaze, most of whom are farmers and ranchers whose homes, animals and land has been destroyed.
More than 11,000 people are working to extinguish the fires, including members of the military, police, public officials and residents.
Of these, more than a half have come from abroad to help with what Chile has called the largest emergency operation in its history.
Fires are common in Chile's parched forests during the southern hemisphere's summer. Most are caused by human activity. More than 35 people have been arrested and accused of playing a role in starting or propagation the fires.
Fire activity this year was worse than usual because of a drought attributed by environmentalists to climate change.
© 1994-2017 Agence France-Presse
General
» Be a reporter: Write and send your article
» Subscribe for news alert