6 flower shops in Seychelles that will make your Valentine feel loved
(Joe Laurence, Seychelles News Agency)
Send to Kindle
(Seychelles News Agency) - Combine surf, sand and red roses, and what do you get? Valentine's Day in Seychelles! The day for romance is approaching on Tuesday. Flowers, especially roses, will sell like hot cakes. A quick walk around the capital city reveals several florists providing Seychellois with a wide variety of blossoms in different colours, shapes and scents. All these florists are well stocked and geared up to satisfy all the inbound Valentine requests. 
1. Dorothy the Florist 
The shop is located at Riverside, on the outskirts of Victoria, the capital, since 2000. It is owned by Dorothy Westergreen who had had training in Scotland, France and England. She's been selling flowers since 1972.
When she started Dorothy was importing daisies, carnations and roses. The shops today use tropical flowers from its garden but still import some flowers, including the ever-popular rose.
Tel No: 4224058
Email: dtflorist@gmail.com
Website: www.dorothystheflorist.com
(Joe Laurence, Seychelles News Agency) Photo License: CC-BY
2. ROSIE's flower shop 
This shop started in the Sir Selwyn Selwyn Clark Victoria market place in the centre of the capital and is still there today. It's a place where people buy a variety of fresh flowers.
Tel. No: 4321621
Email: rosiesflowershop@gmail.com
3. Flowers by Jeanina 
Up the hills at Ma Constance, going northeast, one can find the business of Jeanina Edmond who is originally from Praslin. Edmond's days are filled with flower arrangements and bouquets for all occasions and she delivers all over Mahe. Jeanina said having your own individual style and creativity results in returning clients.
Tel. No: 2771855
Email: jeanina.edmond@gmail.com
(Flowers by Jeanina) Photo License: CC-BY
4. Mylynn Bloom 
This shop is located at Anse Louis in the west of Mahe and belongs to Gina Chang Yunn.
Chang Yunn makes use of her Facebook page to market her business. She also delivers to Victoria and caters for weddings. Gerbera and lilies brought in from Ethiopia are some flowers Chang Yunn loves to work with..
Tel No. 2529113
Email: mylynnbloomflower@gmail.com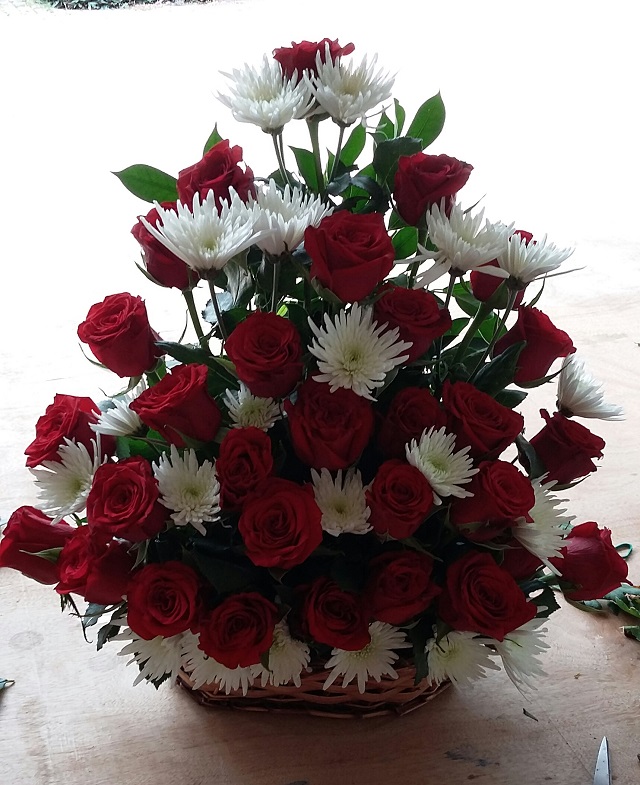 (Mylyn Bloom) Photo License: CC-BY
5. Flora the florist 
This is the creation of Youthline Payet seven years ago and is located at Trinity House in the centre of the capital, Victoria. Payet, who went through one week of intensive training in South Africa, specialises in weddings and draping. She imports her blossoms from South Africa.
Tel No: 2840161
Email: youthlinepayet@gmail.com
(Joe Laurence, Seychelles News Agency) Photo License: CC-BY
6. Tropical Flower World
Marie Antoinette Figaro has had a lifelong love affair with flowers. She started at the Victoria Market with her husband and now has her own shop Malow Trading, Quincy Street. With 22 years of experience in the sector, Figaro and her daughter work mostly with roses, which are always in demand, but she still loves tropical flowers.
Tel No: 2570243
Email: marieanttoinette@gmail.com
(Joe Laurence, Seychelles News Agency) Photo License: CC-BY
Seychelles Buzz
» Be a reporter: Write and send your article
» Subscribe for news alert