13 island singers on Seychelles' musical Wall of Fame
(Seychelles News Agency)
Send to Kindle
(Seychelles News Agency) - Music has always been a popular form of entertainment in Seychelles. Although international music has gained a following in the island nation, the island nation's local singers are still hitting the airwaves.
To ensure that the legacy of the Seychellois lives on, a musical Wall of Fame was set up in 2013.
SNA takes a look at the 13 artists making the Seychelles' Wall of Fame located at the national cultural centre in the country's capital, Victoria. The singers' latest albums can be purchased in local shops.
1. Jany De Letourdie
Wooing the nation with her melodic songs, this female vocalist has not only a following in Seychelles but also in the Indian Ocean region. De Letourdie sings in Creole mostly but also in French and English with her songs varying in rhythm from fast sega beat to slow ballads.
She partnered with Mauritian group Cassiya with their hit title 'desizyon'. De Letourdie's last Album featuring hit song 'Ding ding Kololo' was dedicated to her entire Seychellois fan base, which inspires her as an artist. She is presently a member of the National Assembly of the Linyon Demokratik Seselwa (LDS).
(Joe Laurence, Seychelles News Agency) Photo License: CC-BY
2. Joseph Louise
Born on Praslin, the second-most populated island, this singer is a veteran who uses his mother tongue of Creole in all his songs which are many times based on what is happening in his surroundings. His first album "La Joi De Vivre" came out in 1976. Louise is best known for his song "Tant Emma" and his last 10-track album "Vibrasyon" was released in 2012.
(Patrick Joubert, Seychelles News Agency) Photo License: CC-BY
3. Despilly Williams
A singer from La Digue, the third-most populated island, Williams has evolved his music to make it more fitting for modern times like his song Zimbou which has an African soukouss-like rhythm.
Not only is he known for his unique voice, but also for his entertaining dance moves which makes him a must see performer. 'Des' as he is known has more than eight albums in circulation, with some of them accompanied by other local celebrities.
(Seychelles Nation) Photo License: CC-BY
4. David Andre
He discovered his inner passion for music in early childhood and dreamed of creating his own record that will one day be loved and played by the people. Not only a singer,  Andre is also a guitarist and a former music teacher. He is well known for his soothing romantic slow rhythms. Andre broke a lot of norms to pave the way for future music -- calling for unity through some of his songs.
His latest sublime album released in 2013 opens with the album's title "Mon Anvi Sant Pou Ou", followed by "En Zour Parey". These two songs echoed the backing vocals of female vocalist Marie-Antoinette Dodin.
(Joe Laurence, Seychelles News Agency) Photo License: CC-BY
5. Jean Marc Volcy
He is an artist who is passionate about Creole music who recorded his first track in 1994. All his songs are in Creole and he participates often in local Creole-oriented musical shows. His second album -- 'Leko Bake' (1997) -- became an instant hit on the local airwaves. Volcy has won many music awards. He was voted the 'best Seychellois artist,' by the Reunion-based award 'Les Voix de l'Océan Indien', [Voices of the Indian Ocean]. He was also presented with the Airtel Award and Cable Tune Award in 2015.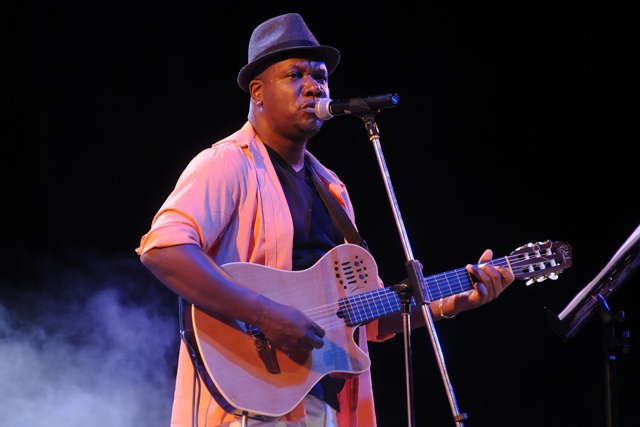 (Patrick Joubert, Seychelles News Agency) Photo License: CC-BY
6. David Philoe
He emerged as a new talent at the age of 20 and has today over 45 years in his musical career. Philoe is still a well known voice today and has produced many songs which have been remixed into modern version.
His latest album --'Lalyans Des Zil' (Sega De Seychelles) -- came out March 2011. He also sings in Creole and his songs are all about the reality of life and in many instances the sufferings of the past.  Philoe also has gospel numbers which are well known among his religious followers. Philoe has retired from the musical sphere because of illness.  
(Joe Laurence, Seychelles News Agency) Photo License: CC-BY
7. Jeanne Legge
Hailing from La Digue, she started singing in 1968 and is well known among the islanders. Her songs are fused with traditional folk music.
A song that made a hit among children was 'Coco Ademer'. Legge was the first women who started singing on a commercial basis in the island nation when women were hardly seen on the local musical scene. As a diverse singer, Legge was popularly was popularly seen singing ballads at weddings and parties.
(Seychelles Nation) Photo License: CC-BY
8. Patrick Victor
Using his voice as a vehicle to explore and express his range of patriotic sounds, Victor needs no introduction when it comes to the local musical scene. He recently joined voices with regional artist to produce an official hymn of the Indian Ocean region titled 'Ensemble' (together).
Victor's shows his true sense of patriotism throughout his music and his country is part of many songs. He is also a promoter of the Creole spirit. He is also a writer for theatrical plays like 'Castor' which showcase the story of colonial exploitation among the island's first settlers. As part of personal achievements, he has collected a number of local awards.
(Joe Laurence, Seychelles News Agency) Photo License: CC-BY
9. Thomas Knowles
Also from La Digue, Knowles caught the public's attention with his album 'Sega Mamia' released in 1981. He has been likened to Stevie Wonder due to his blindness and got his inspiration through listening to world legendary musician like Elvis Presley. Knowles uses various genre of music including sega, valse, and slow. He reached local radio charts with his popular numbers -- 'Rev d'amour' and 'Rann Mwan Mon Ventan'.
(Joe Laurence, Seychelles News Agency) Photo License: CC-BY
10. Francois Havelock
He passed away in 2013 but has seen his fair share of fame in the Seychelles. His sons depicts the adventures he witnesses or hears about and well known in the northern part of Mahe, especially the district of Beau Vallon. Havelock committed heart and soul to a life in Creole music and has many well known numbers still popular today. He will also be remembered for entertaining dance moves.
(Joe Laurence, Seychelles News Agency) Photo License: CC-BY
11. Joseph Sinon
He is known in many circles as he mixes his theatrical performances with music to make a living. Having been involved in music for more than 20 years, Sinon considers himself more of a comedian than a musician. This is greatly reflected in the satirical lyrics he produces in his songs. He is one of the artist performing almost every week end in various activities.
(Patrick Joubert, Seychelles News Agency) Photo License: CC-BY
12. Jean Ally
Also a veteran who is now more into gospel he started singing in the early 1970s. Some of his patriot songs like 'I feel proud to be a Seychellois' are still used in promotional videos and in national celebrations. Ally has performed in countries including U.K, France, Switzerland, Russia, Singapore, Germany, Japan, Australia and in a neighboring country, Reunion.
(Joe Laurence, Seychelles News Agency) Photo License: CC-BY
13. Fernande Ladouce
She led a traditional group from La Digue called Masezarin that performed at most traditional and Creole events. Ladouce is usually seen performing the 'Madilo' dance which originated from Madagascar. It is a dance involving four people and uses a stick by four people, while they go around and clap their hands in frolicsome.
 (Joe Laurence, Seychelles News Agency) Photo License: CC-BY
Seychelles Buzz
» Be a reporter: Write and send your article
» Subscribe for news alert