Seychellois editor partners Kreol Magazine with new jazz festival in Louisiana
Guests at the launching of the partnership held at the Bayou Heaven Hotel in Slidell. (Rinald Mamachev/Kreol Magazine)
Send to Kindle
(Seychelles News Agency) - The Seychellois editor and publisher of the international publication Kreol Magazine, Georgina Dhillon, has given her magazine's backing to the Camellia City Smooth Jazz Festival to promote Creole culture and heritage.
While the New Orleans Jazz Fest is perhaps one of the most famous events on the jazz calendar, a new tradition is due to start this year on the other side of Lake Pontchartrain. The Camellia City Smooth Jazz Festival will bring contemporary artists to Slidell, Louisiana this October. 
The previously French-controlled U.S state of Louisiana has had a sizable Creole population since the arrival of colonial refugees to its shores when the Haitian revolution occurred at the end of the 18th century.
Speaking to SNA in an email interview, Dhillon said that the best of Creole culture would certainly be represented at the festival. "You will definitely find Creole identity during the festival [in its] music, food and activities," she said.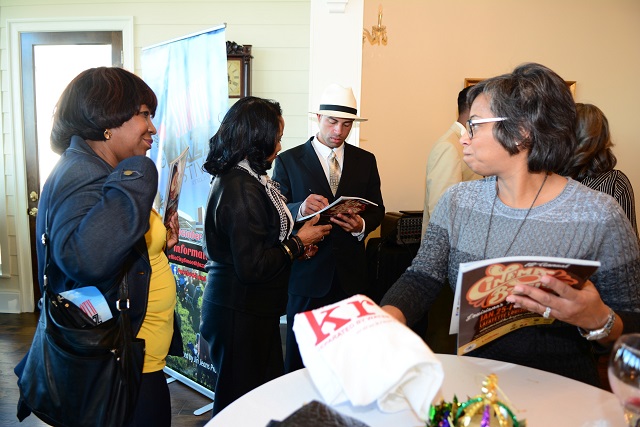 Professional baseball outfielder Xavier Paul born in Slidell, Louisiana signing a copy of the Magazine (Rinald Mamachev/Kreol Magazine) Photo License: CC-BY
The three-day festival will include a golf tournament, a sip-n-sail jazz cruise, and a full day, outdoor smooth jazz experience, followed by a jazz brunch to end the weekend off in style.
The event organisers, Wil and Diane Bias of a local entertainment production company, hope that the event will become an annual anchor for the region, being the first contemporary smooth jazz festival to be established in the area.
A match made in jazz heaven
The partnership between the two brands was cemented at a launch party held at the Bayou Heaven Hotel in Slidell, on 29th January, with Dhillon travelling to Louisiana from her London office for the event.
At the event, which was attended by members of local business communities, stakeholders and press, Dhillon, announced that Kreol Magazine would become an international media partner and sponsor of the event for the next five years.
"We are delighted to give the inaugural Camellia City Smooth Jazz Festival our full support and with the exciting line up of jazz musicians scheduled to appear, I'm sure the festival will be a huge success," she announced at the event. "Kreol Magazine showcases Creole culture and music and this is one event we're really looking forward to this year."
Kreol Magazine is passionate about promoting Creole culture, and Dhillon says music is a big part of that.
"This festival is owned and organised by Creoles of New Orleans and will have a number of Creole jazz musicians. During the festival, Kreol Magazine will be featured on stage and all live broadcasts, and will also have its own tent offering various activities."
The latest edition of the Kreol Magazine (Rinald Mamachev/Kreol Magazine) Photo License: CC-BY
An exciting line-up of international artists for the festival in October will offer an eclectic mix of contemporary jazz designed to appeal to music lovers everywhere.
Artists scheduled to headline the Camellia City Smooth Jazz Festival include Gerald Albright, the Los Angeles-born saxophonist and bass player who has toured with the likes of Quincy Jones and Whitney Houston and is a highly requested musician; jazz pianist, composer, and bandleader Alex Bugnon, from Montreux, Switzerland, and renowned Afro-Cuban/Latin Jazz percussionist and multi-instrumentalist, Bill Summers.
Other well-known artists appearing at the event will include New Orleans-born vocalist Stephanie Jordan, premiere saxophonist Marcus Anderson, Generation NeXt, Joey "Papa J" Sommerville, and bassist/composer Gerald Veasley.
Proudly showcasing Creole identity
As for jazz lovers and musicians from the Seychelles, Dhillon says she hopes some will plan a trip to the festival this October to experience Creole cuisine and culture in Louisiana, adding that she hopes very much to include Seychellois musicians in future festivals.
As for the common ties that bind Creoles all across the world, Dhillon believes there is no such thing as a straightforward definition of what "Creole" means in today's modern world, arguing that a broader, more inclusive definition is necessary.
"The ancient Greek aphorism 'know thyself' has a special resonance for those of us who define ourselves as Creole," she explained. "Understanding and appreciating the real meaning of the word and with it the richness of our own identities and heritage has not always been a clear-cut thing."
"Being Creole is about culture, traditions, food, music and way of life. To know the culture one must experience it, and we urge people to travel to 'Creole' countries and destinations to witness it firsthand."
Arts & Culture
» Be a reporter: Write and send your article
» Subscribe for news alert