Seychelles' President visits two leading hospitals in Sri Lanka, discusses collaboration
President Danny Faure Faure visited Hemas Hospital in Thalawatugodha and Lanka Hospitals in Colombo on Sunday. (State House)
Send to Kindle
(Seychelles News Agency) - The strong mutual respect and cooperation between Seychelles and Sri Lanka's leading healthcare facilities has been further consolidated through the first working visit of President Danny Faure to two Sri Lankan hospitals, State House says. 
Faure visited Hemas Hospital in Thalawatugodha and Lanka Hospitals in Colombo over the weekend and met with Seychellois patients undergoing treatment there.
The president "expressed his appreciation on behalf of the people of Seychelles to the Hemas Hospital Team, for the care given to all Seychellois who have received treatment at the hospital," a statement from State House said.
President Danny Faure and his delegation being toured around the Hemas Hospitals. (State House) Photo License: CC-BY
During his visit to Hemas Hospital, the president received an overview of the hospital chain where its progress in healthcare and pharmaceutical industry was outlined. The hospital is recognized as one of the country's leading hospitals driven by innovation and quality healthcare. 
At the second healthcare facility, Lanka Hospital, one of Sri Lanka's leading private healthcare institutions, Faure discussed with the management the potential areas of collaboration.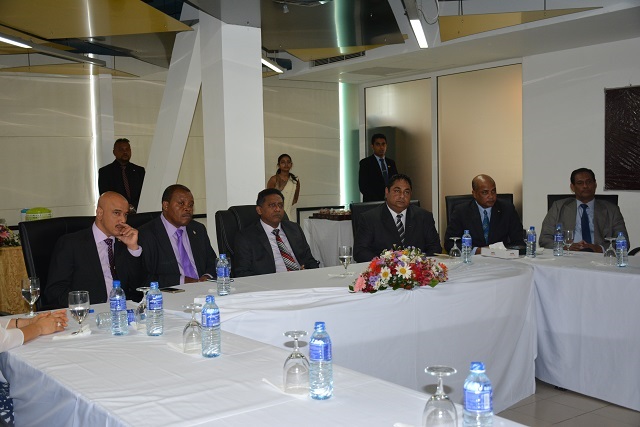 Top photo: Two Seychellois patients undergoing treatment there took a photo with President Danny Faure. Bottom photo: President Danny Faure discussed the potential areas of collaboration with the Hemas Hospital Management team. (State House) Photo License: CC-BY
"The President affirmed that such collaborations through Medical Tourism is highly beneficial to Seychelles and discussed possibilities of future areas of cooperation such as in the domain of palliative care," said the statement.  
The relationship between Lanka Hospital and Seychelles has been ongoing for a number of years. Faure gave his appreciation for the care and services offered to citizens of Seychelles.
A souvenir photo of President Danny Faure and the staff of Hemas Hospital. (State House) Photo License: CC-BY
"It is clear that in the past three years we have seen an increase in the number of Seychellois coming to Lanka Hospital. You are making a difference in terms of their quality of life and we are sincerely grateful," said Faure.
After his visit to Sri Lanka, President Faure will pay a working visit to the United Arab Emirates. 
Health
» Be a reporter: Write and send your article
» Subscribe for news alert