Students help EU debut climate change project on Seychelles' island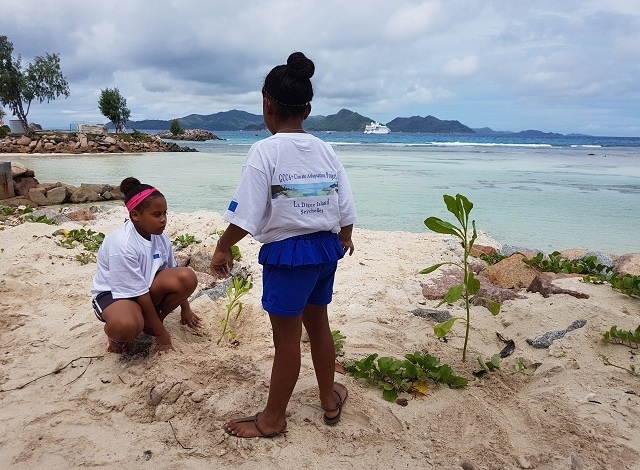 School children planted around 80 trees as part of the activities to launch the EU climate change adaptation project on La Digue. (Seychelles News Agency)
Send to Kindle
(Seychelles News Agency) - Work to reduce the impact of coastal flooding and coastal erosion on La Digue, Seychelles' third-most populated island, got a boost as school children planted 80 trees along the shoreline.
"This area was severely affected by high tide, and although the rock armouring is an eyesore in this touristic area, it has helped to create a small beach and keep our sand and land from being washed away," said Souienne Rose, an inhabitant of the island.
The symbolic gesture was part of the activities to officially launch the European Union's climate change adaptation project on La Digue. 
"This is for the community, and I hope the community feels they can benefit from this project to which they can also participate and give their input," said the head of the European Union (EU) delegation, Marjaana Sall.
The activity officially launched the European Union's climate change adaptation project on La Digue. (Seychelles News Agency) Photo License: CC-BY
It was in December 2015 that the EU pledged financial support to Seychelles, a 115-island archipelago in the western Indian Ocean, to curtail the growing effects of climate change.
The $1.5 million project under the EU's Global Climate Change Alliance Programme began last year and will last for another three years.
It will involve shoreline management plan, improvement of water ways to reduce stagnant water during heavy rainfall, restoration of wetlands and beach dunes, as well as mitigation of salt water intrusion effects in aquifers and agricultural land.
"Contracts for two of the four components will be signed during the coming weeks. Tenders for the other two will also be published as there was a need to update some activities after consultation with stakeholders," said Rodney Quatre, the project manager in United Nations Development Programme (UNDP), the body coordinating the project.
Top photo: The area severely affected by high tide. Above photo: Trees were planted along the shoreline. (Seychelles News Agency) Photo License: CC-BY
Renowned for its slow-pace lifestyle and its often-photographed Anse Source d'Argent beach, La Digue -- with around 3,000 inhabitants -- has been a victim of flooding for many years.
In 2013, the island suffered from the effects of the Tropical Storm Felleng, which turned into a cyclone. Water inundated several homes and tourism infrastructures as well as agricultural lands. Several projects were launched to alleviate the impact, including a six-year National Disaster Plan and a project funded by the EU.
The EU has implemented several global programmes aiming at least developed countries and Small Island Developing States (SIDS).
"This will give a boost to what the government has already been doing on the island and will further improve on infrastructures in place," said the Principal Secretary for Climate Change, Wills Agricole.
Seychelles was also among several countries who signed the Paris Agreement on Climate Change in New York in 2016.
General
» Be a reporter: Write and send your article
» Subscribe for news alert