14 inspiring women of Seychelles
Participants in the Gender Secretariat workshop in January 2012 (Gem Plus)
Send to Kindle
(Seychelles News Agency) - To coincide with International Women's Day on March 8, SNA looks at 14 inspiring, unique and outstanding Seychellois women -- from those who have left impressive legacies to those who are showing their capabilities in fields frequently dominated by males. 
1. Susan Chang Him: promoter of school dental service
Suzie as she was known was one of the pioneers of school dental service and was one of the first woman dental therapists.  Before her death in 1996, Suzie, was involved in the setting up of the Anglican Health Workers Fellowship and a church group for unmarried mothers called LESPWAR.
(Joe Laurence, Seychelles News Agency) Photo License: CC-BY
2. Ramona Brigillia: palm wine tapper
Drinking palm toddy is part of the island life, but usually the tapping of the palm wine is a man's business. Brigillia defied the odds and society and became a palm wine tapper for most of her adult life. Her precarious job entailed climbing up to 11 coconut trees per day, and she was injured three times after falling down. She passed away in 2009.
(Joe Laurence, Seychelles News Agency) Photo License: CC-BY
3. Marthe Manes – fisherwoman and diver
Born Marthe Hitie in 1918, she found out early in life that as a woman you had to beat all the odds to survive.  After her husband, a fisherman, left her and with two children, Manes took up fishing and later started a small craft business trading in shells and other souvenirs. She collected the shells herself by diving without oxygen tanks and during her dives she would also bag a few octopuses. Besides diving and swimming, Manes was also a cyclist and took part in local races. She passed away in 2011.
(Joe Laurence, Seychelles News Agency) Photo License: CC-BY
4. Therese Josephine Cafrine: first Seychellois to be considered for sainthood
Cafrine was born in 1877 at Anse Royale in the south of Mahe, where she lived until her passing in 1907. She was a leper who lived and endured her sufferings with great faith, and a stoic and devout Catholic. Upon her death a Belgian priest, Father Vital, discovered a manuscript written by Josephine depicting her life and great suffering. It is said that after death Josephine, who was disfigured by the disease, was transformed with no visible scars or wounds.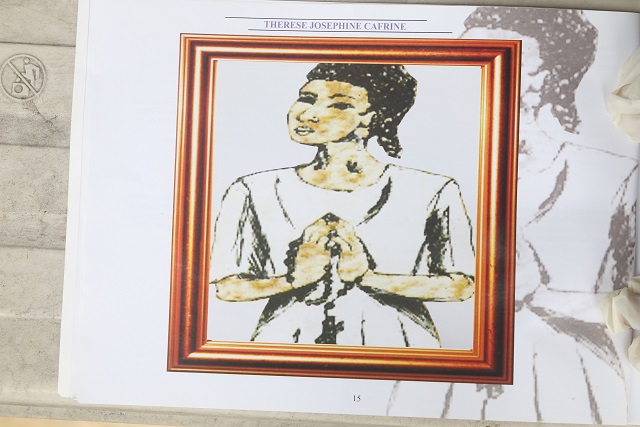 (Joe Laurence, Seychelles News Agency) Photo License: CC-BY
5. Flavie Jackson: promoter of reading and literature 
She began her career in the library services in 1972 and helped the library flourish from a 2,000 book library to an internationally recognised institution. Jackson was behind the introduction of the mobile library services in 1981 and active in the fundraising for the new cultural center where the national library is currently based. She was an active member of the Seychelles Bible Society which was behind the translation of the bible in creole. Jackson passed away in 2008.
(Joe Laurence, Seychelles News Agency) Photo License: CC-BY
6. Hilda Stevenson-Delhomme: first Seychellois female doctor and politician
Born coincidently on March 8, 1912, she started her medical career in 1939 after earning her degree in Scotland. At a time where women were mostly confined to nursing and teaching, Stevenson-Delhomme's move was seen as a bold one. At the then Victoria Hospital, she was active in the struggle against tuberculosis, a real threat at that time, and saw the setting up of the Tuberculosis Fund. Since 1953, she formed her political  party "Parti Seselwa". Stevenson-Delhomme died at 89.
(Joe Laurence, Seychelles News Agency) Photo License: CC-BY
7. Gertude Vel: spiritual leader
Known as the Earth mother, she was born on Praslin, also known as Ile de Palme in 1952. She was a friend to all and enemy to none, assisting the more vulnerable and giving voices to the voiceless. Through her career Vel was a leader and active in several groups of the Roman Catholic church, notable 'Coeurs Vaillants', 'Mouvement Catholique de l'Enfance', 'Jeunesse Ouvriere Chretienne'. She was also very vocal on the plight of domestic workers who in the early 1970's were maltreated and exploited. She died in 2001.
(Joe Laurence, Seychelles News Agency) Photo License: CC-BY
8. Christine Benoit: Anglican priest
While she felt a need to do God's work at an early age, life had other plans for her and Benoit started her career at Internal Audit of the Ministry of Finance. She remained active in the  St Paul's Cathedral. Heeding to her calling, in January 2000, Benoit went to study theology in South Africa. She was ordained as Deacon  in May 2004 at a time where  ordination of women was still in question. In 2006, the province approved the ordination of women to the priesthood. Christine the only female Reverend in the Indian Ocean and is currently based at the Holy Saviour's Church at Anse Royale.
(Patrick Joubert, Seychelles News Agency) Photo License: CC-BY
9. Connie Anthony: Lieutenant on board Seychelles Coast Guards vessel PS Etoile
Just promoted as Lieutenant on Women's Day, Anthony wanted to be in the military ever since she was a little girl. After completing her studies at the Maritime Training Academy she joined the Seychelles Coast Guards in 2011. At 25, Anthony has high hopes for her future and participated in several trainings overseas. In 2014, she excelled at the Officer Cadet Course at the Britannia Royal Naval College in UK. She is the only female officer currently working on a Coast Guard vessel – the PS Etoile.
(Louis Toussaint, Seychelles News Agency) Photo License: CC-BY

10. Shafika Isaac: studying refrigeration
"I wanted to challenge myself: I can do it and I will do it.' Shafika Isaac joined the refrigeration course offered by the Seychelles Institute of Technology because growing up she has heard that some jobs girls just cannot do. "But I wanted to prove them all wrong.' Shafika says that after her diploma she wants to pursue her studies further and her ultimate goal is to be an engineer.
(Salifa Magnan, Seychelles News Agency) Photo License: CC-BY
11. Corrie Baron: she has electricity on her mind
She is following in her father's footsteps and following a course in the electrical field. Baron admits that it was hard deciding on the course of her future as she also wanted to be a nurse -- her love for wires, sockets and plugs won. For her future, she wants to further her studies and qualify as an electrical engineer.
(Salifa Magnan, Seychelles News Agency) Photo License: CC-BY
12. Elker Estico: aiming for her own construction company
She found herself in a course which was not her first choice when she was enlisted in a course for masonry. Estico admits that this has proved to be a blessing in disguise, as she has developed an interest for the course, and looks forward to a diploma after completing the certificate course.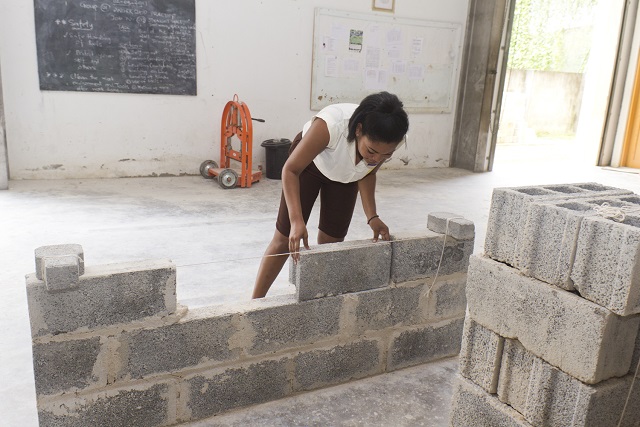 (Salifa Magnan, Seychelles News Agency) Photo License: CC-BY
13. Louisa Lafortune:  being a mechanic is in my blood
In a family of three daughters, Lafortune has followed her dad and is now training to be a mechanic. "I cannot think of a time when I was not thinking about fixing a car, doing anything in a car well being a mechanic, what I can say it is in my blood!"
(Luisa Lafortune) Photo Lisence: CC-BY
14. Naomie Jeannevole: aviation engineering is my dream
Following a course in mechanical engineering, Jeannevole says this is only the beginning of a long journey, which will culminated with her having a career in aviation engineering. Study-wise, she has a lot to do but Jeannevole is confident that she can make it. She is looking forward to her career in a male dominated field – bring it on. 
(Salifa Magnan, Seychelles News Agency) Photo License: CC-BY
Seychelles Buzz
» Be a reporter: Write and send your article
» Subscribe for news alert