Seychelles repatriates five Somali nationals acquitted for piracy offences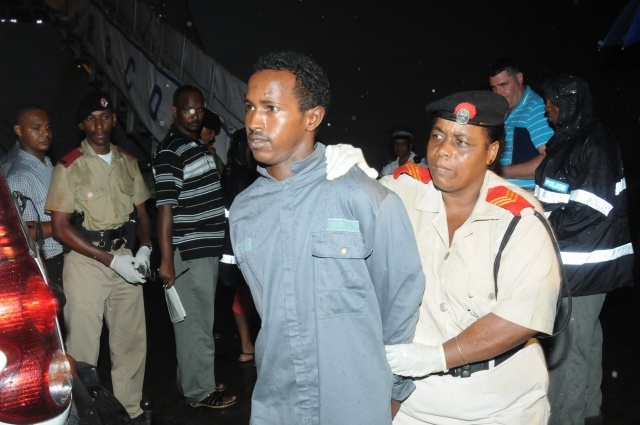 File Photo: The Somali nationals were arrested for piracy offences said to have been committed in the Gulf of Aden between January 1 and January 18, 2014. They were convicted to 12 years in prison. (Patrick Joubert, Seychelles Nation) 
Send to Kindle
(Seychelles News Agency) - Five Somali nationals were repatriated Monday after being acquitted for their conviction on piracy offences, a statement from the Ministry of Home Affairs said.
In co-ordination with the United Nations Office of Drugs and Crime (UNODC), the Ministry of Home Affairs repatriated the five Somalis early Monday morning on board a chartered aircraft of the Island Development Company (IDC).
The transfer of the Somali nationals from Seychelles back to Somalia was done under the supervision of a UNODC official.
The Somalis had successfully appealed their case in December 2016 and were declared free of the charge of piracy offences by the Seychelles Court of Appeal. The court had ruled that there was not enough evidence to maintain the conviction of the five Somalis.
The Somali nationals were convicted in June 2016 to 12 years in prison by the Seychelles Supreme Court after they were found guilty of piracy offences.
They were accused of attacking a dhow (a sailing vessel with one mast of more) and holding the Indian crew as hostages and using the dhow as a pirate ship to attack a cargo vessel. The offences were said to have been committed in the Gulf of Aden between January 1 and January 18, 2014.
Seychelles, an archipelago in the western Indian Ocean, and Somalia have in place agreements to repatriate Somali nationals. These apply to Somalis who have either completed their sentences in Seychelles, or are either transferred to complete sentencing in Somalia at a UNODC recognised prison facility, or those who may have been acquitted of their charges following appeals, as was the case for this repatriation. 
Currently there are 15 Somali nationals who remain incarcerated at the Seychelles' main detention facility -- Montagne Possee Prison -- on sentences for acts of piracy.
General
» Be a reporter: Write and send your article
» Subscribe for news alert