Seychelles' cabinet gains 4th female as Minister for Family Affairs is sworn in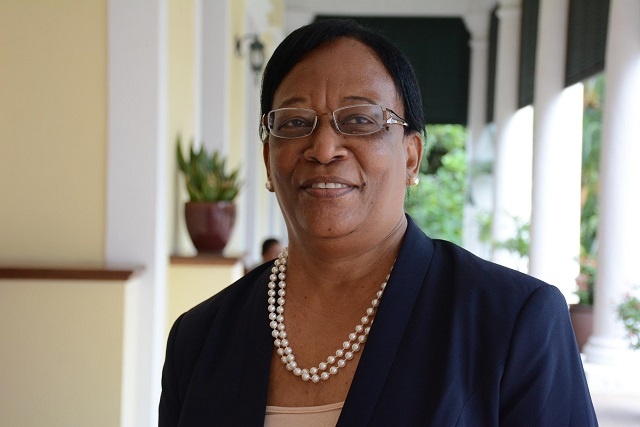 Jeanne Simeon the new Minister for Family Affairs -- is the 4th women in the Seychelles Cabinet of Ministers (Patrick Joubert, Seychelles News Agency)
Send to Kindle
(Seychelles News Agency) - The Seychelles' Cabinet of Ministers now has four women after the swearing in of Jeanne Simeon as the Minister of Family Affairs on Wednesday at the State House.
The nomination of Simeon, 64, who was the Deputy Secretary for Cabinet Affairs in the Office of the President since October last year, was approved by the Seychelles National Assembly on Tuesday.
The new minister told reporters, "I feel proud as a woman to have been nominated as minister and responsible for a new portfolio. I am happy and express gratitude for the trust that the President has bestowed on me and I am ready to discharge my responsibility."
The creation of a new Ministry for Family Affairs was announced by the Seychelles' President Danny Faure in his State of the Nation's Address in February.
State House also announced on Wednesday that the Ministry will have two departments  -- the Family Affairs and Social Affairs Departments. 
Jeanne Simeon was sworn on Wednesday at the State House. (Patrick Joubert, Seychelles News Agency) Photo License: CC-BY
Faure had said that the island nation's families are facing multiple social problems directly linked to housing issues and social ills and after discussion with various stakeholders, a ministry would be set up to coordinate all local efforts to address those challenges. 
Simeon said there are already many agencies working for the welfare of the family and that, "the role of the ministry is to first find out how much has been done and how we can work  with all those agencies to reinforce the programmes." 
She added that "if it is necessary to develop new ones (programmes) we will also do that." 
Minister Simeon and family members with President Faure (Patrick Joubert, Seychelles News Agency) Photo License: CC-BY
The new minister holds a Bachelor of Arts in Language and Linguistics Science from the University of York and a Master in Education Management and Teacher Training from the University of Leeds. Simeon has had a long and prominent career in education.
Simeon said the new ministry will take a more integrated approach and bring every-one onboard.
"We will also have a more coordinated approach because we have seen that we have certain challenges that are persisting in our society. If we want to deal with these challenges, we will   have to see what approaches are best for us to use."
With the new ministry the Seychelles' Cabinet of Ministers now has 13 members. 
The Seychelles Cabinet of Ministers has now 13 members. (Patrick Joubert, Seychelles News Agency) Photo License: CC-BY
General
» Be a reporter: Write and send your article
» Subscribe for news alert