Trump repeats charge that Obama ordered wiretaps against him
Washington, United States
|
March 18, 2017, Saturday @ 06:41 in
World
»
GENERAL
|
By:
AFP
|
Views:
2374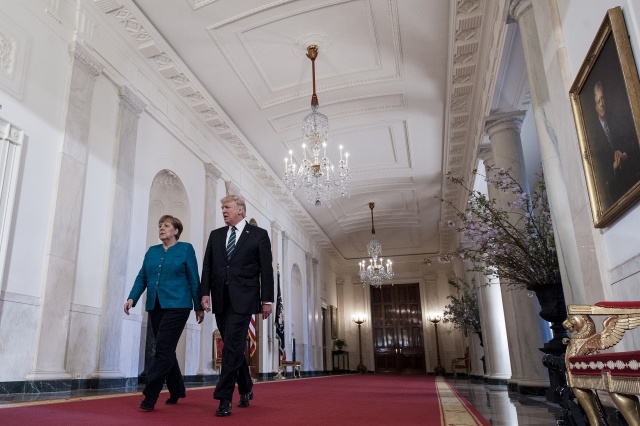 German Chancellor Angela Merkel and US President Donald Trump walk to a press conference in the East Room of the White House March 17, 2017 in Washington, DC.
(Brendan Smialowski / AFP)
Send to Kindle
(AFP) - US President Donald Trump on Friday repeated his charge that predecessor Barack Obama had ordered a wiretap against him, rejecting rising calls from Republicans and Democrats to withdraw the charge and apologize.
Speaking at a joint press conference with German Chancellor Angela Merkel, Trump answered a question on the wiretap allegation by referring to the US National Security Agency's reported tapping of Merkel's phone several years ago.
"As far as wiretapping, I guess, by this past administration, at least we have something in common perhaps," Trump said.
But Trump also said he did not endorse a Fox News claim that Britain's GCHQ spy agency did the wiretapping for Obama -- an allegation repeated by Trump's spokesman Thursday, sparking a sharp rebuke from London.
"We said nothing" about the GCHQ claim, Trump told journalists.
"That was a statement made by a very talented lawyer on Fox. And so you shouldn't be talking to me, you should be talking to Fox," he said.
Fox News said it could not confirm the allegations.
"Fox News knows of no evidence of any kind that the now president of the United States was surveilled at any time in any way, full stop," anchor Shepard Smith said, reading an official statement on-air.
- Waiting for evidence -
Trump has accused Obama of ordering wiretaps at his Trump Tower in New York, but two weeks after the extraordinary claim, he has not delivered any evidence.
The claim has led to investigations in Congress and by the Federal Bureau of Investigation, but so far no one has provided any evidence to substantiate it.
Top Republicans and Democrats on the House and Senate Intelligence Committee have all said they have seen no evidence.
The Federal Bureau of Investigation has remained quiet, however.
On Friday, the Justice Department said it had complied with requests from the Intelligence and Judiciary Committees in both houses of Congress for information related to surveillance during the 2016 election.
House Intelligence Committee Chairman Devin Nunes confirmed Friday evening that the DOJ had "fully complied" with his panel's request for information regarding potential surveillance of Trump or his circle during the presidential race. He did not elaborate on the details of the information.
The National Security Agency had partially met the committee's request with plans to fully comply by end of next week, Nunes said, but "the committee still has not received information requested from the CIA and FBI... that is necessary to determine whether information collected on US persons was mishandled and leaked."
On Monday, FBI Director James Comey is to testify before lawmakers on that and other issues relating to what US intelligence says was Russian interference in the election.
Trump first made the wiretapping accusation on March 4.
"Terrible! Just found out that Obama had my 'wires tapped' in Trump Tower just before the victory. Nothing found. This is McCarthyism!" he tweeted.
"Is it legal for a sitting President to be 'wire tapping' a race for president prior to an election? Turned down by court earlier. A NEW LOW!" he continued, accusing Obama of crimes comparable to those of Richard Nixon's Watergate scandal.
Obama flatly rejected it, but the White House refusal to back down has kept the issue alive.
On Thursday, White House spokesman Sean Spicer defended his boss, citing news stories alleging wiretapping including the Fox News report.
That sparked a rebuke from GCHQ and calls from British officials.
The White House said Friday that Spicer "was simply pointing to public reports, not endorsing any specific story."
© Agence France-Presse
General
» Be a reporter: Write and send your article
» Subscribe for news alert