New Rwandan High Commissioner to Seychelles to focus on trade, investment and tourism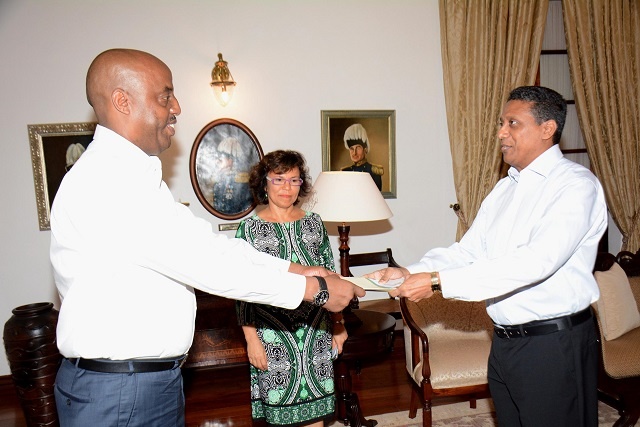 Eugene Kayihura is the newly accredited High Commissioner of Rwanda to Seychelles. (Joena Bonnelame, Seychelles News Agency)
Send to Kindle
(Seychelles News Agency) - Trade and investment, tourism, and institutional reforms are the main areas that the newly accredited Rwandan High Commissioner to Seychelles hopes to work on.
High Commissioner Eugene Kayihura presented his letter of accreditation to the Seychelles' President Danny Faure on Tuesday at State House.
"We have 10 other subjects that we have explored, which we can definitely build up further cooperation with the Seychelles. But we want to focus on trade and investment and tourism -- get it out of the way -- then we can pick up on the others," Kayihura told reporters.
The High Commissioner shared that he would like to expand on the work of his predecessor, Ben Rugangazi, who also focused on trade, investment and tourism.
"Seychelles has a wonderful environment and a lot of potential for investors to do business. Henceforth, we can also learn a lot from tourism, which the country is already well versed in," said Kayihura.
High Commissioner Eugene Kayihura and President Faure discussed other areas the two countries can cooperate. (Joena Bonnelame, Seychelles News Agency) Photo License: CC-BY
He added that, "I will fly to Seychelles very often to work on those points that we have discussed today."
The newly accredited High Commissioner described his meeting with President Faure as excellent, and said that both Rwanda and Seychelles, a group of 115 islands in the western Indian Ocean, are going to work very well together.
In August 2013, Seychelles signed a general cooperation agreement with Rwanda which made provisions for the establishment of a joint commission between the two countries. The agreement was also to pave the way towards more effective collaborations especially in the fields of health, tourism, culture, education, agriculture, trade and investment promotion, air services, information, communication and technology.
Kayihura, who is the third High Commissioner from the republic of Rwanda to the Seychelles, will be located in Dar Es Salaam, Tanzania for a four-year mandate.
The new High Commissioner also paid a courtesy call on the Vice-President of Seychelles, Vincent Meriton.
Seychelles and Rwanda bilateral cooperation dates back to 2010 with the accreditation of the first High Commissioner of Rwanda to Seychelles, Fathuma Ngangiza Nyirakobwa. 
Diplomacy
» Be a reporter: Write and send your article
» Subscribe for news alert