Artist from Wales closes gallery after two decades of painting the Seychelles' scenery and people
Barbara Jensen's gallery at Anse Reuion, La Digue. (Seychelles News Agency)
Send to Kindle
(Seychelles News Agency) - After more than 20 years of making Seychelles her home, a British artist returning to her homeland says she carries fond memories of an island where she has felt loved and somehow belonged.
Barbara Jenson -- originally from Wales in the United Kingdom -- has decided to leave the Indian Ocean archipelago, more precisely La Digue -- the Seychelles' third-most populated island, to be with a sick relative back home.
Arriving in Seychelles for the first time in 1984, Jenson's long stay stems from what was originally supposed to be a two-year contract to teach at the School of Arts.
"I just fell in love with it all," Jenson told SNA, as she mused over her nearly 23-year stay in the island nation. "Once I started painting, I could not stop as there were so many things to paint," she recalled.
Settled on La Digue, an island with a laidback way of life, with a population of around 3,000, Jenson lived in a beachside home, where she had her art studio and gallery.
The artist, who is in her early 70s and sports two shoulder-length pony tails with silvery strands, opened her small gallery for the last time to SNA at the end of March.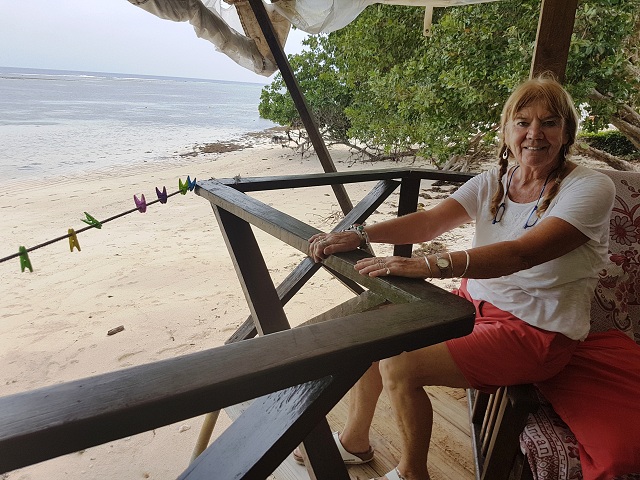 Jensen in a last souvenir photo on her veranda on La Digue. (Seychelles News Agency) Photo License: CC-BY 
Piled in the corners were some of her paintings that remained, following a three-week special offer, in her last attempt to sell them off before leaving the island.
In her softly spoken Welsh accent, Jenson explained to SNA that she conveyed her love for Seychelles through her numerous art works, which depict the Seychellois people she has encountered and landscapes of the archipelago.
"I am very fond of African culture and here [in Seychelles] there is a diverse heritage which intertwined together makes faces very interesting subjects to paint."
Over the years, the British artist's gallery situated at Anse Reunion has been a popular stop, especially for the many visitors to La Digue. Although most of her art work uses acrylic painting techniques, art lovers have also been able to admire her use of recycled materials to produce intriguing sculptures, including a metal life-sized dog stationed at the entrance.
When questioned about her fascination for using recycled materials, Jenson laughed whole-heartedly and gave a detailed explanation of how art can be made from anything.
A few of Jensen's paintings still hang in the gallery. (Seychelles News Agency) Photo License: CC-BY
"I just wanted to show people that there is always something you can do with them instead of throwing them away," she told SNA.
For years, flip-flops, nails, bottle tops and many unwanted items have somehow been turned into work of art by Jenson's expert hands. So has recycled aluminium, which she has been buying for years from printing houses on Mahé, the Seychelles most populated island.
"Once the newspapers are printed, they go to waste so I turned them into a work of art using several techniques."
Contemplating the move back to Wales, as she admired the sight of the waves swishing against pillars of the veranda of her beach house, the artist also recalled the transformation she has witnessed on La Digue.
"When I first came here the roads were just tracks with Takamaka trees meeting overhead so it was always very dark which was quite mystical and at the same time magical," she said adding that "This is the perfect time to leave, before everything starts changing too much."
As she goes back to her native land, Jenson will surely be taking the time to catch up with relatives and friends she has not seen in years. While the landscape and faces will be different, the artist has however reassured SNA that she is not leaving her paint brushes behind. 
SNA presents a collection of photos from the gallery. (Seychelles News Agency) Photo License: CC-BY
People
» Be a reporter: Write and send your article
» Subscribe for news alert