UN agrees to shut down Haiti peacekeeping mission
United Nations, United States
|
April 14, 2017, Friday @ 08:00 in
World
»
GENERAL
|
By:
AFP
|
Views:
3067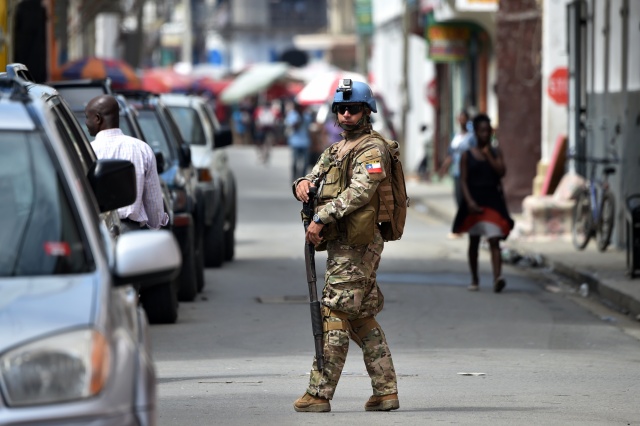 (FILES) This file photo taken on May 6, 2016 shows a Chilean soldier of the United Nations Stabilisation Mission in Haiti (MINUSTAH) standing guard during an Earthquake and Tsunami Emergency drill in the city of Cap-Haitien. The United Nations Security Council on Thursday agreed to shut down the peacekeeping mission in Haiti after 13 years and replace it with a smaller police-only force. (HECTOR RETAMAL / AFP)
Send to Kindle
(AFP) - The United Nations Security Council on Thursday agreed to shut down the peacekeeping mission in Haiti after 13 years and replace it with a smaller police-only force.
The council unanimously adopted a resolution that will end the mission known as MINUSTAH by October 15.
The decision provided a boost to the new US administration's hopes of cutting back its multi-billion dollar financial contribution to UN peacekeeping.
US Ambassador Nikki Haley has launched a review of all peacekeeping missions to find ways of cutting back costs and improving the operations, which have been plagued with sexual abuse and corruption scandals.
After the vote, Haley spoke out against sexual abuse by UN peacekeepers, saying children in Haiti will continue to face a "nightmare" after the troops are gone.
"What do we say to these kids? Did these peacekeepers keep them safe?" she asked.
The council agreed that the 2,370 soldiers serving in MINUSTAH will be gradually withdrawn over six months to make way for the new United Nations Mission for Justice Support in Haiti (MINUJUSTH).
That mission will have 1,275 police, which will also be drawn down over two years as the police force is built up in the poor Caribbean country.
MINUSTAH was deployed in 2004 after the departure of president Jean-Bertrand Aristide to help stem political violence but it has not endeared itself to Haitians.
An outbreak of cholera in 2010 was introduced by Nepalese UN peacekeepers serving in the mission. More than 9,000 Haitians died in the epidemic.
- Peacekeeper abuse of kids 'must stop' -
Haley said sex abuse by UN peacekeepers "must stop" and that the United States will continue to demand that countries hold accountable soldiers who face allegations while serving under the UN flag.
She cited the example of a sex ring allegedly run by Sri Lankan peacekeepers in Haiti -- they reportedly lured hungry teenage boys and girls by offering them snacks and cookies. Dozens of peacekeepers were sent home over the claims.
"The children were passed from soldier to soldier," Haley told the council.
"Countries that refuse to hold their soldiers accountable must recognize that this either stops, or their troops will go home and their financial compensation will end," she said.
With its annual budget of $346 million, MINUSTAH does not rank among the costliest peace operations run by the United Nations, but its closure signalled a shift toward smaller missions.
British Ambassador Matthew Rycroft said he expected more cuts and closures of peacekeeping operations.
"Peacekeepers do fantastic work but they are very expensive and they should be used only when needed. So we strongly support the ending of this mission and turning it into something else and we will see the same thing elsewhere," Rycroft told reporters.
In late March, the council reduced the size of its peacekeeping mission in the Democratic Republic of Congo, bringing the ceiling down from 19,815 troops to 16,215.
Missions in Liberia and Ivory Coast will also shut down, while the large joint UN-African Union peace operation in Sudan's Darfur region is also expected to be drawn down.
© Agence France-Presse
General
» Be a reporter: Write and send your article
» Subscribe for news alert