Austria, Seychelles sign air transport agreement; increase in tourism, trade expected
The agreement was signed by Minister Maurice Loustau-Lalanne and the Ambassador of Austria Herald Gunther on Friday.(Salifa Magnan, Seychelles News Agency)
Send to Kindle
(Seychelles News Agency) - Trade, cultural exchange and tourist arrivals are expected to increase after the signing of an air transport agreement between Seychelles and Austria on Friday.
The Seychelles' Minister for Tourism, Civil Aviation, Ports and Marine, Maurice Loustau-Lalanne said the agreement allows for more flexibility regarding codeshare operations, types of planes and alleviation of double taxation.
"Most importantly, since the agreement had been negotiated in 2014, it has allowed for Austrian Airlines to start flying here, which it will be starting by the end of October this year," Loustau-Lalanne said according to a press statement from the Ministry. 
The agreement was signed by Loustau-Lalanne and the Ambassador of the Austria Herald Gunther, at the Espace Building in Victoria, the Seychelles' capital.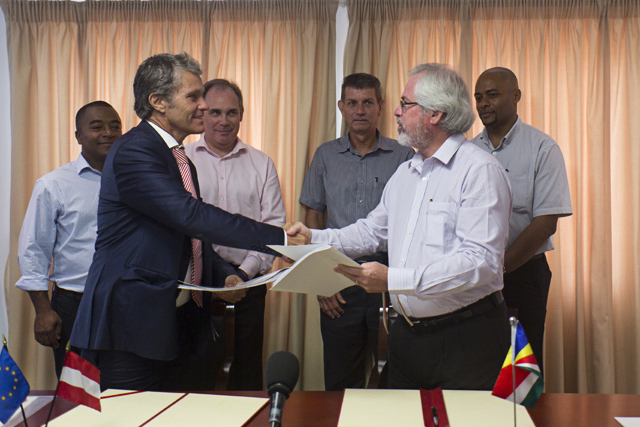 The air transport agreement will allow for more flexibility regarding codeshare operations, types of planes and alleviation of double taxation between Seychelles and Austria.(Salifa Magnan, Seychelles News Agency) Photo License: CC-BY
The Austrian ambassador said, "The Seychelles is a very popular destination in Austria, and without a doubt, this flight will bring more Austrians to Seychelles. This is a step further in the relationship between our two countries and this is something that we can be proud of."
Gunther said that after talks with the Austrian Airlines, the company has announced that it will start operating on October 25 and added that the new direct flights will provide Seychellois with an opportunity to visit Vienna, the capital city of Austria.
 Seychelles, an archipelago in the western Indian Ocean, relies largely on the tourism industry, its top economic contributor, which is expected to benefit further with the introduction of the once-per-week flight to and from Austria.
Austrian Airlines is the largest carrier from the country and operates a global route network of around 130 destinations. It is part of the Lufthansa Group, Europe's largest airline group and a member of the Star Alliance. The once-weekly flight service between Austria and Seychelles will be carried out on a Boeing 767; flight bookings opened since October last year.
Austria is a budding visitor market for Seychelles with a growth rate prediction of 40 percent by the end of the year. In 2016, nearly 6,500 Austrian visitors came to the island nation. 
Seychelles and Austria are celebrating 40 years of bilateral relationship this year.
General
» Be a reporter: Write and send your article
» Subscribe for news alert