First Accredited Central African ambassador sees Seychelles as peaceful, successful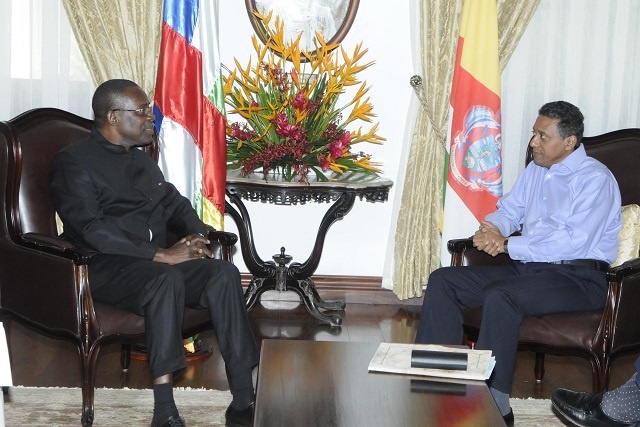 Nzapayeke is the first ever ambassador of the Central African Republic to Seychelles. (Louis Toussaint, Seychelles News Agency)
Send to Kindle
(Seychelles News Agency) - The Central African Republic sees Seychelles as a model country whose example can be followed when it comes to having good relationships with other countries and promoting peace within the nation, the first ever ambassador to Seychelles from CAR said Tuesday.
Ambassador Andre Nzapayeke visited State House on Tuesday for his accreditation ceremony.
"We are currently getting out of [a] crisis and the Seychelles is a country that has good relationships with most countries of the world. I do not recall that Seychelles has had any conflicts with other countries," said Nzapayeke.
The Central African Republic was plunged into turmoil in 2013 when Muslim rebels from the Seleka umbrella group seized power in the majority Christian country.  Violence continues in remote areas outside government control.
After presenting his accreditation documents to Seychelles' president, Danny Faure, Nzapayeke told the press that "Central Africa is seeking the help of Seychelles on international levels within institutions such as the African Union, International Organization of La Francophonie, United Nation, and the European Union."
Ambassador Andre Nzapayeke presented his accreditation documents to Seychelles' president Danny Faure at State House on Tuesday.(Louis Toussaint, Seychelles News Agency) Photo License: CC-BY

Nzapayeke said Seychelles can also help his country with bilateral relationships with other countries, especially the members of the United Nation's Security Council.
"Central Africa needs to mobilise the international solidarity so that we can quick attain peace. The Security Council is also giving us their assistance in terms of military training," said the new ambassador.
The tourism industry, the largest economical pillar of the 115-island archipelago in the western Indian Ocean, is also a field the Central African Republic describes as exemplary.
"We are going to hold discussions with different institution especially those in charge of tourism in Seychelles as we have a lot of national parks and hotels that are not being properly operated. Our country needs experts in these fields to restart the administration of these hotels," said Nzapayeke. 
Seychelles can also aid Central Africa to rebuild, boost and reinforce the capacity of their administration especially in the formation area.
Nzapayeke asked the president's authorisation to hold discussions with the local Chamber of Commerce so as to better understand in which areas the two countries can trade in.
"The country has big economical potential. It is a rich country with 18 million hectares of land, lots of wood, diamond, gold, iron, oil, uranium among many others minerals that are being exploited at a minimum," said the ambassador.
Nzapayeke will be based in Pretoria, South Africa.  
Diplomacy
» Be a reporter: Write and send your article
» Subscribe for news alert