Artists from Seychelles on first trip to France's international music market
Patrick Victor received an honorary degree in recognition of his contributions to popular culture as a singer and songwriter and his accomplishments as a playwright and producer last year. (Vanessa Lucas, Seychelles Tourism Board)
Send to Kindle
(Seychelles News Agency) - Six Seychellois artists are about to experience for the first time the International Music Market in Cannes, the French city well known for its international film festival.
The artists making up the Seychelles delegation are Regis Philoe from Praslin, the second most populated island, Tony Julie, Ion Kid, Johnny Volcere and well-known local singers Patrick Victor and Jean-Marc Volcy.
The International Music Market called 'Marché International du Disque et de l'Edition Musicale' known as Midem is scheduled to take place from June 6 to 9. 
The chief executive of the Seychelles National Arts Council, Jimmy Savy, told reporters earlier this week that MIDEM is the place to start for Seychellois music to make it to the international market.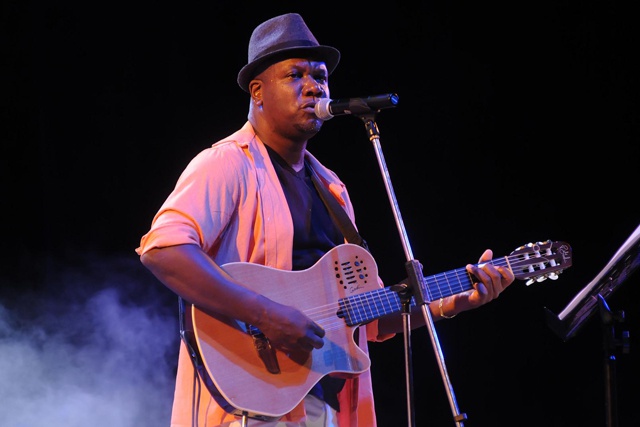 Jean-Marc Volcy has won numerous awards including the Best Male Artist of the Airtel Music Award in 2015. (Patrick Joubert, Seychelles News Agency) Photo License: CC-BY
"This is the place where the publishers, producers, people involved with copyrights issues, incubating of artists, putting it up shows and tours converge for different forums and workshops. We need to be at this platform to learn, gain the experience, and benefit to the maximum," said Savy.
With four days of music conferences, competitions and networking events, Midem is the leading business event for the music industry. It provides the opportunity to make significant business connections, learn how to promote music internationally, source talent and get inspired by upcoming trends in music.
The annual gathering of music professionals organised since 1967, Midem, is being organised in June between two other flagship events -- the Cannes Film Festival which took place in May and the Cannes Lions International Festival of Creativity due to take place June 17-24.
Regis Philoe has put together a first association of musicians on Praslin. (Regis Philoe) Photo License: CC-BY
Savy who will be part of the delegation of Seychelles, an archipelago in the western Indian Ocean, said the trip will help the artists prepare for their participation in next year's edition of the International Music Market.
"If all goes well, we want to bring our music to Midem next year. We will be performing, but this will involve a lot of preparation. We want to experience it this year, and this will help us with the preparations which will start as soon as we come back." 
General
» Be a reporter: Write and send your article
» Subscribe for news alert