Seychelles a great place to drive electric cars, auto dealer says
Sun Motors and PMC Auto introduced the general public to the features of the electric vehicles they are offering (PMC)
Send to Kindle
(Seychelles News Agency) - Seychelles has the right conditions to accommodate eco-friendly vehicles like electric cars, said a top official of a car dealership. 
In an event organised recently, two local car dealers -- Sun Motors and PMC Auto --introduced the general public to the features of the electric vehicles they are offering -- the Nissan LEAF and Hyundai IONIQ, both 100 percent electric vehicles (EV) operating on energy stored in their rechargeable batteries.
The PMC Auto's commercial director, Jayant Mayadas, said, "In Seychelles, our conditions are in fact near perfect for EVs – short travel distances [and] our abundant sunshine means EV (electric vehicles) and PV (photovoltaic) are already a possibility for most."  
An average drive in the 115 island archipelago of the western Indian Ocean for the majority of car owners is an estimated 33km per day. Fully charged, the Nissan LEAF runs for about 150km whereas the Hyundai IONIQ can be driven for about 220km. So there is little reason for so-called 'range anxiety' -- the idea of running out of battery power while driving.
Owners of EVs should have a wall-dock charger installed at home which will fully charge the vehicle in about four hours. There is also the option to use a portable charger that can be plugged into a normal three-pin wall socket, however, it takes a longer to recharge the vehicle. The cars can be completely eco-friendly if its owner has a photovoltaic (PV) solar power installation at home.
"If you do combine EV with PV, then you can legitimately put a bumper sticker on your EV car that says 'Powered by sunshine'. What a rewarding feeling that could be," said Mayadas.
During the presentation held at La Plaine St. Andre in the Au Cap district last month, the commercial director outlined the benefit that electric vehicles bring. He explained that governments in most countries are actively encouraging their consumers and citizens to move from Internal Combustion Engine (ICE) towards EV.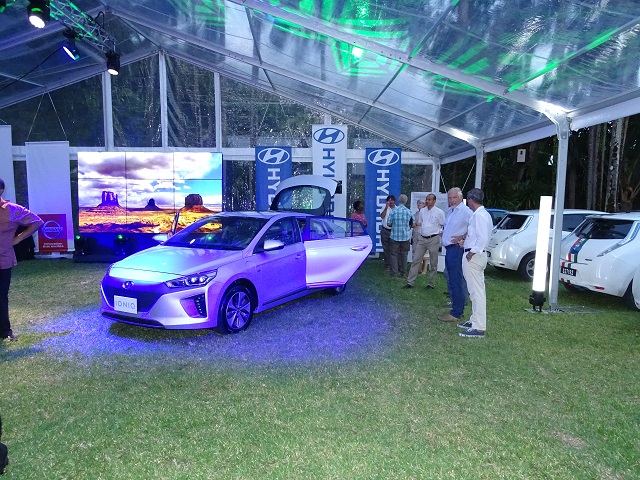 Fully charged, the Hyundai IONIQ can be driven for about 220km (PMC) Photo License: CC-BY
Mayadas said that to lower oil import bills, help decrease greenhouse gas emissions and noise pollution, improved air quality  "[these government] provide incentives such as lower road taxes or import duty, free parking rights, no city congestion charges or toll taxes, among others."
Recognising the benefits of EVs, in July 2015, duty on all electric vehicles was removed by then president James Michel as a measure to help promote the country's policy for clean and renewable energy.
Talking about the global sale of EV, Mayadas said that sales growth has increased noticeably.
"As of end 2016, the stock of all plug-in vehicles had crossed the 2 [million] mark. Within that, pure 100 percent EVs crossed the 1 [million] vehicles threshold," said Mayadas.
For those wishing to learn more about the cars, visit the website of the two companies - www.hyundai.sc and www.nissanseychelles.com. 
General
» Be a reporter: Write and send your article
» Subscribe for news alert