7 Roman Catholic chapels of the main islands of Seychelles
(Archive Roman Catholic Church)
Send to Kindle
(Seychelles News Agency) - The Catholic faith was brought to Seychelles by the first settlers but was formally established in 1852 as the Apostolic Prefecture of Seychelles. It became the Diocese of Port Victoria in July 1892.
As the diocese is celebrating 125 years this year, SNA looks at different Catholic chapels - a place of prayer and worship that is considered an extension of a parish - on the main islands of the Seychelles archipelago.
1. Notre Dame du Perpetuel Secours Pointe Aux Sel, Au Cap
Since February 1884, Bishop Mouard started discussions on having a chapel at Pointe au Sel, in the south-east of Mahe. At that time the area was annexed to Anse Aux Pins. In 1924, Despilly Jorre de St. Jorre gave the Roman Catholic diocese a house to be used as a school and chapel. The building was dedicated to Notre Dame du Perpetuel Secours in May 1934. A new chapel was built in 2008 at the same location and was consecrated by Bishop Denis Wiehe in February 2009. The chapel is attached to the St Joseph Parish of Anse Royale.
(Salifa Magnan, Seychelles News Agency) Photo License: CC-BY
2. Notre Dame de la Salette, Anse Louis, Anse Boileau.
For years the pilgrims in the area were using an old house for worship. In 1925, Father Ernest Joye built the first chapel which parishioners used until it was demolished in 1993. A year later in April, the foundation stone for a new chapel was laid by Seychellois priest Gustave Lafortune. It was completed in 1997 and was blessed by the late Bishop Xavier Baronnet. The chapel is an annexe of the Notre Dame des Douleurs parish in Anse Boileau, a western Mahe district.
(Salifa Magnan, Seychelles News Agency) Photo License: CC-BY
3. Notre Dame de Sacré Coeur, St Louis.
The land where the current chapel stands was given to the Catholic Church by the Lefevre family. The first chapel was dedicated to Saint Therese. In May 1963, Father Joseph Prince in charge of the Bel Ombre parish appealed for donations for the construction of a new chapel. Notre Dame de Sacre Coeur was inaugurated in October 1964 with a mass celebrated by Bishop Olivier Maradan. The chapel was rebuilt in 2012, and is part of the St. Roch parish of Bel Ombre, in the north of Mahe.
(Salifa Magnan, Seychelles News Agency) Photo License: CC-BY
4. St. Jacques, Machabee, Glacis
Following an appeal to help with setting up the church by Father Aloyse, responsible for the St. Jean Baptiste church at Glacis, contributions came from many parishioners and land was donated by Jean Hodoul and his wife. In July 1969 Bishop Olivier Maradan blessed the new chapel, a pride for the many who according to their means had contributed generously. Also present for the event was Bishop Maranta, Bishop of Dar-es-Salaam, Tanzania. St. Jacques is an annexe of the St. Jean Baptiste church at Glacis.
(Salifa Magnan, Seychelles News Agency) Photo License: CC-BY
5. Notre Dame du Rosaire, Silhouette
The funds for the construction of the chapel were raised from Switzerland by Father Claude.  The chapel was consecrated in February 1968 and the main attraction was a wooden statue of Notre Dame de Rosaire sculpted by Michel Alexis. The chapel was renovated in 2006 and in October that year was blessed by Bishop Denis Wiehe.
(Archive Roman Catholic Church) Photo License: CC-BY
6. Sacre Coeur Anse la Blague and Anse Boudin, Praslin
The two chapels located on the second most populated island of Praslin were both built by the parishioners themselves. At Anse Boudin, the foundation for the chapel of Sacre Coeur was laid by Brother Imier and other members from the Happy Youth club in January 1968. It was consecrated in November 1969.
At Anse La Blague, due to transport constraint by land at that time, Ravil Lesperance transported all materials needed for the construction on his boat "Louis Alfred" free of charge. The chapel was completed in 1973. Under the leadership of Father Jean Peault, years later it was renovated in 2000. Both chapels form part of the St Anne parish at Baie St Anne.
(Romano Laurence, Seychelles News Agency) Photo License: CC-BY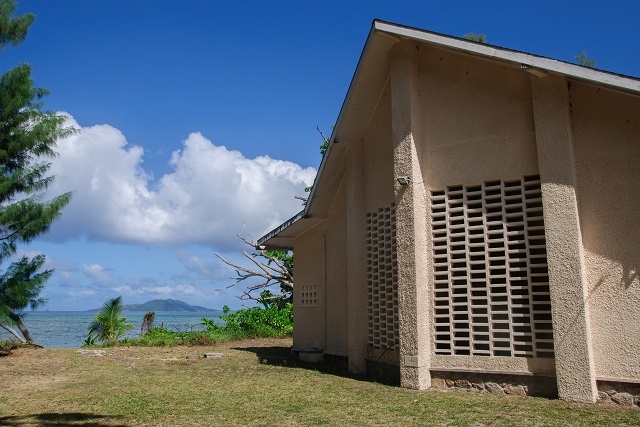 (Archive Roman Catholic Church) Photo License: CC-BY
7. Notre Dame des Iles, Anse Kerlan Praslin
With its feast celebrated on December 8, the chapel of Notre Dame des Iles is an annexe of the St. Joseph parish of Grand Anse Praslin. Before its dedication to Notre Dame des Iles, the chapel was known as Notre Dame de Fatima. 
(Romano Laurence, Seychelles News Agency) Photo License: CC-BY
Seychelles Buzz
» Be a reporter: Write and send your article
» Subscribe for news alert