New heir to Saudi throne holds power beyond his years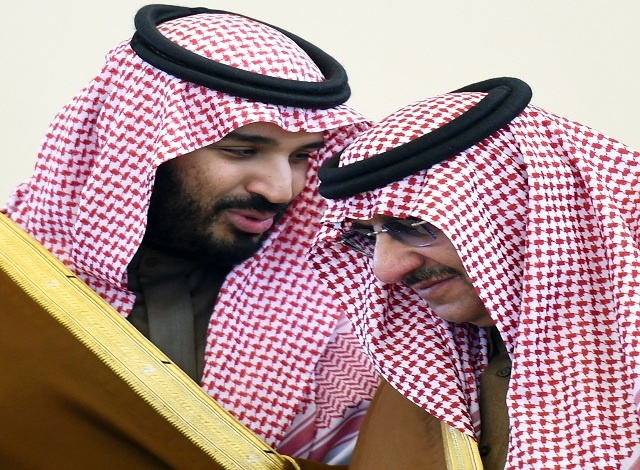 This file photo taken on December 9, 2015 shows Saudi Defence Minister Mohamed bin Salman (L) talking with Crown Prince and Interior Minister Mohammed bin Nayef during the 136th Gulf Cooperation Council (GCC) summit in Riyadh. Saudi King Salman on June 21, 2017, named his son Mohammed bin Salman as crown prince, completing a gradual removal of powers from the previous prince Mohammed bin Nayef, who has been fired. (FAYEZ NURELDINE / AFP)
Send to Kindle
(AFP) - Saudi Arabia's hard-charging Mohammed bin Salman, named crown prince on Wednesday, holds unusual power for a man of just 31, so much so that diplomats nickname him "Mr Everything".
The son of King Salman has risen to become Saudi Arabia's most influential and prominent figure since being named second-in-line to the throne in early 2015.
He symbolises the hopes of a youthful local population, more than half of which is under 25.
Prince Mohammed is the main proponent of a wide-ranging plan, dubbed Vision 2030, to bring social and economic change to the oil-dependent economy of a country where women's rights are among the most restricted in the world.
He also holds the post of defence minister more than two years into a Saudi-led military intervention in neighbouring Yemen.
Born on August 31, 1985, the prince amassed "extraordinary power and influence very quickly" after his father ascended the throne in January 2015, said Frederic Wehrey of the Carnegie Endowment for International Peace in Washington.
"He's clearly very bright, very intelligent, ver on top of all his briefs" and has significant influence on the 81-year-old monarch, one Western diplomat said.
Among his most prominent positions is chairman of the Council of Economic and Development Affairs, which coordinates economic policy. Mohammed also chairs a body overseeing state oil giant Saudi Aramco.
As defence minister, the prince supervises the Saudi-led coalition's operations in support of the Yemeni government against Shiite rebels who control the capital Sanaa.
- 'One of the citizens' -
In a profile last year, Bloomberg Businessweek said the prince works 16-hour days and draws inspiration from the writings of wartime British prime minister Winston Churchill and Sun Tzu's "The Art of War".
It was one of many interviews in which the prince has spoken at length about his economic plans for the kingdom, where officials are traditionally tight-lipped.
In a rare press briefing in April last year, he seemed relaxed as he took questions from the domestic and international press for about 50 minutes.
Wearing typical Saudi attire -- sandals, a crisp white thobe and headdress -- he leaned on a white podium and sometimes rubbed his eyes, replying in Arabic to questions posed in English.
A law graduate from Riyadh's King Saud University, the dark-bearded prince with a receding hairline is the father of two boys and two girls and -- unlike other members of the royal family -- has married only once.
He told Bloomberg that although Islam allows for multiple marriages, modern life does not leave the time.
Mohammed spent years working for his father when he was governor of Riyadh and when he was crown prince from 2013 to 2015.
"He has a reputation for being aggressive and ambitious," Bruce Riedel, a former Central Intelligence Agency officer who directs the Brookings Intelligence Project in Washington, has said.
Observers had pointed to an emerging power struggle between Mohammed bin Salman and his cousin crown prince Mohammed bin Nayef, 56, whom he replaced as heir to the throne and interior minister on Wednesday.
At his 2016 press conference, Mohamed was self-effacing about a comment that his name would be "remembered in the future".
"I am one of the Saudi citizens, and the Saudi citizens too will be remembered in the future," he said.
© Agence France-Presse
General
» Be a reporter: Write and send your article
» Subscribe for news alert