Fire licks Spanish nature reserve, 1,800 evacuated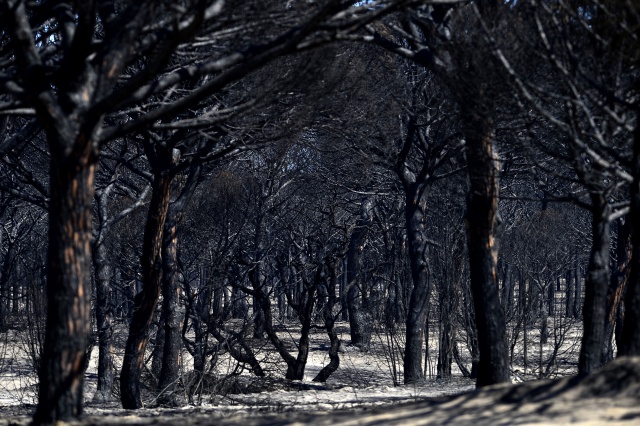 A picture taken on July 26, 2017 shows charred trees after a wildfire in Mazagon, near the Donana National Park. More than 1.500 people were evacuated as a precaution on July 25, 2017 after a fire broke out at a nature reserve in southern Spain farmed for its boidiversity. The fire started two night ago and had by morning encroached on the Donana National Park at Moguer in the southern region of Andalusia. (CRISTINA QUICLER / AFP)
Send to Kindle
(AFP) - Hundreds of firefighters battled Sunday to contain a fire after it broke out at a nature reserve in southern Spain, prompting the evacuation of more than 1,800 people, authorities said.
The fire forced authorities to evacuate 1,850 people, many of whom were staying at a camp site, the Andalusian authorities said. No injuries were reported.
The blaze started overnight Saturday and had by morning encroached on the Donana Natural Park at Moguer in the southern region of Andalusia, Jose Fiscal, deputy head of the regional environment protection authority, told Spanish television.
Emergency services said local authorities sent in a total of 550 people and 23 helicopters and planes to deal with the blaze, which comes a week after forest fires killed more than 60 people in neighbouring Portugal.
Fighting the blaze was exacerbated by the wind and heat, an emergency services spokesman told AFP.
Authorities were not able to speculate on the scale of the fire as it was still not under control by late morning.
The cause remained unknown but regional president Susana Diaz, who rushed to the affected area, said that "the human factor cannot be excluded."
By late evening, the regional government said at least 950 people had been relocated though many roads remained closed. Popular beach resort Matalascanas was completely cut off for a few hours because of the fire, authorities said.
The reserve, famed for its biodiversity, enjoys UNESCO protected status as an important biosphere reserve and is a tourist attraction, home to a wide variety of ecosystems and forms of wildlife including endangered species, notably the Iberian lynx and the Spanish imperial eagle.
Spain was hit by a spate of forest fires in 2015 and officials said some of those could had been started deliberately.
At this time of year Spain is also having to battle drought and Sunday saw several areas classified as being at maximum risk of fire, including the Andalusian province of Huelva, where the Donana Park is situated.
© Agence France-Presse
General
» Be a reporter: Write and send your article
» Subscribe for news alert