Outgoing Israeli ambassador notes that tourist visits to Seychelles are up
Israeli ambassador to Seychelles, Yahel Vilan, who was accredited in August 2015 has been called back home. (Jude Morel, Seychelles News Agency)
Send to Kindle
(Seychelles News Agency) - Capacity building, mostly in agriculture and water management, is the key area in which Seychelles will continue benefiting from its collaboration with Israel, the outgoing Israeli ambassador to Seychelles said Tuesday.
Yahel Vilan made the statement to reporters after paying a farewell visit to President Danny Faure at State House on Tuesday.
Vilan said there is more potential for Seychellois to receive training in Israel through the country's Agency for International Development Cooperation (MASHAV). 
MASHAV, the Hebrew acronym for the Agency, was established as a division of the Ministry of Foreign Affairs of Israel in 1957. The programme is focused on cooperation throughout the developing world with the aim of ensuring social, economic and environmental sustainable development.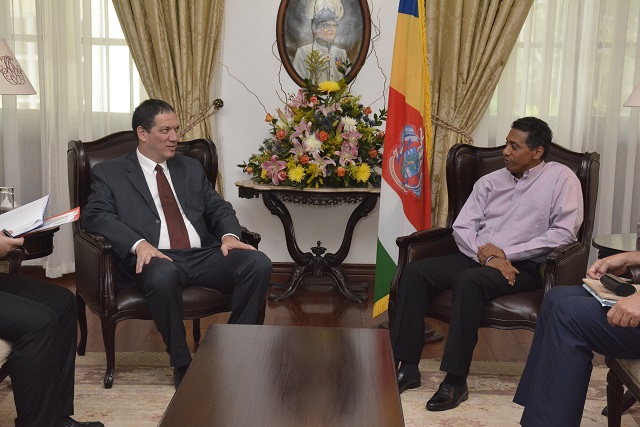 The Israeli ambassador Yahel Vilan paid a farewell visit to President Danny Faure at State House on Tuesday. (Jude Morel, Seychelles News Agency) Photo License: CC-BY
"So far we have had 10 [Seychellois trainees] this year. Education, health and woman empowerment are areas that we have gained some experience in and we are more than willing to share it with our friends around the world," said Vilan.
The outgoing ambassador added that "Seychelles is a long friend of Israel and we appreciate the friendship we have received from Seychelles and its people."
The two countries established formal diplomatic relations on June 30, 1992, and Vilan was the seventh non-resident ambassador to be accredited to the island nation.
Talking about tourism, the ambassador who has been based in Nairobi, Kenya, said that there are more Israeli tourists coming to Seychelles and he expects this number to keep growing.
According to the Seychelles' National Bureau of Statistics, around 2,000 Israeli visitors set foot in Seychelles from January to date, compared to over 1,600 during the same period last year.
Ambassador Vilan was accredited in August 2015 and his term was ended as he "was called [back] home."
Diplomacy
» Be a reporter: Write and send your article
» Subscribe for news alert