Seychellois delegation leaves for "Jeux de la Francophonie" in Ivory Coast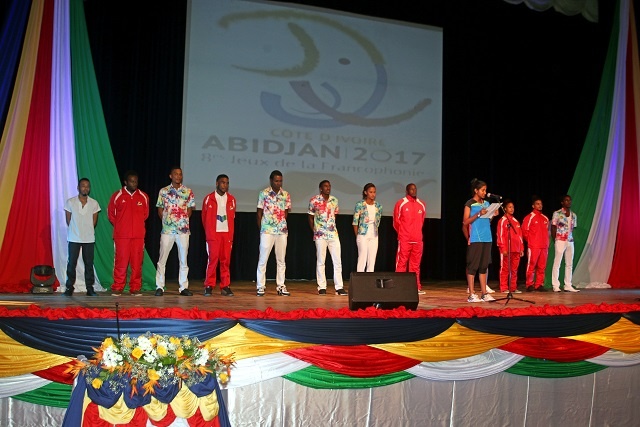 Seychelles athletes in their uniforms for the Games. They will be participating in four sporting events -- table tennis, judo, athletics and cycling. (Joe Laurence, Seychelles News Agency) 
Send to Kindle
(Seychelles News Agency) - Nearly three dozen Seychellois who will participate in the 'Jeux de la Francophonie' in Ivory Coast have been given a formal send-off.
The games -- organised for French speaking countries -- will be held in Abidjan, the Ivorian capital from the July 21-30.
Seychelles is participating in four sporting events -- table tennis, judo, athletics and cycling -- as well as in visual arts, dance and song competitions.
"No matter what the outcome of our participation is, we all know that Seychelles comes first," Zahirah Katab, Seychelles' athlete for table tennis, said at the send-off ceremony at the International Conference Centre of Seychelles.
Katab also urged her colleagues to use this 8th edition of the games as preparation for the Indian Ocean Islands Games scheduled for 2019 in Mauritius.
The Jeux de la Francophonie or the francophone games is a combination of artistic and sporting events for French speaking nations. It has been held every four years since its inception in 1989. The francophone games have a similar concept to that of the Commonwealth Games which is organised for all former territories of the British empire.
Local singer Isham Rath will be performing three new songs, his own compositions, at the Games. (Joe Laurence, Seychelles News Agency) Photo License: CC-BY
Local singer Isham Rath told SNA that he has been preparing for the games for six months. "I will be performing three new songs, my own compositions," Rath said.
Rath said that each competitor is allocated 15 minutes and they have to decide how best to use the time.
"We are given themes to explore. For the first one we have to explore how our life as a human is similar to a caterpillar's struggle to become a butterfly," said Rath.
He added that "for the second (theme) we will explore how to save the world, as it is us who can do that, and thirdly we will highlight the fact that we cannot be divided, be it religious, political or racial, all we need is a little more love."
In the third edition of the games in 1997, popular female artist Jany De Letourdie became the first Seychellois to win a medal in the Jeux de la Francophonie.
The delegation will also include officials from the ministry of youth, sports and culture.   
General
» Be a reporter: Write and send your article
» Subscribe for news alert