Intelligence, personality, inner beauty all important for Miss Seychelles 2017, contestant Ralista Hortere says
The deserving contestant should also reflect an inner beauty and display qualities such as compassion, determination, patience among others, said Hortere. (Miss Seychelles - National Pageant, Facebook) 
Send to Kindle
(Seychelles News Agency) - Being beautiful on the inside is equally as important as being beautiful on the outside. That is what Miss Seychelles 2017 contestant Ralista Hortere believes.
Hortere, 21, is aiming to use her participation in the contest to impact the lives of other young women in the island nation.
The young aspiring beauty queen -- born to hotelier parents Judith Confiance and Jean Baptiste Hortere – grew up in a beachfront setting at Anse Takamaka on the southern coast of Mahé, the Seychelles' main island.
Currently living at Au Cap on the east coast of Mahé, Hortere is a journalist by profession.
SNA caught up with the 1.67-metre-tall contestant of the Miss Seychelles…Another World 2017 to get to know her better and talk about she hopes to gain from the pageant.
SNA: What pushed you to join the Miss Seychelles Beauty Pageant?
RH: I would like to be a better ambassador for my country, and this is one of the best platforms to help me achieve this goal. I also view the pageant as a platform that will allow me to show others that the Miss Seychelles beauty contest is not only about body image, but it's also about portraying intelligence, personality, inner beauty and other qualities of a strong young woman.
SNA: What is your beauty with a purpose project chosen for the pageant?
RH: My project is being supported by Stand Up Step Up Seychelles – an anti-bullying association which is working with the youths of Seychelles to empower them as they prepare to become leaders of tomorrow.
SNA: What kind of impact or benefits do you believe can be derived from your project?
RH: Firstly, it will raise awareness on bullying and help our youths to acquire skills which will not only make them become better leaders but also better parents for the next generation. The workplaces will inherit a generation of young people who are more disciplined and responsible.
(Michel Desnousse) Photo License: CC-BY
SNA: What studies have you done and what do you do career wise?
RH: After completing my primary and secondary education I decided to study geography, sociology and law at the School of Advanced Level.I completed my A Level studies in 2014, after which I started my journalism career at the daily newspaper 'Seychelles Nation' in 2015, which is where I am still working to date.
SNA: Outside of work do you have any other particular interests and hobbies?
RH: Being a journalist is very time consuming and it does not leave much time for one to indulge in other activities. However, when I do get some spare time I enjoy going to the beach to swim, relax or read a book.
I am also a member of an anti-bullying association called Stand Up Step Up Seychelles (SUSUS) which empowers others to say NO to bullying in the schools, work places, on the social media platforms and in any other circumstances.
SNA: What is your expectation going into the Miss Seychelles beauty pageant, especially on the night of the pageant?
RH: I would like to give my best throughout this whole journey including on the final night of the pageant. Hopefully, the results will reflect my performance.
SNA: If crowned what changes or difference will you want to see in the society?
RH: I would work to help the youths to be more resilient and have passion in life so as to be able to say no to negative influences such as drugs, alcohol and bullying, so that people will stop saying there is a degradation of moral values among the younger generation.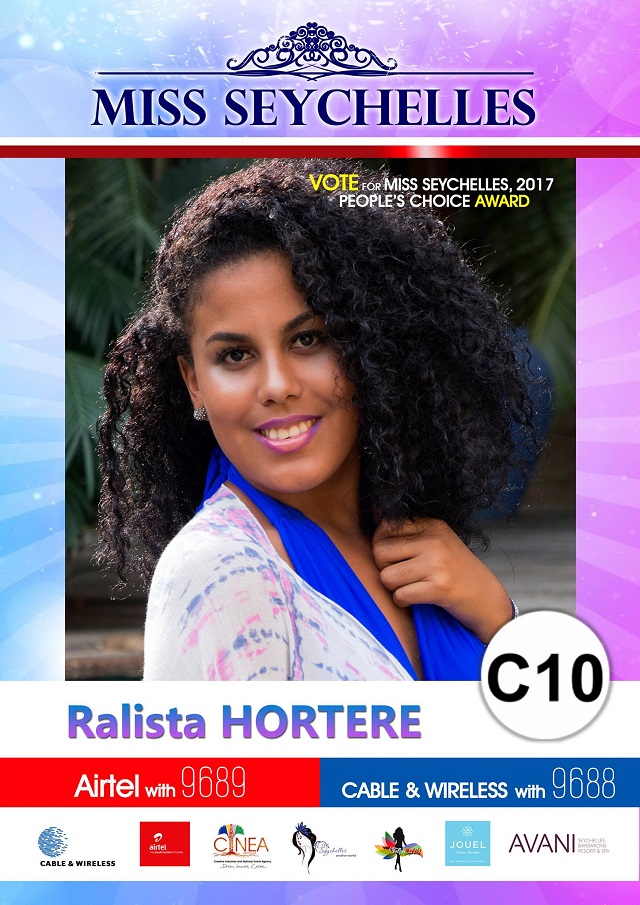 (Miss Seychelles - National Pageant, Facebook) Photo License: CC-BY
SNA: What do you believe it takes to be the holder of the Miss Seychelles crown?
RH: Being worthy of the crown is not just about the looks, meaning the deserving contestant should also reflect an inner beauty and display qualities such as compassion, determination, patience among others. The title holder should be a role model and a voice for her country.
SNA: Aside of the coveted crown, what else do you believe participating in such a pageant can teach the young women of Seychelles?
RH: The pageant can bring many benefits to the contestants, including boosting their self-confidence, and turning them into mature, respectable and strong young women who can, in turn, become role models for other young ladies in the society.
SNA: What is your advice to young Seychellois girls who may be reluctant and lack the confidence to be a contestant of the Miss Seychelles pageant?
RH: If you want something, you should go for it without doubting yourself. Keep your head high, remember that the only thing that matters is what you think of yourself and not what others think about you. And always remember to stay positive.
The Interview
» Be a reporter: Write and send your article
» Subscribe for news alert