Defying the odds as a petite model: Miss Seychelles 2017 contestant Joanna Pouponneau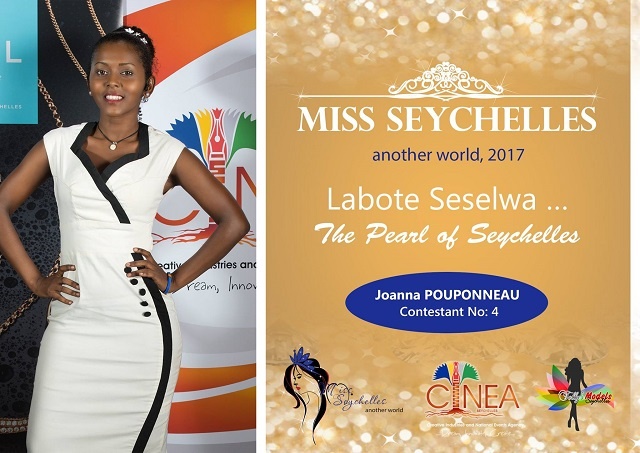 Pouponneau wants to prove to our country that a young woman is not defined by her height, beauty or intelligence alone, but rather by her character. (Miss Seychelles - National Pageant, Facebook)
Send to Kindle
(Seychelles News Agency) - To be given the chance to defy the mindset that a young lady who is short cannot represent her country in a beauty pageant is what Joanna Pouponneau is set on achieving as a Miss Seychelles 2017 contestant number 4.
Standing at 1.50 metres, Pouponneau may be the shortest of the 14 contestants vying for the crown, but she is determined to prove that besides height, beauty and intelligence, a woman is also defined by her character.
Born in Tanzania, to Seychellois parents Anna and David Pouponneau, she describes herself as an empowering, independent, compassionate and passionate young woman.
The eldest of two sisters, Pouponneau, 24, who moved to Seychelles at the age of four, has also lived and studied in Bahrain for a good part of her life.
SNA caught up with Joanna Pouponneau, who hails from Beau Vallon in the north of the Seychelles' main island, Mahé, to get to know her better and talk about what she brings to the Miss Seychelles pageant as well as her expectations.
SNA: Firstly tell us what pushed you to join the Miss Seychelles Beauty Pageant?
JP: I want to defy the stereotyped way of thinking when it comes to pageantry – that it's a contestant's beauty and height which defines the Miss Seychelles pageant. A young woman should not be subjected to ridicule and criticism for the sake of walking on a stage. This year I want to prove to our country that a young woman is not defined by her height, beauty or intelligence alone, but rather by her character and the will in her heart to make a difference. What defines a young lady's ability to be crowned Miss Seychelles, is how far she is willing to go to help her community and the people to move forward while being an exemplary role model.
SNA: What is your beauty with a purpose project chosen for the pageant?
JP: My Health & My Life of my Future is a TV and Radio Talk Show that will be concentrating on educating, encouraging, cultivating, developing and sensitising the general public on issues such as mental health and well-being. The aim is to provide counselling and enhance the level of knowledge on health, how to deal with social problems, among the youths, at the same time raising funds through the show to hold workshops to empower people to make better life choices.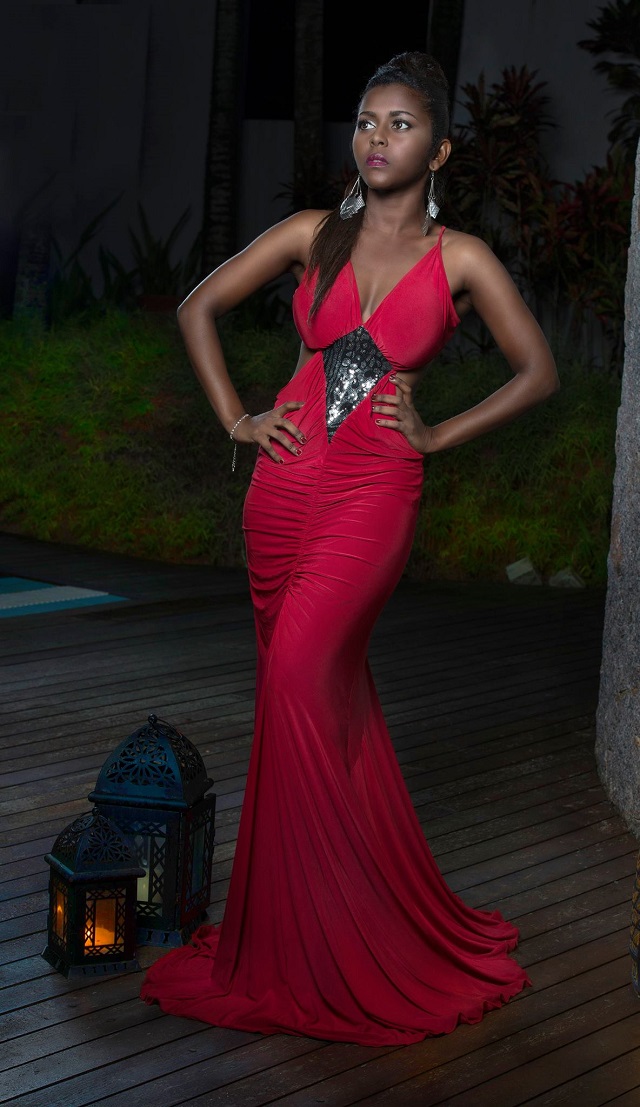 (Michel Desnousse) Photo License: CC-BY
SNA: What kind of impact or benefits do you believe can be derived from your project?
JP: To create a better understanding of the third goal of the United Nations Sustainable Development Goals (SDG- 3) – ensure healthy lives and promote well-being for all at all ages. The project aims to reduce peer pressure, anxiety, depression and to better educate the youths on mental, physical, maternal & child health and emotional stability.
SNA: What studies have you done and what do you do career wise?
JP: At 17, I received my London General Certificate of Examinations (O Levels) along with 6 certificates of excellence in Arts and Design. In 2010, I obtained Cambridge IGCSE qualifications in English language, business studies, computing and mathematics. I also studied for two years at the School of Advanced Level Studies (SALS).
I immediately chose to enter the world of work after my two years at SALS and my first job was at the Supreme Court of Seychelles as a court reporter in both civil and criminal cases. Later I managed my department as a principal parliamentary reporter at the National Assembly.
Due to my passion to help the youths of Seychelles, I left the world of work to concentrate on the civil society sector and start investing in my own business ideas.
I am currently the youth, culture and sports commissioner at the Citizens Engagement Platform Seychelles (CEPS). As a business woman, I am a 'jack of all trades' working as a freelance model, photographer, videographer, as well as sales and marketing person.
I also have other skills, including a certificate in rule of law and election monitoring and management I obtained while working as a civil servant in Kenya, and a certificate for training as a youth ambassador -- a programme that aims to build the moral and spiritual aspects of young people's lives.
SNA: Outside of work do you have any other particular interests and hobbies?
JP: I love to read novels, play the piano and painting with a palette knife. I am a contemporary dancer, who basically loves dancing. I like to promote different campaigns such as to ban plastic and protect our country's environment. My biggest interest though is volunteering to help other people and practising my preferred sport -- Kyokushin Karate.
In fact, I am involved with numerous non-governmental groups working to raise awareness and whose mission and objectives are to help stir improvements among the youths, on subjects such as sports, yoga, poetry, arts, health, the environment, sports and bullying among others.
(Miss Seychelles - National Pageant, Facebook) Photo License: CC-BY
SNA: What is your expectation going into the Miss Seychelles beauty pageant, especially on the night of the pageant?
JP: To be given the chance to defy the odds and break the mindset that a person who is short cannot represent her country. In Seychelles we are not defined because we are tall beautiful models, we are all Seychellois and regardless of a contestant's height, size or appearance, if she has the whole package and the heart, she can represent Seychelles and we should be proud of that.
SNA: If crowned what changes or difference will you want to see in the society?
JP: To be crowned would be an honour and if I am blessed enough to receive the title I would wish to pursue my project to educate and sensitise the young people of our country on good health and well-being, so as to not only empower themselves but to truly take care of both their mental and physical health. I would create a platform where the voice of Seychelles' youths can truly be heard. I want the society to fight for the changes that they want to see in our community, for them to reach out for their dreams and goals, to wake up and truly realise what the world holds for them.
SNA: What is your advice to young Seychellois girls who may be reluctant and lack the confidence to be a contestant of the Miss Seychelles pageant?
JP: Pageantry is a networking platform, so my advice is: be fierce, be brave, be authentic and fight for your goals. Join a pageantry to work for a cause and not just applause. As a Seychellois woman only you can break free from your shell, the power lies within you to take that first step and make a difference.  
The Interview
» Be a reporter: Write and send your article
» Subscribe for news alert