Rising temperatures threaten World Heritage coral reefs, including Seychelles' Aldabra atoll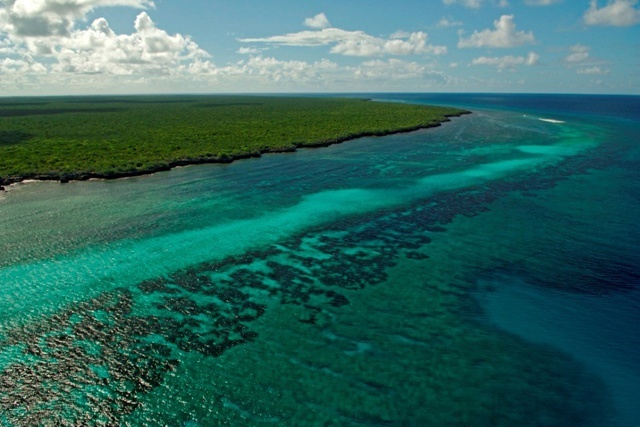 The Aldabra's scientific coordinator explained that for 36 years the atoll has been fully protected from stressors such as sedimentation from coastal development. (Seychelles Island Foundation)
Send to Kindle
(Seychelles News Agency) - Coral reefs of the Seychelles' Aldabra Atoll, as well as the 28 others named UNESCO World Heritage sites, are under threat of disappearance by 2100 should water temperatures keep rising, according to a scientific assessment.
According to the first global scientific assessment on the impact of climate change on World Heritage coral reefs, rising ocean temperature is resulting in mass coral bleaching.
Though Aldabra, the most southwesterly group of the Seychelles islands, located some 1,100 kilometres from Mahe, the main island, is being actively managed and protected, "there is very little [that can be done] against sea surface temperatures," said April Burt, the atoll's scientific coordinator.
Aldabra Atoll, a UNESCO World Heritage site since 1982, is home to the world's largest population of giant tortoises and has been described as 'one of the wonders of the world' by Sir David Attenborough, now a veteran English broadcaster and naturalist.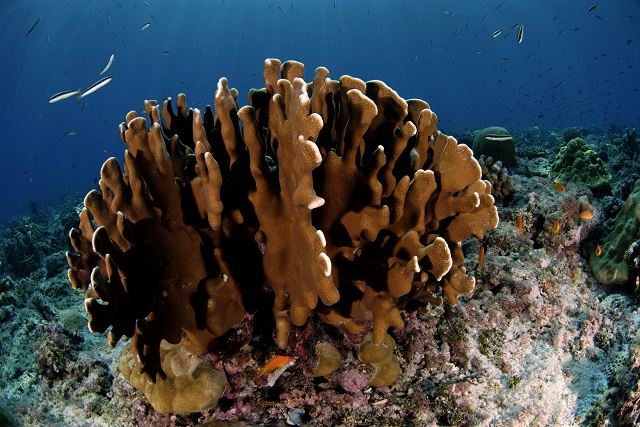 The group of islands of the Aldabra Atoll is surrounded by coral reefs. Due to difficulties of access and the atoll's isolation, Aldabra has been protected from human influence. (Seychelles Island Foundation) Photo License: All Rights Reserved  
What is coral bleaching and how does it affect us?
The UNESCO World Heritage Centre assessment states that: "Coral bleaching is a stress response [to heat] in which the coral animals expel their zooxanthellae, leaving the white coral skeleton visible through the transparent coral tissue."
Aldabra's scientific coordinator said that the temperatures during March 2016 were approximately 1.7 °C higher than the average temperature for that time of year, with a mean maximum temperature of 32.1 degrees Celsius.
"The hottest temperature recorded was 36.3°C in early April 2016. These temperatures are extreme for the reefs which are happiest between 23°–29°C," said Burt.
According to the World Heritage Centre, the social, cultural and economic value of coral reefs is estimated at US$1 trillion. The greatest impacts are likely to be experienced by people who rely upon reef services for day-to-day subsistence.
In the case of Seychelles, coral bleaching will have obvious impacts on fisheries and tourism, the two main pillars of the country's economy. A great number of tourists travel to the Seychelles, an 115-island archipelago the western Indian Ocean, to witness its colourful underwater 'forest'.
"People have a preconception of Seychelles being a pristine marine environment with beautiful coral reefs and some people will be disappointed when they jump in the water and see dead coral, piles of coral skeleton, lots of algae and fewer fish," said Burt.
What can be done?
The assessment stated that bleached corals are still alive, but "even mild bleaching can result in subsequent deleterious effects, such as reduced growth and reproduction."
"Aldabra might be better equipped to recover from extreme heating events but coral recovery can take 15 to 20 years and with an increasing frequency of heating events the reefs may not be able to keep up," said Burt.
April Burt -- Aldabra's scientific coordinator -- explained that for 36 years the atoll has been fully protected from stressors such as sedimentation from coastal development, nutrient input and fishing pressure, which reefs in the inner islands have been dealing with.
Countries with coral reef World Heritage sites are being urged to adopt measures that will greatly cut down the emission of greenhouse gases to net zero.
"Reducing greenhouse gas emissions reduces the rate at which heat stress increases this century, and delays the year when a critical threshold is crossed," stated the assessment.
Seychelles is already taking measures in this respect along with all the other countries that signed the Paris Climate agreement in 2016.
General
» Be a reporter: Write and send your article
» Subscribe for news alert