Miss Seychelles contestant Serah Jumaye works to help the mentally ill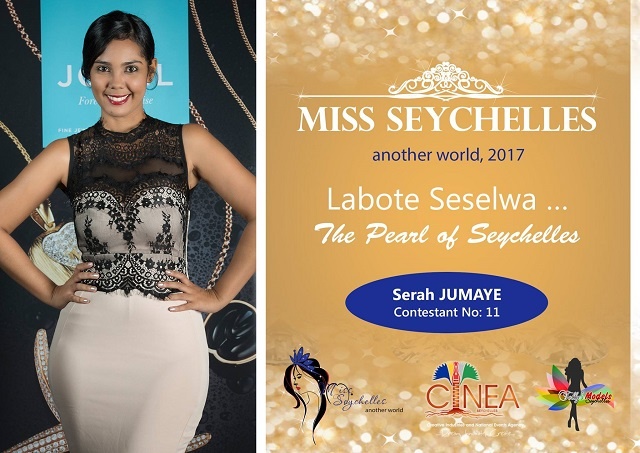 Serah Jumaye says the Miss Seychelles beauty pageant experience will make her more aware of her heritage. (Miss Seychelles - National Pageant, Facebook)
Send to Kindle
(Seychelles News Agency) - Participating in the Miss Seychelles beauty pageant will make Serah Jumaye more aware of her heritage and feel more deeply rooted in the rich and diverse community of the island nation.
Jumaye, 25, comes from Rochon in the central district of Mont Fleuri. She feels ready to take part in the pageant, as she is "mature enough to recognize the responsibility that comes with the crown."
SNA met contestant number 11 to share her expectations for the pageant.
SNA: Tell us a little bit about your back ground.
SJ: My mum is Viona Jumaye and my dad Julien Morel. I am the eldest of four siblings -- two sisters and a brother. My family means the world to me and it's my greatest wish to see them happy and make them proud.
SNA: What are your qualifications and what are you doing career wise?
SJ: I went to Mont Fleuri school for my primary and secondary education. After that, I joined Seychelles A-Level Studies for two years. I furthered my studies in India at the Bangalore University where I am a proud alumnus with a Bachelor's degree in Hotel Management.
My journey in India was a life-changing journey, it molded me into the strong and independent young woman that I am today. I am currently the sales coordinator at Kempinski Seychelles Resort and began my career with a very motivated and devoted team of inspirational women. I want to push myself so as to become a successful, inspiring career woman and follow their example.
SNA: What pushed you or encouraged you to join the pageant?
SJ: It was always my mum's wish for me to participate in Miss Seychelles. I believe that now the time is right time because I am mature enough to do it and recognise the responsibilities associated with crown, beyond just having a pretty face.
(Michel Desnousse) Photo License: CC-BY
SNA: Apart from work what are you interests and hobbies?
SJ: I love the ocean and exploring nature. I am always up for any water sports activities or hikes! The immense beauty and peaceful feeling I experience when out in nature reminds me that we have so much to be grateful for in life – and especially in Seychelles.
I also love to read. It gives me the opportunity to switch off completely and disappear into another world. During my time in India, I was able to completely immerse myself in a rich and diverse culture, and expose myself to new traditions and outlooks. I relish any possible opportunity to discover new worlds, whether abroad or here at home.
SNA: What project will you be working on for this pageant?
SJ: My project will be raising awareness and fighting for people suffering from mental illnesses. There are many misconceptions surrounding mental diseases and I wish to change that. I will never forget the first time I visited the Les Canelles hospital. I was shocked by the distressing conditions in which a limited but dedicated team tried their best to care for some of the most vulnerable members of our society.
I have ever since wanted to do something to help this cause and my involvement with Miss Seychelles 2017 will be the perfect opportunity to do so.
(Miss Seychelles - National Pageant, Facebook) Photo License: CC-BY
SNA: What will your advice be for young women who are scared or not confident in joining pageants?
SJ: I know it is a very big step to come forward and participate, but keep your mind straight, be bold, remain humble, keep your focus and learn to have a deaf ear to negative critics. Always remind yourself of the purpose you had when you joined.
SNA: What are your expectations after this experience?
SJ: It will help me to grow and develop into an active participant in Seychellois society. Regardless of whether or not I take the crown, I will still look forward to being an ambassador for Seychelles. This experience will make me more aware of my heritage, our collective history and make me feel more deeply rooted in our rich and diverse community.
SNA: If ever crowned what changes/difference will you want to make or bring to the society?
SJ: To make a difference in the lives of people living in Seychelles - even if it will be a small one - especially the most vulnerable members of our society like those suffering from mental illnesses. I will try my best to push my project forward and ensure that I can do something to help better their lives or improve their condition. 
I would like to be the kind of role model that my younger siblings would look up to.
The Interview
» Be a reporter: Write and send your article
» Subscribe for news alert