Grace Mugabe due at S. Africa summit after assault claim
Pretoria, South Africa
|
August 19, 2017, Saturday @ 09:53 in
World
»
AFRICA
|
By:
AFP
|
Views:
2355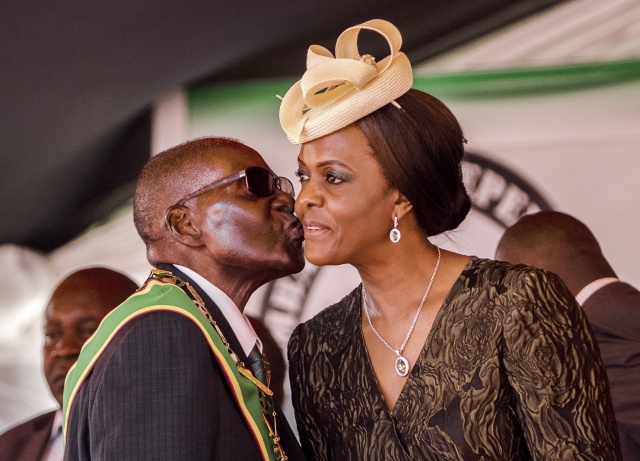 (FILES) This file photo taken on April 18, 2017 shows President Robert Mugabe kissing his wife and first lady Grace Mugabe during the country's 37th Independence Day celebrations at the National Sports Stadium in Harare. South African police on August 15, investigated an alleged assault by the Zimbabwean first lady Grace Mugabe on a model who was in a hotel in Johannesburg with her two sons. Grace Mugabe is alleged to have attacked Gabriella Engels, 20, with an extension cord on August 13, leaving her with wounds on her forehead and on the back of her head. (Jekesai NJIKIZANA / AFP)
Send to Kindle
(AFP) - Zimbabwe's first lady Grace Mugabe, who is seeking diplomatic immunity for an alleged assault in South Africa last weekend, is due to attend a regional leaders' summit in Pretoria on Saturday.
The wife of President Robert Mugabe is accused of attacking a 20-year-old model with an electrical extension cord in a Johannesburg hotel where the Mugabes' two sons were staying.
South African police said she was expected at the two-day Southern African Development Community (SADC) meeting that opens at 9:30 am (0730 GMT), with a "first spouses programme" starting at noon.
A closing ceremony on Sunday afternoon includes partners of the heads of the states from the 15 member nations.
Officials were unable to provide details about the spouses' programme or confirm if Grace Mugabe was expected to appear in public during the meeting.
She has claimed diplomatic immunity after allegedly assaulting Gabriella Engels nearly a week ago -- the reason for which is not known.
The South African foreign ministry confirmed to AFP on Friday that the immunity application was under consideration.
Engels -- who has registered a case of assault with intent to do grievous bodily harm -- appeared at a press conference on Thursday, wearing a large plaster on her forehead.
- Disputed immunity -
Lawyers who have taken up her case told reporters that she was offered cash to make the incident "go away" but that she refused and is determined to press charges against Grace Mugabe.
Willie Spies, one of the lawyers, said that if diplomatic immunity was granted they would consider bringing an urgent court application to halt the decision.
The 52-year-old Zimbabwean first lady was in South Africa reportedly to have her ankle treated following a minor accident last month.
Her husband -- 41 years her senior -- flew into the country late Wednesday, the day after she failed to attend an agreed meeting with South African police over the alleged assault.
Zimbabwean officials have declined to comment on allegations against the first lady or her immunity claim. She has not been seen since the incident.
South African police have said they are on high alert to prevent her leaving the country, with an arrest warrant also reportedly being considered.
Grace and Robert Mugabe's two sons Robert Jr and Chatunga live in Johannesburg, where they have a reputation for partying, while the couple also have an elder daughter who lives in Zimbabwe.
The incident has threatened to create diplomatic friction between South Africa and neighbouring Zimbabwe, who have strong political and economic ties.
Grace Mugabe regularly speaks at rallies in Zimbabwe and is seen as one potential successor to take over from her increasingly frail 93-year-old husband.
© Agence France-Presse
Africa
» Be a reporter: Write and send your article
» Subscribe for news alert