Miss Seychelles contestant Nerli Haide promoting cultural heritage through traditional dance
Nerli Haide is targeting young people who didn't get to attend post secondary school in her project. (Miss Seychelles - National Pageant, Facebook)
Send to Kindle
(Seychelles News Agency) - Building her self-confidence and bettering her traditional dance moves are the aims of Nerli Haide in the Miss Seychelles beauty pageant.
Haide, 29, who loves animals and the outdoors, is contestant number 14 for the pageant, which is scheduled to take place Saturday, August 26 at the Avani Seychelles Barbarons resort at Grand Anse on the western side of Mahe.
SNA met with Haide to learn more about her expectations for the pageant and project she is working on.
SNA: Tell us a little bit about yourself.
NH: I currently reside at Belonie with my mother and two sisters, 14 and 26 years old. I work as a receptionist at Cerf Island Resort. I am passionate about animals, especially dogs and cats. I have three in-house dogs as well as two cats. They are fun to be around.
SNA: What are your qualifications and what are you doing career wise?
NH: I did not make it to post secondary, but I attended training organised by the Ministry of Employment. I then went for an internship for one year and graduated at the certificate level. During the training, we met with clients after our classes. At first, I was a little intimidated but once I understood the workflow, the fear went away. Once you feel comfortable with your clients, everything goes well. I have been working on Cerf Island for two years now.
SNA: What pushed you or encouraged you to join the pageant?
NH: I have been following the contest and even Miss World from a very young age. Once I turned 18, my family started pushing me to join the Miss Seychelles contest, saying that I am tall enough for the pageant.
This year I got a call from Terry (the organiser) and he told me that they were still looking for participants. I joined finally with the support of my parents constantly telling me that it's always a good thing to a try something out and even if I do not win, it is the experience that matters in the end.
(Michel Desnousse) Photo License: CC-BY

SNA: Apart from work what are your interests and hobbies?
NH: Every day when I finish work, I head home and spend time with my family or head to the gym. During my weekend off, I head to the beach to play volleyball with friends or just relax in the sea. Due to my tight working schedule, I meet my friends when I have a day off and that's when we usually organize a night out. 
SNA: For this pageant what will be your project which you will be working on?
NH: My project has to do with what I went through, that is, it is targeting young people who didn't get to attend post secondary school. Most of these youth end up unemployed and many fall prey to alcohol and drug abuse.
Through the project, these young people will receive in-job training and I will be collaborating with the Ministry of Employment. If these young people have good manners, they will be able to go very far in life.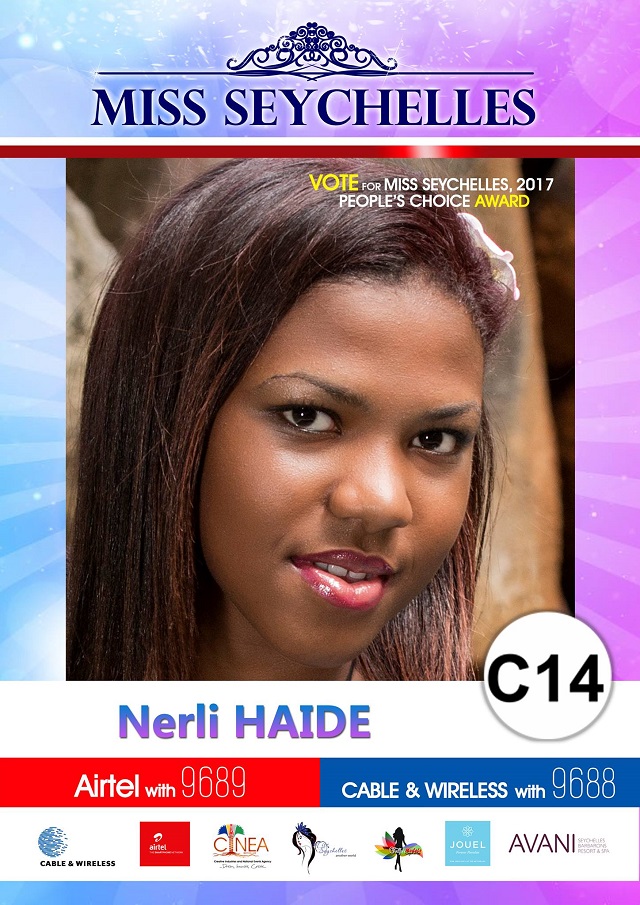 (Miss Seychelles - National Pageant, Facebook) Photo License: CC-BY
SNA: What will your advice be for young women who are scared or not confident in joining pageants?
NH: Fear is something that will always be present, however, once you get to interact with the other contestants, it fades away. Do not think about the final day of the pageant but enjoy the moments and experiences that will come your way.
SNA: Your expectations after this experience?
NH: First and foremost, I will have the confidence to walk and perform before a crowd. I aim at overcoming this particular fear. The pageant will also help me brush up on my dancing moves - I love dancing to or traditional dance. By doing so I would like to promote our cultural heritage as the theme is 'Labote Seselwa'.
SNA: If ever crowned what changes/difference will you want to make or bring to the society?
NH: Should I become the next Miss Seychelles, the difference I would like to make will be for the young people who are unemployed which is the aim of my project. 
The Interview
» Be a reporter: Write and send your article
» Subscribe for news alert