Seychellois James Wong elected Anglican Archbishop for the Indian Ocean province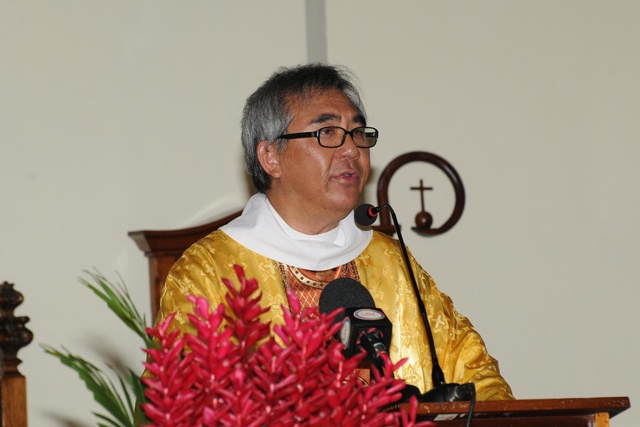 James Wong is the new Anglican Archbishop of the Indian Ocean and will oversee parishes in Mauritius, Madagascar and Seychelles. (Patrick Joubert, Seychelles News Agency)
Send to Kindle
(Seychelles News Agency) - Seychellois James Wong is the new Anglican Archbishop of the Indian Ocean province, the second Bishop of the Diocese of Seychelles to be elected for the position.
Archbishop Wong, who succeeds Ian Ernest from Mauritius, told reporters that this new responsibility will have him overseeing parishes in Mauritius, Madagascar and Seychelles.
Wong was among a group of religious leaders whom President Danny Faure granted Seychelles citizenship earlier this year.
In his a message of congratulations, Faure said, "On behalf of the government and the people of Seychelles I wish to convey my heartiest and warm congratulations to you on your election as the Archbishop of the Indian Ocean."
Faure said, "Seychelles is proud, and we pray that God strengthens your pastoral zeal and fills you with courage and wisdom as you continue to dedicate your life service to the church in your new responsibilities."
The new Archbishop said his priority is to better understand and work with the parishes in Madagascar whom he said is a big country with a complex culture.
"Some time ago there was a conflict in one of the churches in Madagascar. It took us three years to resolve the issue. It was only after this that we understood that in the Malagasy culture they have their own traditional ways of resolving conflicts which we were not aware and which could have saved us a lot of time and resources," said Wong.
The new Archbishop said that this will be his challenge -- to better understand the Malagasy culture and before the end of this year he will be visiting the island to implement his plan of action.
Wong is proposing a province for Madagascar and said that "if all goes well, there will be a province for Madagascar and a Province regrouping Mauritius and Seychelles. It will be like what the Catholic Church has -- the Episcopal Conferences of Indian Ocean."
He added that the Anglican Church from Reunion – a French department in the region -- will soon join the Province.
Bishop Wong was elected Archbishop last Sunday during the Provincial Synod in Curepipe, Mauritius, succeeding Ernest, who held the responsibility for eleven years.
Wong was consecrated as Diocesan Bishop in April 2009. Wong was previously the Archdeacon of Mauritius and the Rector of St Thomas' of Beau Bassin. He took over the Seychelles Anglican Diocese in 2009 from Santosh Marray who was the third Bishop of the Anglican Church in Seychelles, a group of 115 islands in the western Indian Ocean.
General
» Be a reporter: Write and send your article
» Subscribe for news alert