Experience Mahe from the sky with Air Seychelles' new 'Scenic Flights'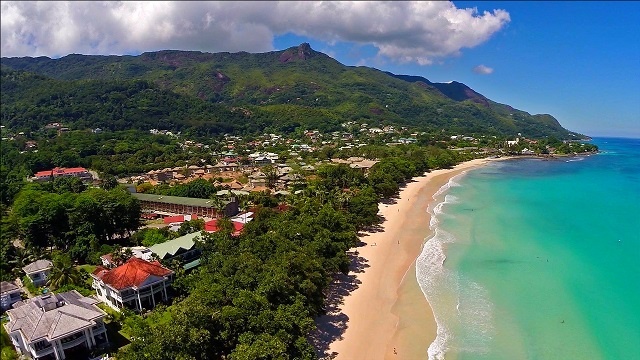 An aerial photo from the movie 'Seychelles From the Air' created by the German-born couple, Werner Schulz and his wife, Doris.(Werner Schulz)
Send to Kindle
(Seychelles News Agency) - The Seychelles' national airline has launched a new product that will give its clients the chance to enjoy Mahe, the main island, from a bird's eye view.
Dubbed 'Scenic Flights', the new endeavour by Air Seychelles will give air travellers the panoramic experience by flying at a low altitude over the main island of the archipelago in the western Indian Ocean.
"This is truly a once-in-a-lifetime experience, and we are confident it will appeal to both residents and international visitors who are looking to explore Seychelles from the air," said Roy Kinnear, chief executive of Air Seychelles.
Kinnear added that at a low altitude, the "service will provide breathtaking views of many famous sights and landmarks of north Mahe, from stunning beaches to the verdant rolling hills of the national park, all framed by the Indian Ocean."
The 30-minute flight onboard a Twin Otter DHC-6 400 takes off from the Seychelles International Airport at Pointe Larue, on the eastern coast of Mahe. It gives people on board the 19-seater plane a tour of North Mahe with Cerf, Moyenne and Ste Anne islands visible to the right.
The flight goes over the capital, Victoria, along the northern coastline and veers to the northwest, passing over Anse Major, the Baie Ternay Marine Park and Port Launay. The flight provides unparalleled views of the Morne Seychellois national park before circling back at Grand Anse beach.
The product was developed with the assistance of the Seychelles Civil Aviation Authority (SCAA), which helped design the low altitude routes.
Also involved in its creation were local companies Mason's Travel, Seven degrees South, Creole Travel Services, Seychelles European Reservation and Ephelia Resort - who will also be the key distributors of the flights.
"It was very nice to fly on a scenic tour, and discovering Mahe and the neighbouring islands from above is a great way to enjoy the beauty of the islands in a very short time," said Emeline Dorby, the sales executive of the groups and incentives department of Mason's Travel.
Dorby was part of a group onboard the first flight that took off on Wednesday, August 16, to experience the scenic flights firsthand.
She added that the flight will be a great addition to the activities that tourists already can experience. Visitors are always looking for something new to explore, and Dorby commented that she can "see more and bigger families being able to ride together."
At the moment, discussions are still ongoing on the price and the date for the first flight. The operation of the panoramic flights will depend on sales, and 11 passengers are the minimum number for a flight. 
Bookings can be made through the national airline by calling number +248 4391000 and the DMCs, where more information can also be provided.  
Tourism
» Be a reporter: Write and send your article
» Subscribe for news alert