Hurricane Maria batters Dominica as PM predicts dire outcome
Pointe-à-Pitre, France
|
September 19, 2017, Tuesday @ 13:02 in
World
»
GENERAL
|
By:
AFP
|
Views:
1726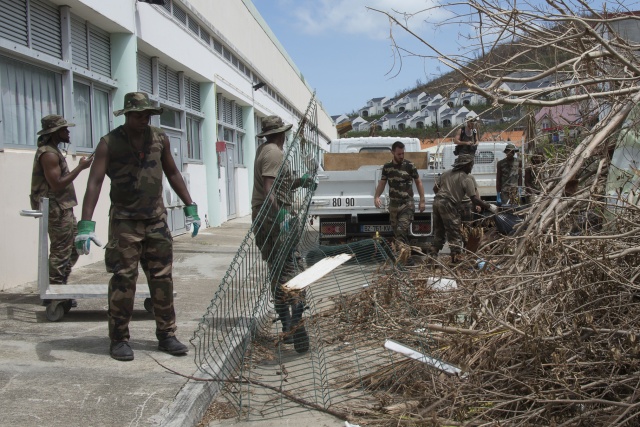 Members of the Guadeloupe Adapted Military Service Regiment gather detritus on September 18, 2017, as they clean the polyvalent secondary school in Concordia on the French Caribbean island of Saint-Martin, after it was hit by Hurricane Irma, and in order to limit the risk of flooding and projectiles as Hurricane Maria approaches the Caribbean. Hurricane Maria barrelled towards the storm-battered eastern Caribbean and was expected to strengthen on September 18 as it churned along a path similar to that of megastorm Irma earlier in the month. The new storm, which the US National Hurricane Center warned could become a "major hurricane", threatens the French territory of Guadeloupe, which was the staging area for relief operations for several islands hit by Irma. (Helene Valenzuela / AFP)
Send to Kindle
(AFP) - Hurricane Maria battered the Caribbean island of Dominica on Tuesday, with its prime minister predicting potentially grave losses and mass destruction as winds and rain from the Category Five storm barrelled into territories still reeling from Irma.
With residents fleeing homes Maria made landfall with top winds swirling at 160 miles (257 kilometres) per hour, the US National Hurricane Center (NHC) said.
"We have lost all what money can buy and replace," Dominica's premier Roosevelt Skerrit posted on Facebook, saying there were initial reports of "widespread devastation".
"My greatest fear for the morning is that we will wake to news of serious physical injury and possible deaths as a result of likely landslides triggered by persistent rains."
Earlier, he said his roof had been blown off, his house was flooding and he was "at the complete mercy of the hurricane".
"Rough! Rough! Rough!" he wrote on Facebook, later adding that he had been rescued.
Dangerous storm surges, destructive waves, flash floods and mudslides also threaten the Leeward Islands -- the island group that includes Martinique, Puerto Rico and the US and British Virgin islands -- the NHC said.
The center earlier warned that "preparations to protect life and property should be rushed to completion" as the eye of the storm approached Dominica, eventually hitting at 0115 GMT.
Guadeloupe -- the bridgehead for aid for Irma-hit French territories -- ordered all residents to take shelter in a maximum-level "violet alert" effective from 8:00 pm as powerful rains drenched the French Caribbean island.
St Kitts, Nevis, the British island of Montserrat, Culebra and Vieques were also on alert.
On Martinique, also part of France, energy supplier EDF said power had been cut off from 16,000 homes, although a hurricane warning on the island was later downgraded to a tropical storm.
In rain-lashed St Lucia, which also faced a tropical storm warning, flooding, mudslides and power outages were reported in parts of the island.
Dominica's airport and ports have been closed, and the local water company shut down its systems to protect its intake valves from debris churned up by the storm.
Meanwhile in Pointe-a-Pitre, Elodie Corte, the boss of a metalworking company, said there had been frantic preparations to limit the damage from the storm.
"We spent the morning strapping down the aluminium to stop it from flying away if the winds are strong," she said.
But she worried that the torrential rains forecast could flood her home.
"We'll seal everything as tightly as we can and then we'll certainly go and stay with friends for the night," she said.
- 'Worst-case scenario' -
Criticised for the pace of relief efforts in their overseas territories devastated by Irma, Britain, France and the Netherlands said they were boosting resources for the Caribbean as Maria approaches.
"We are planning for the unexpected, we are planning for the worst," said Chris Austin, head of a UK military task force set up to deal with Irma, as the British Virgin Islands readied for the storm.
On the island of St Martin, which is split between France and the Netherlands, authorities announced a red alert ahead of Maria's arrival.
"We're watching its trajectory very closely, and we're preparing for the worst-case scenario," said local official Anne Laubies.
The Dutch navy tweeted that troops were heading to the two tiny neighbouring islands of Saba and St Eustatius to ensure security following widespread complaints after the first hurricane of looting and lawlessness on St Martin, among the worst hit by Irma, with 14 killed.
French Interior Minister Gerard Collomb said 110 more soldiers would be deployed to the region to reinforce about 3,000 people already there shoring up security, rebuilding infrastructure and distributing aid.
But he warned of "major difficulties" if Guadeloupe is hard hit, noting the territory was "the logistical centre from where we could supply St Martin and organise all the airlifts".
The hurricane was expected to pass 30 km south of Guadeloupe, with the height of the storm expected at 3:00 am. "Everyone must remain inside, and not venture out for any reason," said the island's prefecture authority.
Air France, Air Caraibes and Corsair have cancelled flights in and out of Martinique and Guadeloupe.
- Hurricane series -
Irma, a Category 5 hurricane, left around 40 people dead in the Caribbean before churning west and pounding Florida, where the death toll stood at 50 Monday.
It broke weather records when it whipped up winds of 295 kilometres per hour for more than 33 hours straight.
Another hurricane, Jose, is also active in the Atlantic and has triggered tropical storm warnings for the northeastern United States.
Many scientists are convinced that megastorms such as Irma, and Harvey before it, are intensified by the greater energy they can draw from oceans that are warming as a result of climate change.
© Agence France-Presse
General
» Be a reporter: Write and send your article
» Subscribe for news alert